When the cold days of the year arrive, the role of the home as a warm and safe place further becomes evident. As the temperatures start to drop, you want to be curled up with a blanket, watching your favourite shows while enjoying a sip of hot cocoa. Honestly, nothing beats spending time in your "cave", especially when you're a homebody.
An element that would make spending time at home even cosier is a fireplace. Ever since the dawn of humanity, people would gather around the fire, watch it burn, and hear it crackle, as they tell stories and prepare food. Hollywood movies also show it as the ideal spot for people to bundle up and enjoy some quality time together.
If you've been missing out on this special feeling, and have resorted to watching fireplace videos on YouTube, why not invest in the real deal, an actual fireplace heater? Besides warming up nicely by the fire, you'd benefit from its calming and soothing effects.
On the plus note, it's the kind of investment that increases the property's value and amazes with the cost-effectiveness since, when installed centrally in a room, it can quickly heat it up – much more affordable than electric heating. Following the info I'll cover in an instant, you'd be able to make a great purchase you'd be proud of for years, and maybe even pass to other generations.
What Types of Fireplaces Are There?
Don't worry if you're known to be a picky person when it comes to interior essentials as there's a whole array of premium fireplace heater designs to suit your taste and preferences. While style may be a significant consideration, the type, or in this specific case, the form of heating, takes the fundamental role in which heater you end up with for your chosen room. Basically, your choice will come down to:
1. Wood Burning Fireplace
If you're all up for the traditional design and have been blessed with a home where it's easy to install a chimney (after getting the necessary building permits), then the wood burners are your thing. The minute you get to see the variety of options, such as the free-standing and pedestal models with glass doors, and open fire pit models, you come to realise just how spoiled for choice you are.
Moreover, the fireplaces for sale are available in different styles, from more traditional and elegant like marble mantels, to more modern and sophisticated like those built from heavy-gauge steel and cast iron. In case your abode is more on the beauty of past eras, like Victorian, there's something for you too, in the example of the finely crafted timber mantels that can be both stained and painted.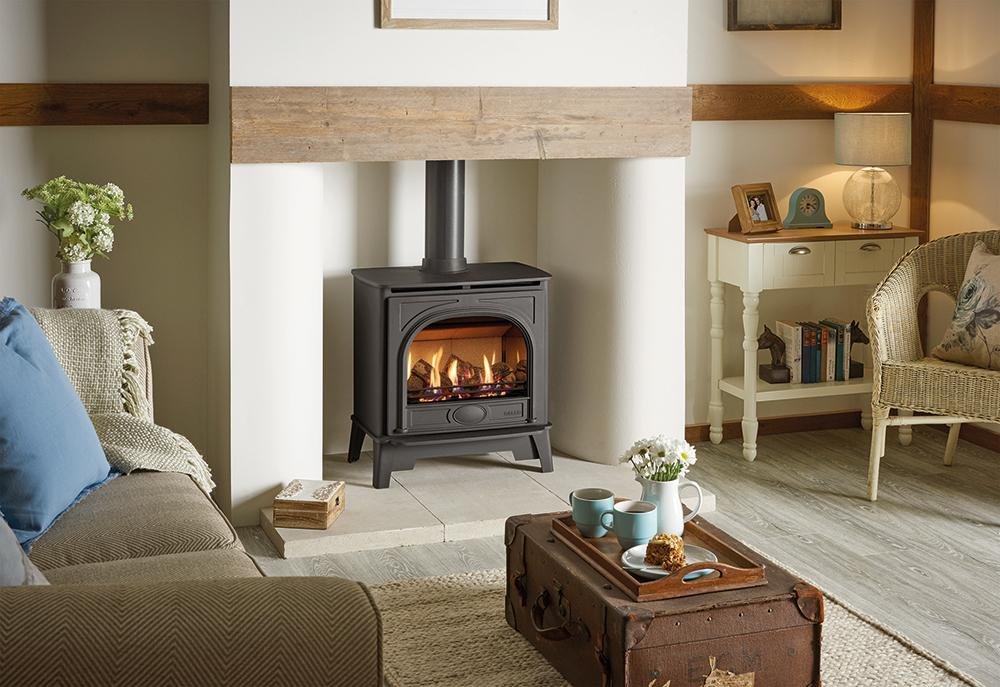 Okay, setting the aesthetics aside, a traditional wood burner is a welcome addition in any home because it makes for unbeatable ambience, it easily and evenly heats up a room, and it won't fail on you even when power is out. Depending on the design you choose, and the accessories you buy for it, you may even use it for good old-fashioned cooking.
Certain models that have different combustion modes (e.g. primary, secondary, and tertiary) provide you with even more efficiency with less wood, so they're valuable and affordable in the long run. Whichever you choose, however, it's imperative to check for rules and regulations for your region, and whether or not the specific model of fireplace heater complies with the Australian standards.
Wood Burning Fireplace Accessories
Specialised accessories are created to make your wood burning fireplace aesthetically pleasing and simplify the process for you. This is true for the maintenance tools in the likes of handy dustpans, brooms and brushes, pokers, tiny shovels, log tongs, and a stand to keep them all neatly arranged and within easy reach.
Regular cleaning is necessary to ensure your fireplace is in top condition and heats up properly. Other handy items include grates that are added at the bottom of the fireplace and serve to increase the airflow for the fire. Fireplace screens and flame-resistant hearth rugs are safety features that can prevent the hazard from flying sparks, while at the same time amp up the charm of this focal point in the room.
2. Gas Burning Fireplace
Wood burning fireplaces require some more TLC and work, there's no sugar-coating it. In addition to knowing how to set a fire, and maintain it burning, you'd need to take care of the logs first, finding out where and how to get them, as well as where and how to store them for the heating season.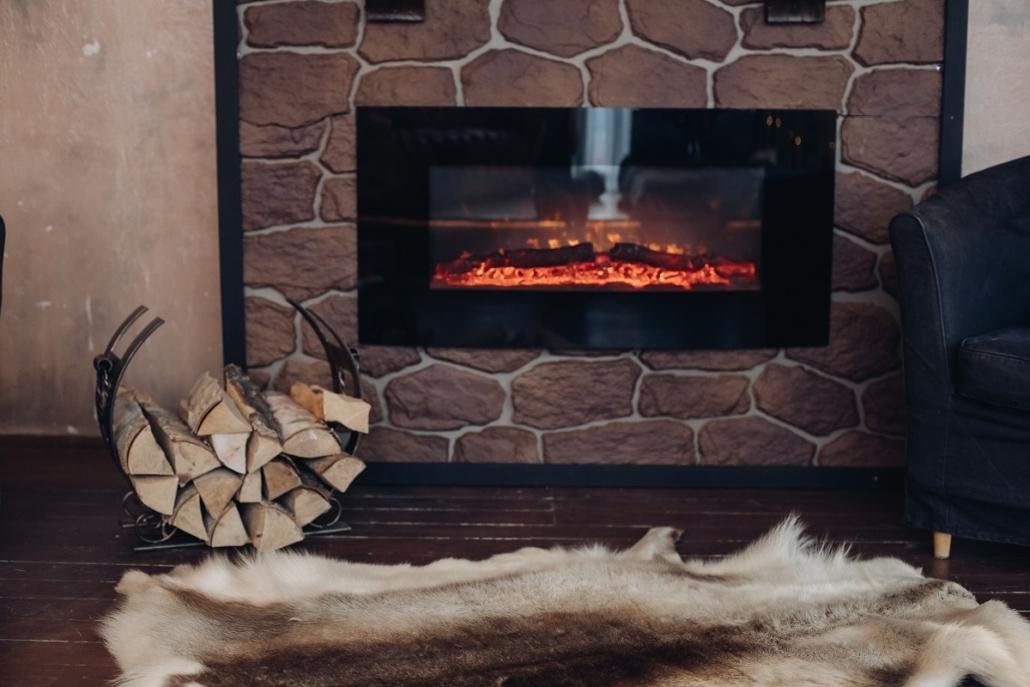 You get to do nothing of this if you get a gas fireplace instead that looks like the actual wood-burning design. Unlike the electric counterpart, this option is also much more affordable and has fewer safety risks when you buy one with the direct-vents units. Since it doesn't burn wood, the air is cleaner and you won't end up with smoke stains on the wall after the heating season is over, so you won't have to further splurge on a repainting job or take up the project to hide this mess with a trendy wallpaper.
Still, if you're wondering about the drawbacks, it provides a much smaller flame than the real wood-burning heater, you require a gas line for the installation, and you don't have much say with the position of the ceramic logs. As far as maintenance goes, since the glass is sealed, it complicates things with the cleanliness so you'd need to call in the professionals every now and then.
3. Bioethanol Fireplace
Eco-aware individuals might be unsure about the previous two alternatives, and that's where the convenient electric fireplace steps in. As it works on ethanol fuel sourced from plants like maize and sugar cane, it's an eco-friendlier option. Since there are no fumes or the threat of fire, they're ideal for indoor use.
That's also why they're much easier to install since there's no need for flues like with the other two counterparts. This is yet another benefit if you consider the flexibility you get with where you choose to place them as you have no limitations. Speaking of flexibility, you can adjust the output too, so you're free to use them to heat up both small and large rooms alike as long as there's a slider on the fuel box.
Money-wise, they're an affordable choice, however how affordable exactly depends on the type of fuel you choose. If you get a cheaper fuel of lower quality, you might get to save up a few dollars, yet have in mind it will burn out quicker too.
4. Electric Fireplace
If the increasing energy prices aren't a problem for you, then why not invest in an electric fireplace. It's the most low-maintenance option of the four, the design is more compact than the previous so you can fit it anywhere you choose, and with linear wall-mount models you even get to hang it on a wall or recess it to take up the least amount of space – perfect solution for a smaller room.
More on the positive side, with electric heaters you don't have to stress about building permits and chimneys, accommodating gas lines, logs, smoke, or fuel supplies. They're as stylish as the others, and you have a range of customisation options, from authentic-looking flames and inner-glowing logs to remote control settings, automatic shut-off timers, and colour themes. Thanks to the thermostat they work on, you get to have a say in how hot your room would get, and keep the temperature consistent, which isn't that easy with logs or gas.
Recommended Posts: