The sun, the sand, the sound of waves crashing against the shore – life is good when you live by the beach! As great as it all sounds, there are many things to consider if you want to build a beach house. And choosing between building a traditional home and investing in a modular beach home is one of them.
Modular beach homes are excellent choices for vacation homes. They can not only be built much faster than their traditional counterparts, but they are also less expensive and generally equipped with the most advanced green building technologies.
What Is a Modular Home?
If you've never thought about investing in a modular home, this is probably because you don't know what it is. Often confused with mobile homes, modular homes feature a different design, fabrication method and durability.
Eighty percent of the work on a modular home takes place in the factory. The pre-made modules are then brought to the building site and put together there on a sturdy foundation. Contrarily, mobile homes are entirely built at a manufacturing facility before being brought to their final location and set down on the ground. A modular home is just as high-quality as a traditionally built one since it is put together on a sturdy foundation.
Benefits of Choosing a Modular Home
The benefits of choosing a modular home for your beach house project include the following.
Low-Cost Alternative
Modular homes have begun to draw attention as it gets harder and harder for first-time buyers to enter the real estate market. You'll be shocked to learn just how reasonably priced these contemporary seaside houses may be. According to statistics, modular homes can be up to 50% less expensive than traditional residences.
Reduced building times, lower mortgage interest rates, and the number of materials that manufacturers buy all help make modular homes more affordable. You can save tens of thousands of dollars by building modern beach homes the modular way without compromising comfort, beauty, or aesthetics.
Design Versatility
Think about how fulfilling it would be to create your own beach house from scratch. That is what the use of modular housing allows you to achieve! Numerous house plans are available from reputable manufacturers to meet your requirements. For a modular home, the design options are essentially endless.
You can add a larger kitchen, numerous bathrooms, a small home office, and decks to enjoy the beach with a modular home. In the end, the choice is yours. Work with your builder and the home manufacturer to identify the ideal modular design for your needs.
Faster Construction Times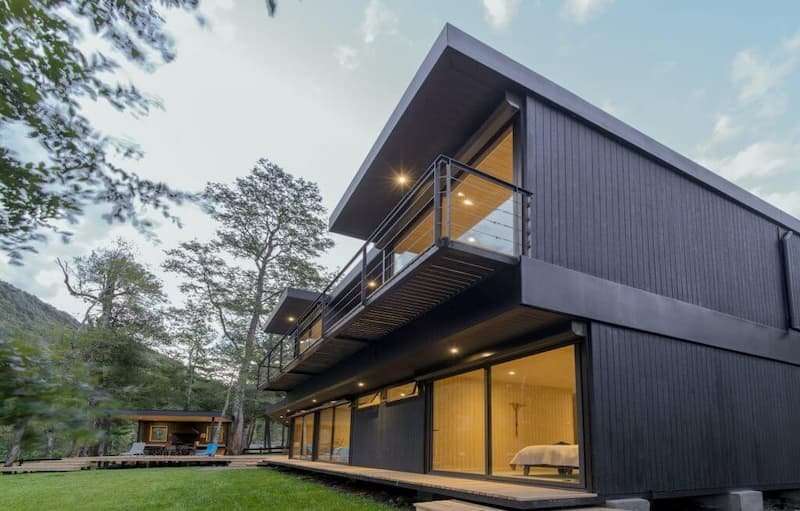 In most cases, modular homes can be constructed in as little as one month. If you properly prepare and ensure all of your paperwork is in place, you can move into your new house a few weeks after construction ends.
Modular home construction is so effective because prefab homes are produced in a regulated setting. A home manufacturing operation does not experience the delays that can happen on a regular construction site. Any delays brought on by bad weather may be easily avoided because all of the construction takes place inside.
Increased Quality Control
It may be frightening to witness such a rapid building process, particularly if you've never occupied a modular home. But because the entire manufacturing process takes place inside, modular homes are regularly constructed to code. On an assembly line, there is not much opportunity for error when building a house.
The precision tools a site builder lacks are kept in the warehouses of modular home manufacturers. Factory employees are able to install ceilings, walls, and floors symmetrically, as well as lag-bolt interior walls to outside walls.
A modular home's quality is meticulously checked and upheld in a factory setting, in contrast to traditional residences. In many situations, site-built homes and modular homes are direct competitors.
Simple Inspection Process
The inspection process for modular homes is streamlined so there is stringent quality control. When your modular home is ready for installation, it will have already passed permit approval, factory inspection, foundation approval, and a utility assessment.
Site-built dwellings are not eligible for this perk. Due to construction faults, many of the homes currently for sale are unliveable. With a modular home constructed in accordance with strict code rules, you don't run that risk.
Energy-Saving and Environmentally Friendly
These contemporary beach houses also have the benefit of eco-friendly building practices and minimal environmental effects. Research shows that compared to site-built houses, modular dwellings produce roughly 90% less trash. This has a lot to do with buying materials in bulk, having simple transportation, and building things that use less energy.
Rather than requiring daily transportation of raw materials to and from construction sites, modular homes are built indoors in a controlled environment. Additionally, when moving finished modular homes to their installation sites, producers have established efficient transportation technologies that harm the environment as little as possible.
Due to the stringent requirements that must be met during construction, modular homes are far more energy-efficient than traditional residences. To save cooling and heating expenditures throughout your home, their seams must be airtight.
How to Choose the Right Modular Home Builder?

To feel secure in a builder's skill set and experience, seek someone with a robust resume and a lot of experience. Modular homes may be offered as a service by some builders that specialise in creating other styles of residential structures.
Even though they might make you a tempting deal, these contractors are probably not aware of the different building methods unique to modular construction. There are many stages in the fabrication and building process when it comes to modular homes. Working with contractors is essential if you want to feel confident in their skills. They should be knowledgeable about the construction process and take the time to walk you through each phase.
You'll deal with more seasoned builders and gain a better understanding of the customisation process if you work with a business that only constructs modular houses. Your new home will be a higher-quality, more useful modular since they can advise you on floorplans and special features that are best for it.
You can also do the following to find out more about the builder:
Check out what people are saying about them – look at their social media and Google reviews.
Ask the contractor if you may visit any model homes.
To see their beach house ideas, view their floor plans online.
View the finished residences in their photo galleries.
Final words
Once you have established the calibre of their job, it will be simpler to affirm that they are the best option for you.