A person's physical, mental, and overall health depend on getting 7 to 8 hours of quality sleep each night. To get the necessary rest, a comfy mattress with plenty of room to move around is essential.
It's common to see people complaining of disturbed sleep due to partner disturbances like snoring, cover-stealing, or motion. These problems can be significantly diminished and a peaceful, relaxed night's sleep can be achieved by using a larger king-size bed.
A king-size bed can also become the perfect focal point of the bedroom when it is dressed nicely. But a properly adorned bed can not only make the room look better but also greatly enhance the quality of sleep. A well-dressed bed is attractive and has all you require for the finest night's sleep.
The base, upper cushions, and throw should all be carefully chosen to provide the ideal nocturnal environment. Investing in these things is investing in your health. To decorate a king-size bed for optimal comfort and a gorgeous appearance, you'll need the following.
You Need Luxurious Sheets
When you think of a "well-dressed bed," luxurious bedding is what generally comes to mind, and this is for great reason. Aside from making a mattress look lovely, quality bedding plays an important role in helping you get a great night's sleep.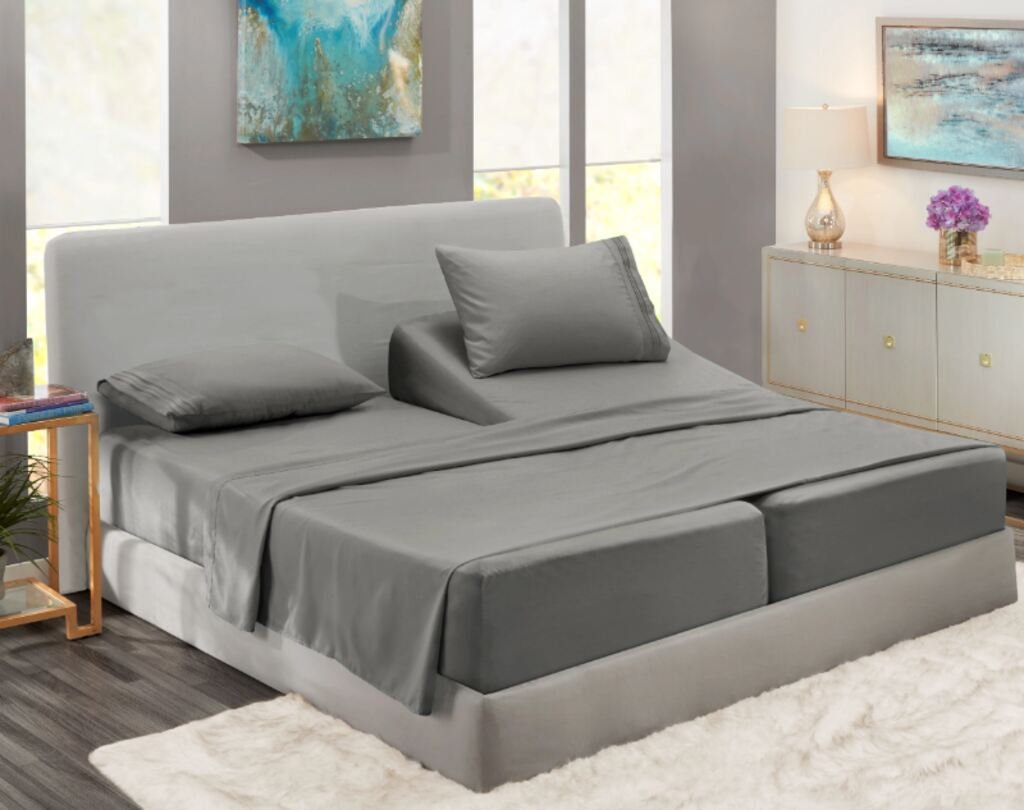 Luxury hotels frequently use crisp white linen to give their beds a clean, fresh, and welcoming appearance. However, adding colour to your bed can make it stand out and liven up the space.
The choice of fabric has an impact on the aesthetic as well. While French linen works well for a more natural and relaxed look, Egyptian cotton is a traditional fabric for linen. Consider silk or Supima cotton if you prefer something more opulent. Additionally, many eco-friendly fabrics, like organic cotton and hemp, are now readily available.
Each of these fabrics possesses qualities that could influence how well you sleep. Your body temperature can be regulated by natural fibres, keeping you cosy in the winter and cool in the summer. In order to keep you dry and cool in the summer, Supima cotton is moisture-wicking, which means it draws moisture away from your skin.
Look for Luxurious Fabric Quality
While thread count is an important factor to consider when shopping for king-size bed sheets, it's only one aspect of the bedding's overall quality; the ply is what determines this number. For example, a sheet made from single-ply yarn is of higher quality than one made from multi-ply yarn.
The fibre's quality is another factor to consider. The best fabric is considered to be long-staple cotton. Percale has a crisp hand and a plain weave with a matte finish. Sateen has a heavier feel, is more silky and smooth, and is tightly woven.
Start with a luxury fitted sheet for the ultimate designer-styled mattress (the sheet with elastic around the edges). Make sure the king-size bed sheets you choose fit your mattress appropriately when you are shopping for them because a sheet that is too deep will ride up the edges and appear unkempt.
Top Sheet Option
You might also wish to spend money on a top sheet as well. There are many valid reasons to use a top sheet, even though not everyone agrees with this. A clean bed is one. The duvet is protected by a top sheet from the dust and bacteria that are expelled by your body as you sleep.
Because a top sheet keeps the blanket cleaner for longer, you won't need to wash it as regularly as your bedsheets. It can also be the best choice for a bed cover in the summer.
A Variety of Pillows
Consider the pillows while considering how to layer bedding. They add colour, volume, dimension, and flair in addition to comfort.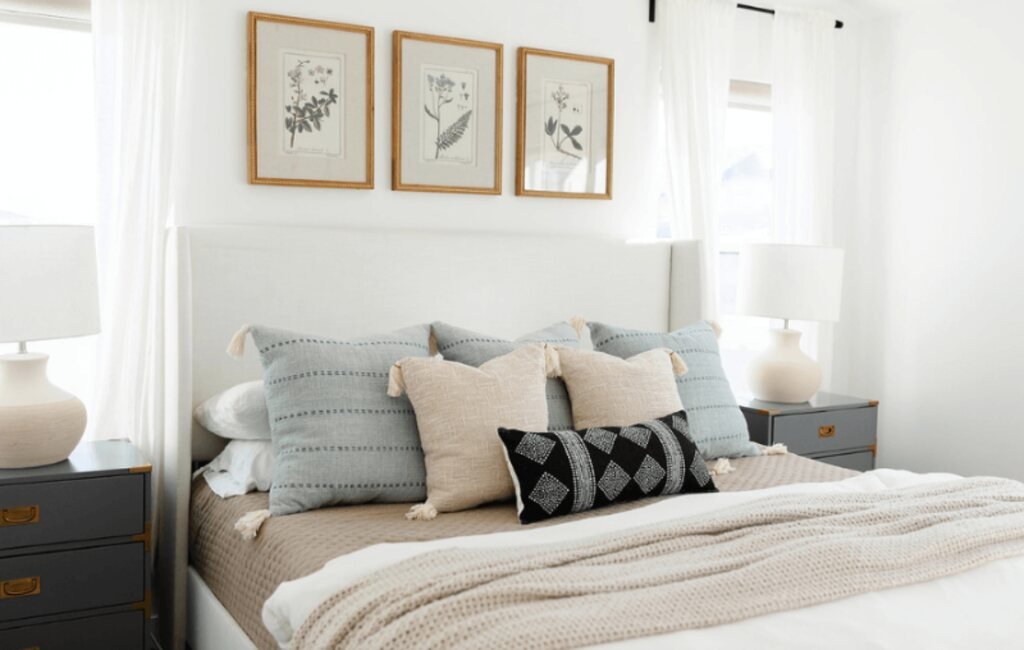 So, how many will you require? The amount of pillows depends on both comfort and aesthetics. You should use a specific kind of pillow, though. Start with Euro pillows if you need support, such as when you're sitting up in bed to read. You're going to need three Euro pillows for your king-size mattress.
Depending on your preferred method of sleeping, you have a lot of possibilities. For stomach sleepers, medium pillows are typically advised, whereas firm pillows are advised for back sleepers. Medium pillows are a good option if you're confused about which to pick. Provide at least two pillows for each sleeper for maximum flexibility, comfort, and style.
There is no restriction when it comes to ornamental pillows, and there are countless adorable bed-making combinations. A plain linen lumbar pillow can be added for extra support while also making the top part of the frame more prominent. Shams can give the whole bedding a more unified appearance. You can mix and match them with the colours and patterns of your duvet cover or arrange them with other pillows.
Printed pillows may be used in a variety of ways when arranging a bed, depending on whether you want to go for simple and elegant or cosy and luxurious. Designers often adhere to the law of odd numbers and advise utilising three, five, or seven pillows per bed.
A Soft Duvet Insert
You can make your sleeping space fluffy and cloudlike with the aid of a comforting duvet. Choose a duvet or comforter that keeps you warm while letting you breathe. Selecting one that is too warm may prohibit you from getting any rest because you will perspire through your clean, white bedding. But, one that is full and puffed will look appealing.
To decorate and safeguard your duvet, use a duvet cover in the material and colour of your choosing. You may alter the appearance of your bedding to match the season or for any other purpose with a cover, which also helps your duvet last longer.
A Throw Blanket
You could discover that your bed looks fantastic after decorating it with plush bedding and decorative pillows. But, there is one element you must include in the design for it to be magazine-worthy: a throw blanket.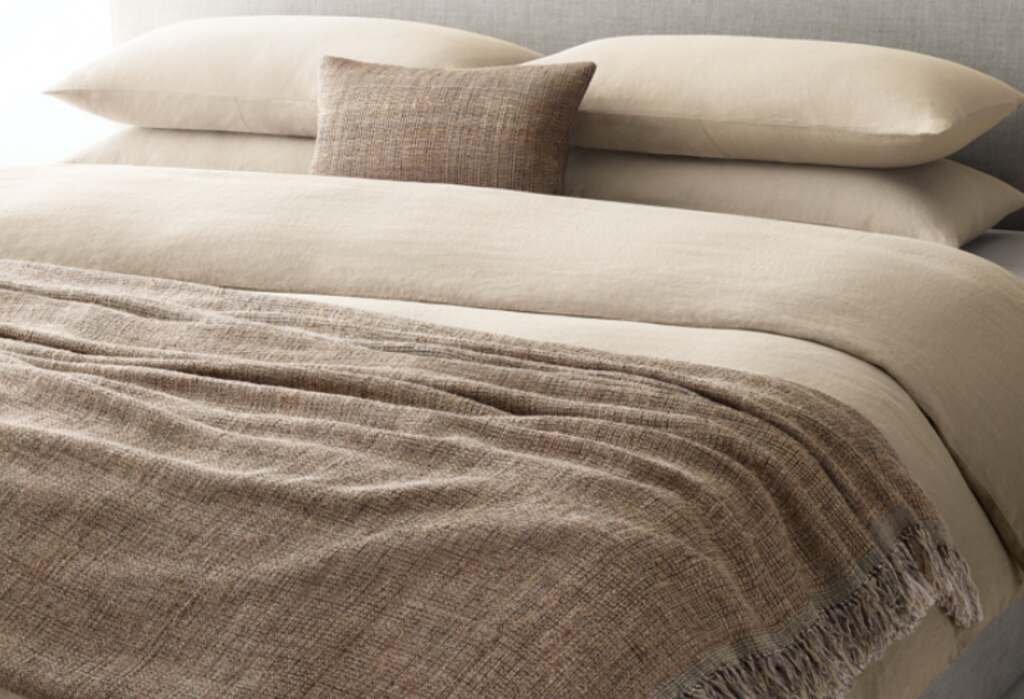 A single-throw blanket can be positioned diagonally at the foot or the bottom of your duvet. A throw blanket should match your colour scheme. Throw blankets can be purely aesthetic or have real use!
Conlusion
After dressing your king-size bed, you will definitely feel cozy. Remember, if you have good money to spend, you may look for more luxurious options and try to create new looks as per your comfort.
Recommended Posts: