Nestled in the serene embrace of Boca Raton on Florida's enchanting east coast, Lotus Palm by GL Homes beckons homebuyers to embark on a remarkable journey to retirement living.
In this exclusive exploration, we unveil the abundant tapestry of GL Homes' commitment to crafting luxury communities tailored to the unique needs and desires of discerning Florida homebuyers.
As the sun-kissed palm trees sway in the gentle sea breeze, we invite you to traverse the paradisiacal landscapes of Lotus Palm, where every moment is an ode to the art of graceful living.
Join us as we explore this Florida oasis under the guidance of pleased residents whose reviews and ratings praise GL Homes' vision of the ideal contemporary lifestyle.
GL Homes: Crafting Luxury Homes
Amidst the lush tapestry of Florida's retirement communities, GL Homes stands as an undisputed maestro in the art of crafting luxurious residences tailored for families and people of all ages. With a rich legacy of excellence spanning decades, GL Homes has consistently raised the bar by providing not just houses but homes where every corner resonates with comfort, convenience, and community.
GL Homes' commitment to contemporary living extends far beyond the construction of structures; it encompasses the creation of vibrant, inclusive lifestyles. Each GL Homes community is planned to offer a harmonious blend of natural beauty, recreation, and social engagement.
Their devoted team meticulously designs every aspect, from the picturesque landscapes and wellness centres to the opulent clubhouse, to ensure that residents enjoy every moment of their golden years.
As a testament to their dedication to transparency, GL Homes provides a comprehensive list of standard features on their website, offering prospective buyers a detailed glimpse into the quality, craftsmanship, and attention to detail that define their homes.
These features encompass everything from energy-efficient appliances to exquisite finishing touches, ensuring that residents enjoy both luxury and practicality in their daily lives.
GL Homes stands as an exemplar, continually shaping the future of retirement communities. As we delve deeper into Lotus Palm, one of their splendid creations, the essence of GL Homes' dedication to crafting paradise for families of all ages becomes even more palpable.
The Allure of Lotus Palm
Lotus Palm by GL Homes shines as the crown jewel of Florida's retirement communities, tucked away in the bustling heart of Boca Raton. GL Homes' unwavering dedication to redefining contemporary Florida living is exemplified by this exquisite haven.
Lotus Palm's prime location in Boca Raton offers residents the best of both worlds: the tranquillity of a serene retreat and the convenience of urban amenities just a stone's throw away. With pristine beaches, upscale dining, world-class shopping, and cultural attractions at its doorstep, Lotus Palm ensures that residents can embrace a life of leisure and adventure in equal measure.
What truly sets Lotus Palm apart is its detailed design, which incorporates both elegance and functionality. The community boasts an array of amenities, including a clubhouse designed for social gatherings, a state-of-the-art fitness centre, and lush green spaces for relaxation. Residents can indulge in outdoor activities, take leisurely strolls along winding paths, or simply savour the picturesque surroundings.
For those who seek the quintessential Florida retirement experience, Lotus Palm by GL Homes stands as an embodiment of paradise. In the next sections, we'll hear directly from those who have found their dream homes here, uncovering the real essence of 55+ living at its finest.
Testimonials from GL Homes Clients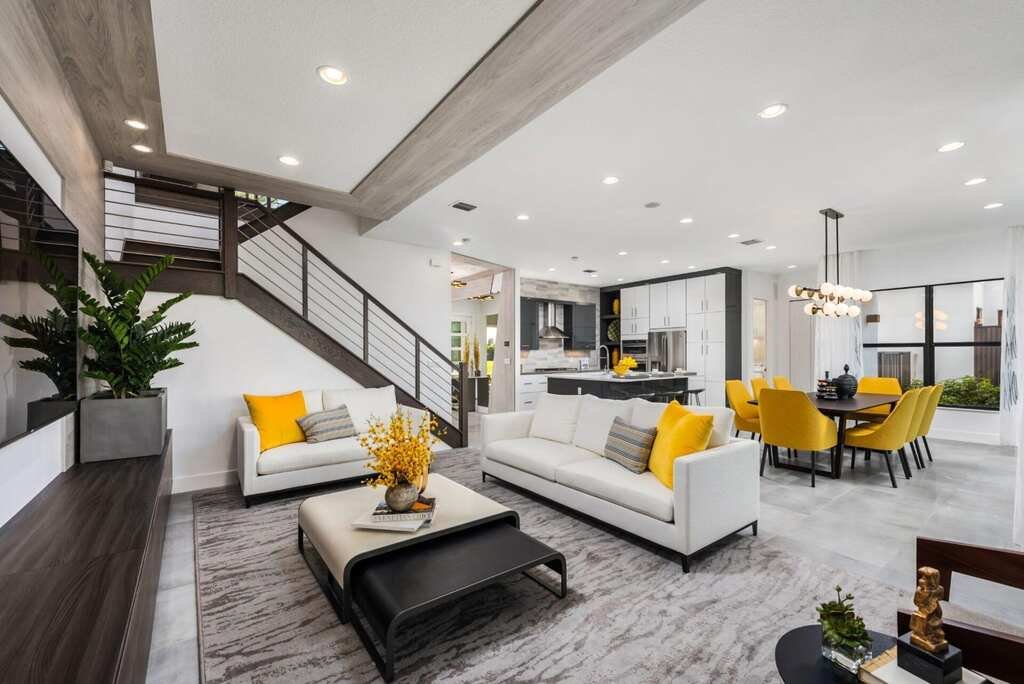 Beyond the architectural marvels and scenic beauty, the true measure of a community's success lies in the voices of those who call it home. Residents of Lotus Palm share their heartfelt experiences, illuminating the remarkable lifestyle that GL Homes has curated.
Sandra and Robert, longtime residents, share their joyous journey at Lotus Palm. "We were drawn to this community because of its elegance and the promise of a vibrant Florida lifestyle," says Sandra. "And GL Homes exceeded our expectations. From the moment we stepped into our new home, we knew we had made the right choice. The attention to detail is impeccable."
John, another resident, emphasizes the strong sense of community that Lotus Palm fosters. "There's a real sense of belonging here," he remarks. "The clubhouse is a hub of activity, and we've made wonderful friends. The camaraderie among neighbours is something truly special."
These GL Homes reviews are just a glimpse into the lives of contented homeowners who have found their slice of paradise at Lotus Palm. Such glowing reviews and ratings echo throughout the community, reinforcing GL Homes' commitment to delivering an exceptional experience. It is a vibrant community where memories are made, friendships flourish, and the golden years shine brightly.
GL Homes Reviews and Ratings
The significance of GL Homes reviews and ratings cannot be overstated. For prospective homebuyers, these testimonials are more than just words; they are windows into the future.
They provide valuable insights into the quality of life, craftsmanship, and community spirit that GL Homes embodies. These GL Homes reviews offer a reassuring chorus, helping individuals make informed decisions as they embark on their journey to find the perfect community. With GL Homes, you're not just buying a house; you're investing in a legacy of contentment and luxury.
Wrapping Up
In the embrace of Lotus Palm by GL Homes, homebuyers in Florida find not just a house but a vibrant, welcoming community. As the sun sets over this paradise, it leaves a glow of contentment on the faces of those who have chosen to live their golden years in luxury and serenity.
Recommended Posts: