While modern mini split air conditioners are flexible, environmentally friendly, and cost-effective, it can be challenging for new customers to navigate the different brands, manufacturers, product families, and specifications. One mini-split brand that stands out from the rest is MRCOOL. Learn everything you need to know about the brand, what features are unique to MRCOOL mini splits and how they differentiate themselves from the competition.
The DIY Advantage
When shopping for a new mini split air conditioning system, virtually every brand recommends against users installing their products by themselves unless they are licensed HVAC professionals or have experience installing HVAC systems.
One of the primary reasons behind this recommendation concerns the refrigerants used by a mini-split system's line sets. Mishandling refrigerants can expose you to many health risks, including toxic chemicals and pressurized gas. However, MRCOOL mini split systems are designed for 100% DIY installation, ready to be installed by homeowners and individuals with no HVAC licensing or experience. The manufacturer made it possible by employing a unique mini split technology called pre-charged line sets.
Why Pre-Charged Line Sets Matter
Pre-charged line sets are already filled with refrigerant, meaning there is no need for an HVAC technician to vacuum and fill the lines, which is the part that requires technical knowledge and carries potential risks. Although this technology isn't new, it isn't well-known or widely used by the industry. MRCOOL was one of the first manufacturers to use their own patented pre-charged line sets in modular mini split systems. This eliminated the need for technical knowledge or special tools and made it safe and accessible for untrained homeowners to install themselves. For instance, installing a single-zone MRCOOL DIY Mini Split system requires no more than standard household tools, the provided mounting hardware and pre-charged lines and a few hours of work.
A System for Any House Configuration
One of the biggest advantages of a mini split AC system is its flexibility. Unlike older-generation central air conditioning systems, you can select a mini split package with the ideal configuration for your climate control needs: outdoor unit capacity, number of zones and individual indoor unit capacity.
Additionally, mini splits are designed to be individually controllable, eliminating the one-size-fits-all approach of central ducted systems. Each independently controlled room can have a different temperature setting. Although all mini splits can offer these essential benefits regardless of the manufacturer, MRCOOL stands out from the competition by offering customers a comprehensive selection of system capacities.
Zoning and Capacity
MRCOOL mini split packages range from single-zone to penta-zone, allowing homeowners to introduce climate control in up to five different rooms or areas of the house.
System capacities vary depending on the number of zones, ranging from small 9,000 BTU single-zone models, suitable for compact or studio apartments or single rooms, to high-capacity 54,000 BTU penta-zone systems, ideal for whole-home air conditioning and heating. MRCOOL offers a wide array of capacity combinations for the compressor and the indoor air handlers, allowing you to pick the ideal system for your specific comfort needs. A few examples of 3-zone mini split configurations MRCOOL offers include:
36,000 BTU compressor with three 12,000 BTU indoor units, ideal for cooling three rooms of the same size.
36,000 BTU compressor with two 9,000 BTU indoor handlers and one 18,000 BTU unit, suitable for one large area like a basement and two smaller rooms like two bedrooms.
39,000 BTU compressor with indoor handlers of three different capacities (9,000 BTU + 12,000 BTU + 18,000 BTU), suitable for differently sized rooms like a bedroom, a kitchen and a basement.
Year-Round Comfort
Most market-leading HVAC manufacturers offer a combination of cooling-only air conditioning mini splits and heat pumps featuring both heating and cooling functions, often with few external differences. With MRCOOL, there is no risk of confusing a cooling-only AC unit with a heat pump. Every MRCOOL product, regardless of the capacity or number of zones, is a heat pump suitable for year-round climate control. Whether you need a single-zone system for a single bedroom or a large-capacity multi-zone package for an entire home, your MRCOOL DIY mini split will keep you comfortable from January to December.
Low Cost of Entry
A new home air conditioning system is a significant investment for most homeowners. While the installation costs of a typical mini split are lower than central ducted systems, the unit cost is usually higher. On average, new mini split systems cost between $2,000 and $12,000, depending on the number of zones, and they do not include the costs of hiring an HVAC technician to load the line sets.
MRCOOL mini splits significantly reduce the total costs of installation in two ways: each unit is a complete package that is less expensive than equivalent competing products and, as easy-to-install DIY units, homeowners can save money on technician fees. Depending on zones and capacity, your MRCOOL mini split costs between $1,250 and $7,853, making it significantly less expensive than comparable products from other manufacturers.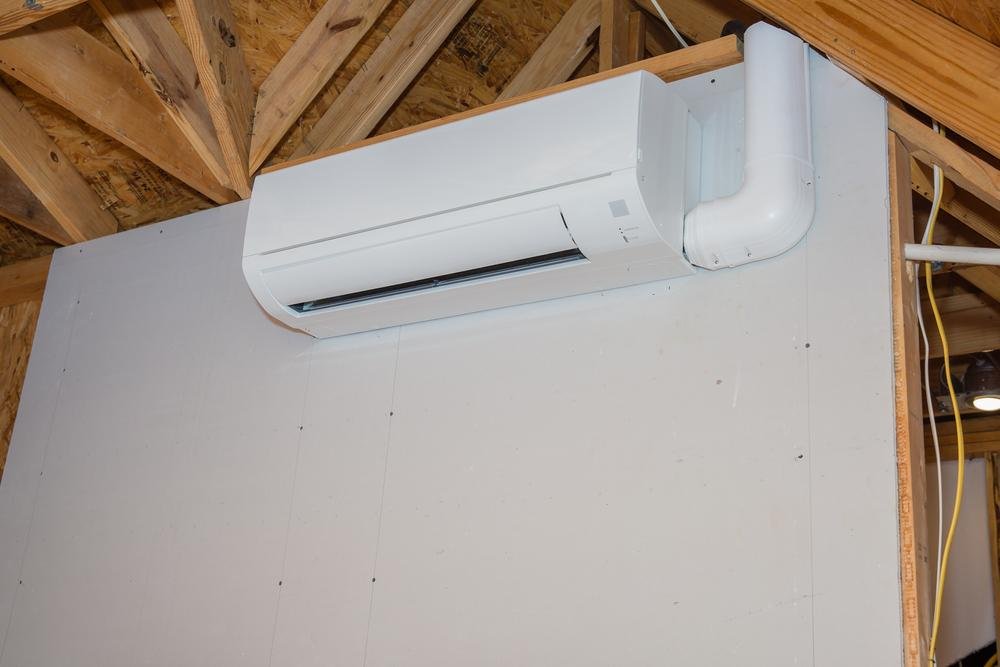 High Operating Efficiency
When buying a new mini split, while ensuring your new unit has the correct capacity for the living space is crucial, the system's cost-efficiency is equally as important because it determines your mini split's long-term operating costs. The primary air conditioner efficiency rating is the Seasonal Energy Efficiency Ratio (SEER). The higher an AC system's SEER rating, the less power it consumes and the less you spend on energy bills.
According to federal law, the current minimum SEER rating (as of October 2022) for all mini-split heat pumps sold in the United States is 14. The Department of Energy's planned changes for January 1, 2023, will increase the minimum requirements to 14.3 SEER2, equivalent to SEER 15. All MRCOOL systems are rated to achieve a minimum SEER rating of 16. Many products in the lineup reach even higher ratings, making them a highly efficient choice that exceeds current and future federal efficiency requirements.
Even the highest-capacity systems are high-efficiency units. For example, the MRCOOL 51,000 BTU 5-zone system, one of the largest in the catalog, can achieve a SEER rating of up to 20.5.
MRCOOL Makes Mini Splits More Accessible
Whether you need a new air conditioning system for a new home or want to upgrade from an older, less efficient system, MRCOOL mini split heat pumps are among the best and most convenient choices. Besides the affordable unit cost, their modularity and DIY nature are ideal to ensure you benefit from year-round comfort.