Do you have a passion for design? Do you love gazing upon structural echoes from the gothic, renaissance, baroque, and neoclassical periods? Are you thinking of visiting Poland in the near future and learning about its history? Do you like both the teacup and the tea? Look for your next educational stop no more. Here are 5+1 architectural places you must visit during your stay in Warsaw.
Before jumping into action though, we are going to provide you with a unique tip. There are several ways to travel to Warsaw. If you find yourself flying your way there, make sure to book Warsaw airport transfer. Oh, you are in for a ride – literally! We know you are looking for a stress-free, safe, and fun ride to your hotel and AtoB airport transfer service is here for you. Don't miss out!
1. Palace of Culture and Science
Ask everyone. Their first suggestion would be the Palace of Culture and Science. This architectural treasure was gifted by Joseph Stalin to Poles. Built by Russian workers, this 237 meters tall landmark was considered to be a symbol of socialist power and pride. This is also a controversial site as it was gifted during an occupational period, so Poles still have mixed feelings about it.
Just hire an AtoB airport taxi and admire it and don't talk about any sensitive issues, as we know that your passion will guide you asking about everything behind the construction of the Palace. We wholeheartedly suggest making your way up to the 30th floor where there is an observation desk. Yes, you'll have a 360-degree view of the whole city. You are welcome!
2. Nożyk Synagogue
This is the last surviving and still operational house of prayer for Jewish people in Warsaw located at 6 Twarda Str. downtown.Just call the AtoB airport transfer (did you think that it was just an airport taxi service?) and your driver will get you there in no time. Keep in mind that before World War II there were 400 of these houses as Warsaw was the home of the biggest Jewish communities in the world at that time. And this statementment says it all. The building was designed by Karol Kozłowski, a famous Warsaw architect, and it was erected in 1902.
If you are a romantic you are gonna love this landmark. Its facade has neo-romanticism elements with some influence of neo-Byzantine architecture. You know it. It follows the Neoromanesque architectural style. Damaged during World War II, but rebuilt and expanded in 1983. There you can visit the Jewish Warsaw Walking Tour, which is self-guided, and follow the steps of thousands of Jews towards the concentration camps.
3. Presidential Palace (Pałac Prezydencki)
Well, this structure is self-proclaimed. This is the residence of the Polish head of the state. It was originally constructed as an aristocratic mansion in 1643, but it was remodeled several times over the years, with the final touch taking place in 1818. It hosted significant historical events on a national and international level. There you can take a walk and realize that there are many places of the palace to explore and enjoy its captivating architecture. You will stroll throughout its many interesting chambers including the royal ones.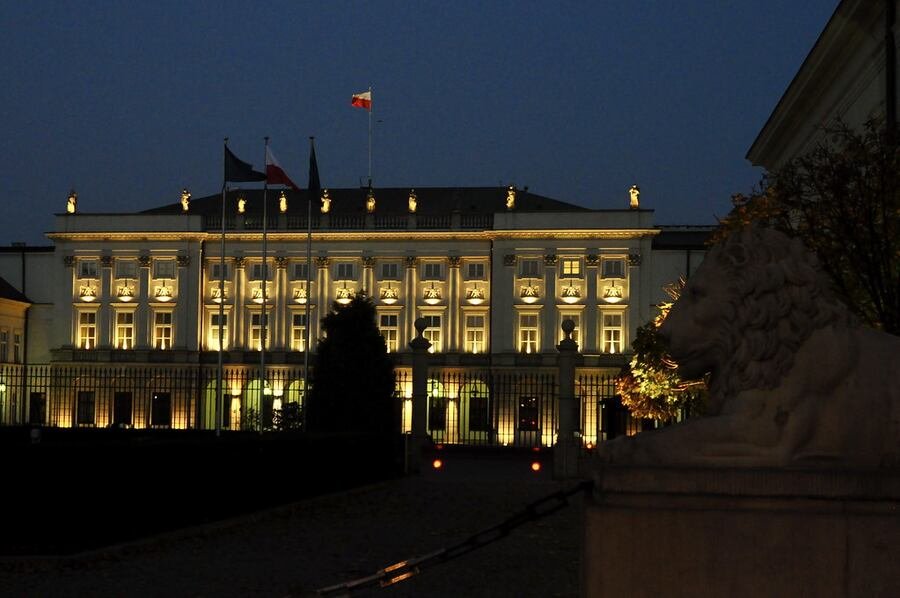 The palace is also known for its collection of alluring chandeliers and its antique furniture which we are sure you don't see often. Antiques are all over the place, so be prepared to be all over the place as well! Art galleries, aesthetic sculptures and famous paintings are the cherry on top. The palace is always open, and the tour is free of charge. Just ask your driver from Warsaw airport taxi services and they will provide you with all the information.
4. Ostrogski Castle
Oh man…you said you're a design's lover, right? This is THE mansion. Imposing, fortified, and prestigious. Amazing architecture both inside and out with great attention to details. Built for the Ostrogski family in the 17th century, and now houses the Fryderyk Chopin Society and the Fryderyk Chopin Museum. Yep.Two for one deal. You visit the mansion for architectural purposes, you gain a little bit of knowledge for the Polish composer as well. We are spoon feeding you.
5. Markiewicz viaduct
Do you like bridges as well? This is a bonus, just for you. Neo-renaissance viaduct completed in 1905. You can see and admire all the beautiful sculptures that decorate the bridge. It will surely grab your attention. This structure is dedicated to Stanislaw Markiewicz, a social activist and doctor, who established the Warsaw Hygiene Society. This is not a famous destination, but your Warsaw airport transfer driver not only knows the way, but they will suggest it to you in the first place.
6. Czapski Palace
That's right! Another palace. Trust you will not get enough of them. It was design by Tylman van Gameren and erected in about 1686 for the Archbishop of Giezno and Cardinal Primate, Michał Stefan Radziejowski. Upon your arrival, you can easily tell that while the overall design is Baroque, during the 18th century, it was redecorated both inside and outside to its current true Rococo fashion.
It was the home of famous personalities such as Zygmunt Vogel (artist), Frederic Chopin (composer), Zygmunt Krasinski, and Cyprian Norwid (poets). You can find it just across the University of Warsaw. If you cannot, just ask your driver from the AtoB airport taxi services and they will drop you there in no time.
Final Words
And there you have it! There are the must-see architectural landmarks in Warsaw if you are a design lover. We know that you want to explore the city yourself and discover many more architectural treasures, but now you're a step ahead. You know where to begin. It's your time to check "that time in Warsaw…" from your checklist.
Recommended Posts: