For prosperous communities and luxurious lifestyles, Connecticut is sought after by many. After all, it is home to some of the most expensive real estate.
From Litchfield to Greenwich, many sprawling estates are scattered in Connecticut. Elegant purchasers may find exquisite waterfront houses and historic mansions with breathtaking views, wide floor plans, and lavish amenities. These Connecticut properties will guarantee that you are living large.
In essence, we will take a closer look at the top 5 most pricey residences and estates in Connecticut. We will also explore what makes them so desirable.
5 Most Expensive Homes and Estates in Connecticut for Luxurious Living
With an expensive home, you can live fully anywhere in the world. The same goes for Connecticut. The place is flooded with tons of luxurious properties. However, the following 5 properties are the true epitome of luxury living.
1. 450 Brickyard Rd
Property Details:
Type: Single Family Home
Price: Approximately $60 million
City: Woodstock
Size: 18,777 sq ft
No of Bed: 9
No of Bath: 10
Parking: No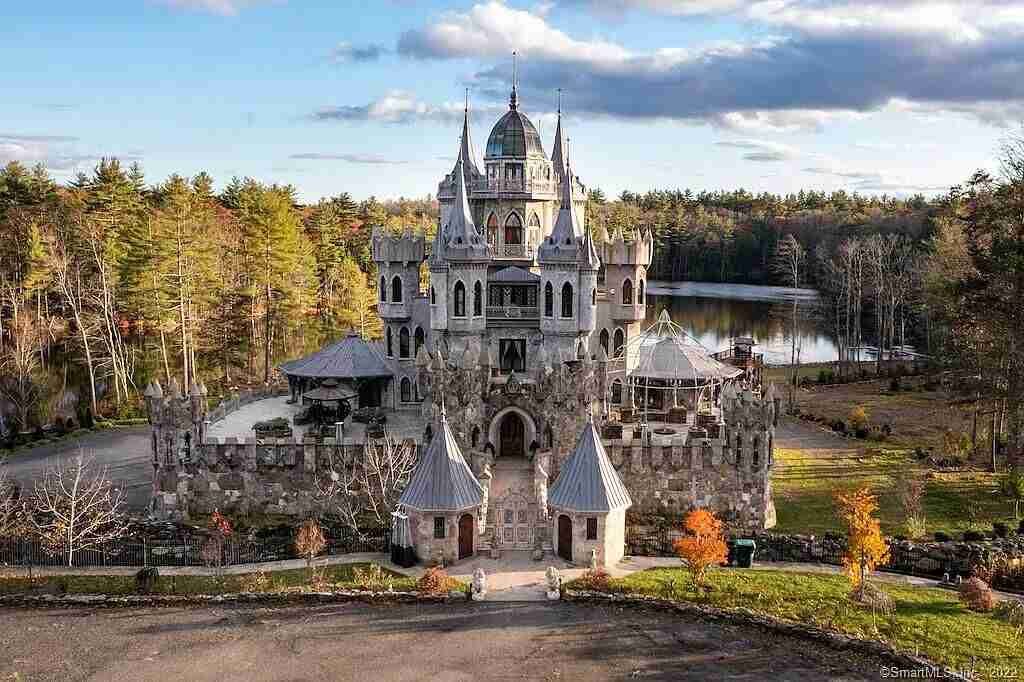 This one-of-a-kind property is located in Woodstock, Connecticut. If you look closely, you will notice this is more like a majestic castle than a single-family home. It has a height of 126 feet, which is huge. It features 12 fireplaces to keep you warm in the winter; all of them are made of large stone. With its beautiful entry hall and public rooms, the castle will certainly amaze and catch the imagination of anybody who appreciates excellent craftsmanship and superb design.
Did You Know?
Although this property was built in 2010, it looks exactly like an ancient fort. 25 types of imported hardwoods from across the world are used to make the wooden flooring, doors, and woodwork of this castle.
2. 447 South St
Property Details:
Type: Single Family Home
Price: $1,295,000
City: Litchfield
Size: 4,750 sq ft
No of Bed: 5
No of Bath: 5
Parking: 2 Attached Garages
This property in Litchfield offers the ideal combination of contemporary luxury and old-world charm. It was recently renovated with fresh paint, refinished floors, and a new driveway. Also, it has a courtyard within, which is excellent for accessing and exiting the garden. Both the kitchen and family room have access to a large terrace renovated with blue stone. Moreover, it offers a home office, a private dressing room, and a fireplace.
Did You Know?
Litchfield is a historic district and much closer to Burlington. If you are on a tight budget yet want to live close to Litchfield, you can search in Burlington to find a budget-friendly property that offers the convenience of living in a luxury home while being close to Litchfield.
3. 11 Island Ln
Property Details:
Type: Single Family Home
Price: $39,905,900
City: Greenwich
Size: 8,764 sq ft
No of Bed: 5
No of Bath: 8
Parking: Attached Garage
This is a luxurious single-family home situated in Greenwich, Connecticut. It is built over 1.60 acres of land. The whole property is surrounded by a lake, which can be used occasionally for fishing, boating, and swimming. However, there is a private swimming pool that comes with this house. It also provides the benefits of a fireplace, a boat dock, and an attached parking garage.
Did You Know?
This property is located on a private island, surrounded by a natural lake. So, it can be an excellent choice for those who are looking for the utmost privacy in their home. The residents can also enjoy a panoramic view because of this.
4. 45 Binney Ln
Property Details:
Type: Single Family Home
Price: $35,000,000
City: Old Greenwich
Size: 13,428 sq ft
No of Bed: 8
No of Bath: 12
Parking: 3 Garage Spaces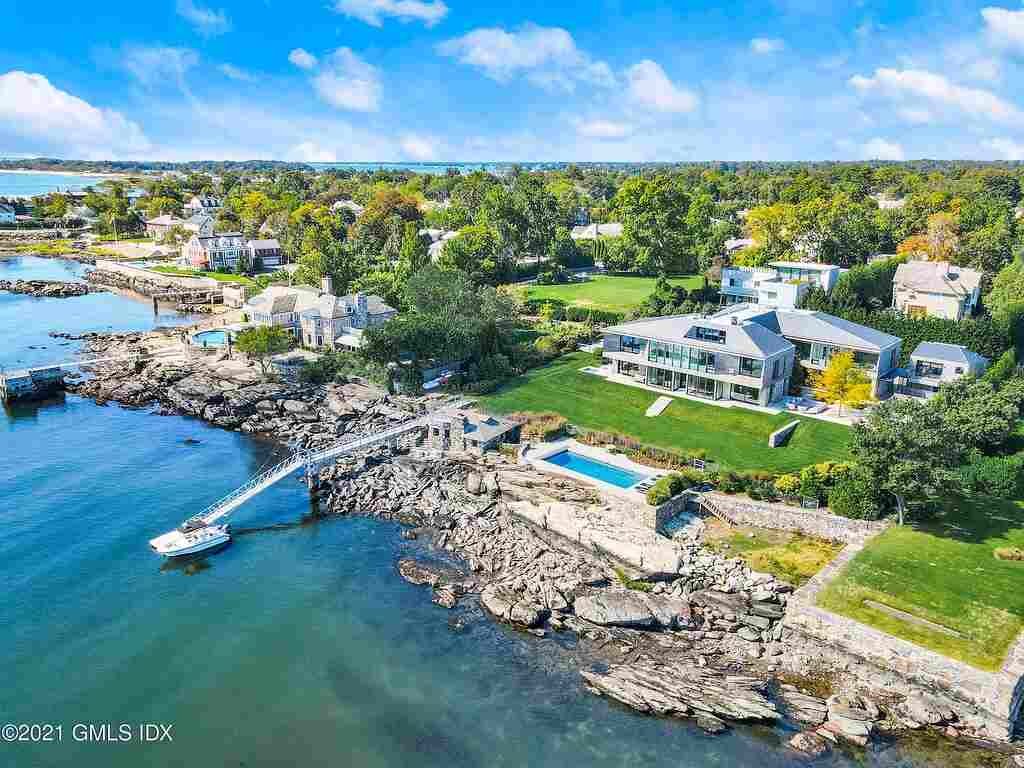 Although the property is located in Old Greenwich, it is very modern in design. This custom-built modern property is built over 1.07 acres of land. More than 300 feet of water frontage, walk-in closets, a breakfast nook, a gourmet kitchen, a kitchen galley, and a spa prove this property is unmatched in terms of features.
In addition, deep water piers and gardens are integrated with all the massive terraces. Not only does the property feature a private pool, but the pool also features an automatic cover. A guest house and boat house are also included in this real estate.
Did You Know?
This real estate has a state-of-the-art design, for which it won the HOBI Award in 2021. It is a splendid output of the collaboration of Joeb Moore, Arthur Dunnam, and Reed Hilderbrand & Prutting Custom Builders.
5. 7-11 Old Stagecoach Rd
Property Details:
Type: Single Family Home
Price: $28,000,000
City: Ridgefield
Size: 12,259 sq ft
No of Bed: 5
No of Bath: 9
Parking: 4 Attached Garages, Total of 8 Spaces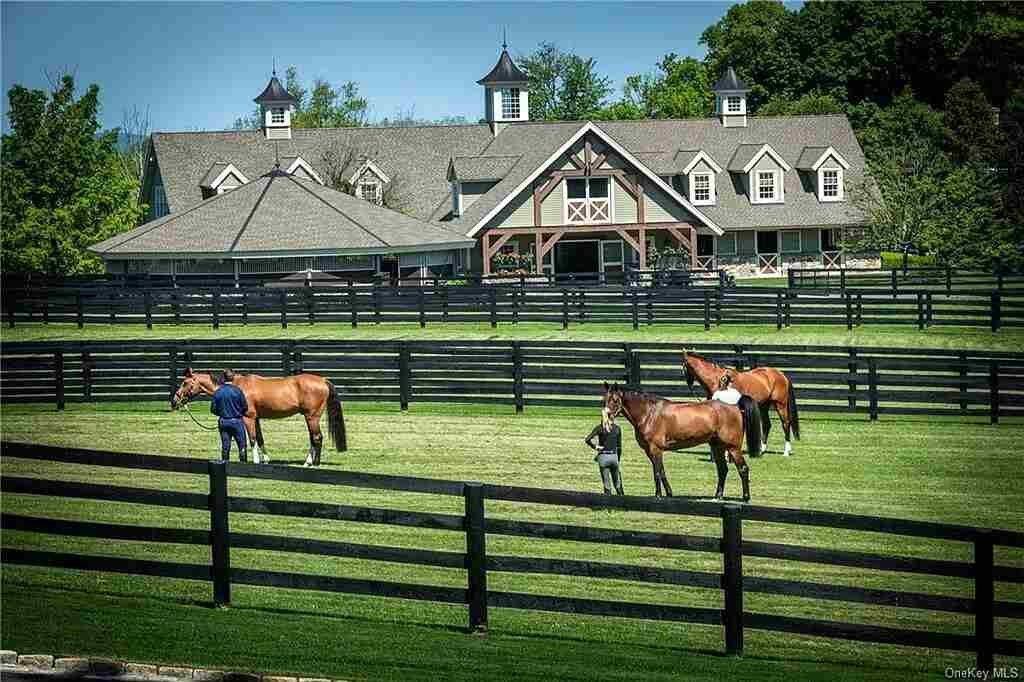 This property in Ridgefield differs from the above ones by being an equestrian compound. Additionally, it is larger than the rest of the property, set on 87 acres of lush landscaping. It offers some exceptional features that are not available in most properties.
For instance, buyers can enjoy amenities like a tranquil pool, a tennis court, a jumping derby field, outdoor riding rigs, and 2 additional homes that are recently renovated. On top of that, they may utilize it as a perfect getaway resort where they can take in stunning panoramic views from the main 4-story building.
Did You Know?
This top-notch equestrian facility has two cutting-edge barns with space for more than 40 horses each. It also features two covered hot walkers, a trophy room, a party barn, and run-in buildings for the paddocks.
Final Thoughts
We guess you have gotten a glimpse of Connecticut's luxury lifestyle by looking at the 5 real estate listings above. From modern waterfront estates to grand castles, each property offers something special. They are a testament to the state's natural beauty, rich history, unparalleled charm, and opulent lifestyle.
Recommended Posts: