South Carolina is a great place to live for many reasons. Almost anyone will find something while exploring from its sandy beaches and golf courses to historic landmarks and welcoming culture.
So, are you planning on buying a home in South Carolina? You should take some time since it is a major investment. Before you commit to purchasing a home in South Carolina, you should consider the pros and cons of such an investment.
In this blog post, we will discuss the advantages and drawbacks of buying a home in South Carolina to help you make an informed decision about your move.
Moving to South Carolina? The Pros and Cons to Aid in Making Decision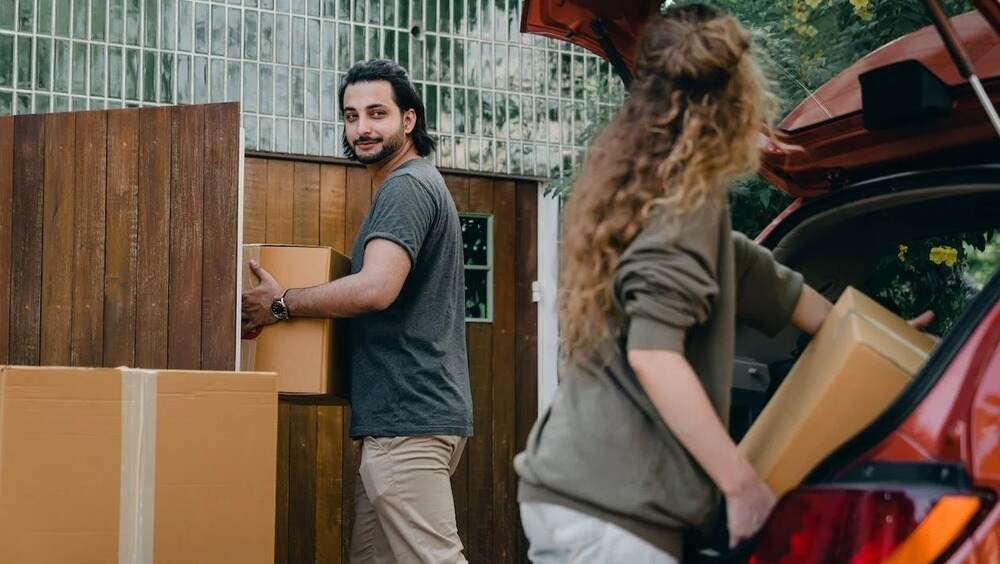 South Carolina offers a diverse lifestyle. Living here has many advantages that may not be available in other states. However, there are also some disadvantages. Let's explore the pros and cons so that you can finally decide whether or not you are going to buy a home in South Carolina.
The Pros of Buing Home in South Carolina
Of course, living South Carolina might be a dream for many. I mean the beauty and lifestyle is absolutely stunning. Among all the benefits of living in South Carolina, here are the top 6 when you purchase a home in this state.
1) Affordable Housing
South Carolina offers some of the most affordable housing in the United States. According to Zillow,
In 2018, the median home value in South Carolina is $186,400, which is lower than the national average of $231,200.
With a 19.2% increase during the past year, the typical home value in this state is now at $300,667. However, this is considerably fine if we compare other states of the U.S. The home value in South Carolina has been gradually increasing over the years. This is a good sign of buying home since you can rest assured your home value will hardly decrease. Here is the chart from Zillow home value index for a quick look –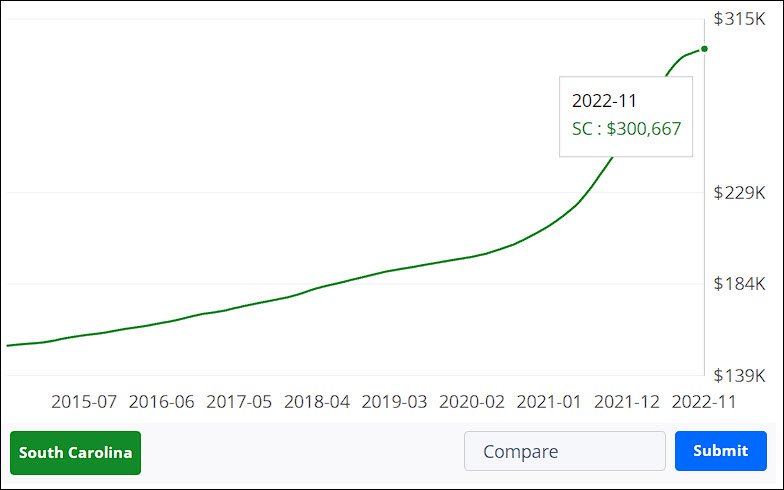 2) Stunning Natural Beauty
From beaches and waterfalls to mountain vistas, South Carolina is a state known for its stunning natural beauty. The state's natural beauty mostly attracts two types of people. First, the people looking for a tranquil place to retire. Second, the people looking for a weekend getaway spot.
However, I am no going to consider the second group of people since they are tourists. If you have a home in South Carolina, you will enjoy not only the state parks (i.e., Congaree National Park or Hunting Island State Park), but also the beach like the Boneyard Beach.
3) World-Class Golf Courses
Some of the world's top golf courses may be found in South Carolina. With golf courses like Kiawah Island, the Ocean Course, and the PGA TOUR Wachesaw Plantation Club, golf enthusiasts will be drowned with choices. Other than that, fancy brands for golf bags, golf equipment, etc can also be found here.
Speaking of golf courses, why not looking for residential houses in a golf community like the Hilton Head Island. If you are fond of golf, then this can be a life-time opportunity.
4) Rich Cultural Heritage
South Carolina is known for its rich cultural heritage. The culture is evident in its architecture, cuisine, music, and art. The state continues to practice some specific traditions, such as Sunday family dinners, New Year's Day meals, providing food to grieving families, and even presenting a newborn baby with a silver rattle or spoon.
If you are looking to immerse yourself in a culture that is steeped in tradition and history, then South Carolina may be the perfect place for you.
5) Strong Economy
A great thing about South Carolina that is has a strong economy with low unemployment rates. Also, it shows an abundance of job opportunities. South Carolina gained 86,000 payroll jobs in the last year, which decreased the unemployment rate from 3.9% to 3.8%.
Major industries such as manufacturing, technology, finance, and tourism are all thriving in the state. Perhaps, you may take a look at the following chart to compare the unemployment rate between South Carolina and U.S. –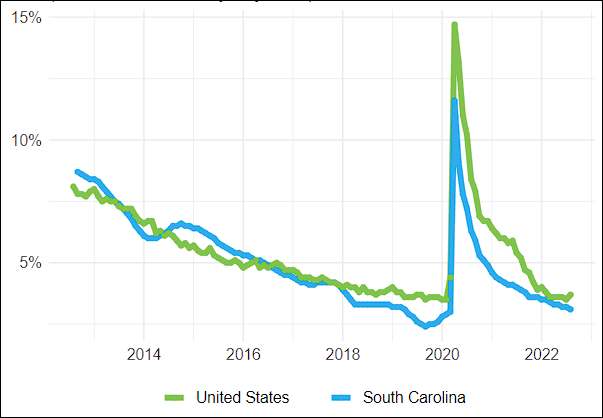 Source: Bureau of Labor Statistics
6) Friendly People
Last but not least, the locals in South Carolinian are known for their warm hospitality and friendly nature. One of the thirteen original American colonies is South Carolina. A variety of European nationalities made up the colonial population of the state. As per the U.S. Census Bureau data,
South Carolina population increased 1.7% between 2021 and 2022, making it the third-fastest growing state in 2022.
Immigrants along their families make up a tiny but expanding segment of the population. South Carolina is the place to be if you are looking for new acquaintances or just a place to call home.
The Cons of Buying Home in South Carolina
Just like the positives, living South Carolina has some downsides. However, they are not extreme if we compare other states. Without further ado, let's look at the following cons
1) Floods and Hurricanes
South Carolina is prone to hurricanes and storms. Also, the coastal areas of this state are prone to flooding during heavy rains. Therefore, homeowners should be aware of the potential damage these could cause to their property.
2) High Property Taxes
South Carolina has some of the highest property taxes in the nation. Thus, it can make owning a home in the state an expensive endeavor.
3) Smaller Home Sizes
Many homes in South Carolina are smaller compared to homes in other areas. As a result, if you want a lot of room or you have a large family, buying a property in South Carolina might not be a good decision.
4) Lack of Quality Public Transportation
In most cities in South Carolina, public transportation is limited or non-existent. For this reason, homeowners will need to depend on their own transportation for getting around. If you still don't have your own vehicle, you may want to think twice before moving to South Carolina.
In Conclusion
Purchasing a home in South Carolina can be a great opportunity for many people. Consider all factors before making a decision. Moreover, take time to research what South Carolina has to offer. Ofetn, the positives outweigh the negatives for those looking to purchase a home in South Carolina. Ultimately, it is up to you to decide whether it is the right choice or not.
Recommended Posts: