Everyone wants a home that has the right balance of coziness and luxuriousness. But, this mix isn't always easy to accomplish – especially if you're on a tight budget! It's not uncommon, however, for different stores to sell similar products at discounted prices. You just have to know where you're looking!
Also Check: Top 10 Best Powder Room Rugs Reviews in 2022
10 Swanky Choice For Home Decor
Luckily for you, this list of 10 decor pieces will add the right amount of bougie to your space without breaking the bank.
1. Rattan Arch Wall Mirror With Caddy (World Market) – $55.99
The arch was first invented in Ancient Rome. It was a sign of great excellence and prestige for modernized civilization. The association with this long-lived piece of decoration hasn't died yet; plus, they look great in modern homes. Mirrors also add a bit of depth to any space, making a room feel bigger and more inviting.
2. GooBloo Woven Blanket Basket (Amazon) – $31.99
Nothing says luxury like a good throw blanket. But, having a cute yet functional place to store those throw blankets is the next step. This simple bi-colored, neutral basket will provide a home for your blankets when they aren't in use. And it will make your home feel comfortable and welcoming without appearing lazy!
3. LeatherRooze Handmade Unstuffed Leather Moroccan Pouf Seat Boho Ottoman (Amazon) – $78.99
Brown leather is the epitome of class. This large, boho ottoman will provide a sophisticated place for your guests to prop their feet. And it's less than half the price of a similar piece sold by Crate & Barrel.
4. Frog Downspout Extension Outdoor Decoration – $41.95
This downspout extension will surprise your home guests with a realistically hand-painted downspout. You can fix it at the bottom of your gutter and extend the downspout and can even make a mini water feature around it.
5. Amada Homefurnishing Floating Shelves (Amazon) – $33.99
Floating shelves are in style and it's no surprise. These white, wooden shelves offer ample storage space without being an eyesore. Your guests will be focused on the decoration on top of the shelf, rather than the shelf itself.
6. Velvet 2 Piece Lumbar Pillow Shell Set (Houzz) – $34
A throw pillow and velvet is arguably the most luxurious combination to ever exist. These pillows give your space a serious upgrade without requiring a significant chunk of change.
7. 3-Piece Blue Marbelize Ball Accent Set (Houzz) – $53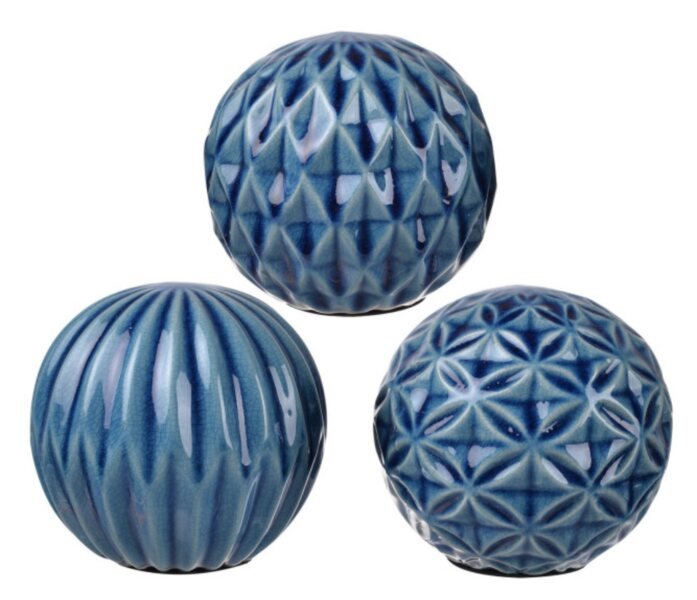 These nifty little home decor pieces give your home the touch it needs to feel fun and festive while also giving off glamorous and bougie vibes. Plus, they don't take up a ton of space and are easy to customize and exchange depending on the season.
8. Muse Valet Eyes Tray (Neiman Marcus) – $75
The color purple, the brand Neiman Marcus, and a decorative tray – enough said. Purple has been known as the color of royalty for centuries, and the association remains, even in modern-day interior design. This simple dish will add an heir of royalty to your space without a doubt.
9. Boy Smells' St. Al Candle (Boy Smells) – $36
Candles are a simple yet effective way to spice up your space – literally! This Boy Smells candles emanate bursts of holy wood, exotic florals, and frankincense throughout your home. You won't want to put these out!
10. Wide Macrame Rope Crochet Boho Wall Hanging on Dowel (Amazon) – $39.68
Boho will always be chic. And these rope macrame dowels will give your space a touch of boho without overdoing it. The bright color will also add a pop of light to the room. Plus, the shape itself will provide a nice texture to an otherwise flat area.
Also Read: Simple Home Décor Ideas For Winter
Final Words
Decorating your home doesn't have to be expensive, even if you want it to feel luxurious. Oftentimes, the most elegant home decor pieces are simple and made with everyday materials. It's easy to find cheaper versions of the same decorations at different stores. It just takes a little time and patience!