Finish nailer is that powerful tool that simplifying a lot of hard work by contributing in any home project. Finishing becomes easy with this tool having speed, power, precision, and safety features. But, You may confront the difficult choice between angle and straight finish nailer if you don't have enough knowledge.
You can't just choose any finish nailer based on its appearance. Angled finish nailer is perfectly suitable for narrow spaces where straight finish nailer are totally useless. However, it depends on the user's purpose.
There could be more factors that must be known by user before selecting one of them tool according to their need. You will not just waste money that regrets you later. So, this article will provide a comprehensive knowledge on angled vs straight finsh nailer with key differences. In addition to it, we also mentioned our best recommendation for both tool.
What is Angled Finish Nailer?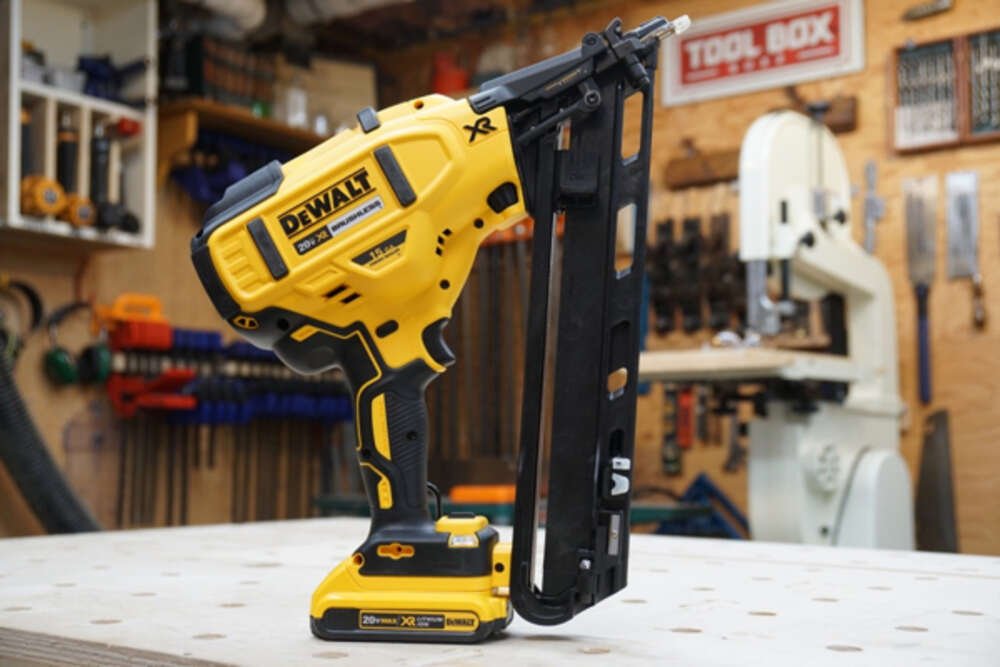 Angled nailers magazine is tilted at an angle relative to the gun body. At first glance, the different corners of the magazine may not seem challenging.
This nailer magazine is angled, and Its designs help to drive the nail into compact and hard surfaces, that is why it gets its recognised name. This nailer is compatible with using thick nails, and thus it can join firmly in these difficult areas. A 15 meter nail size is much more effective than other nailers.
Moreover, its magazine has enough space to allow you to use larger nails in them. These nailers are the best tool for cabinet making.
First, the angle of the magazine allows the user to hold and operate the nailer at all kinds of angles. The gun body does not need to be perpendicular to the surface, so, working in compact spaces is entirely possible.
Second, because of the angled magazine, angled nailers may use heavier, tucker nails to connect your workpiece. The magazine does not block the muzzle of the gun when placed on boards. Since larger nails are used, angled nailers can provide better stability to your woodwork project.
There are only two main downsides to owning angled nailers, and neither of them has anything to do with affecting performance. First, heavy-gauge nails are hard to find and second, when you find them, they are more expensive than the thin-gauge nails used in straight-finish nailers.
If you plan to use an angled nailer on projects where precision is needed, use the right type of nail for the certain works. Be sure to consider any potential downsides before deciding if this is the right type tool for your needs.
What is Straight Finish Nailer?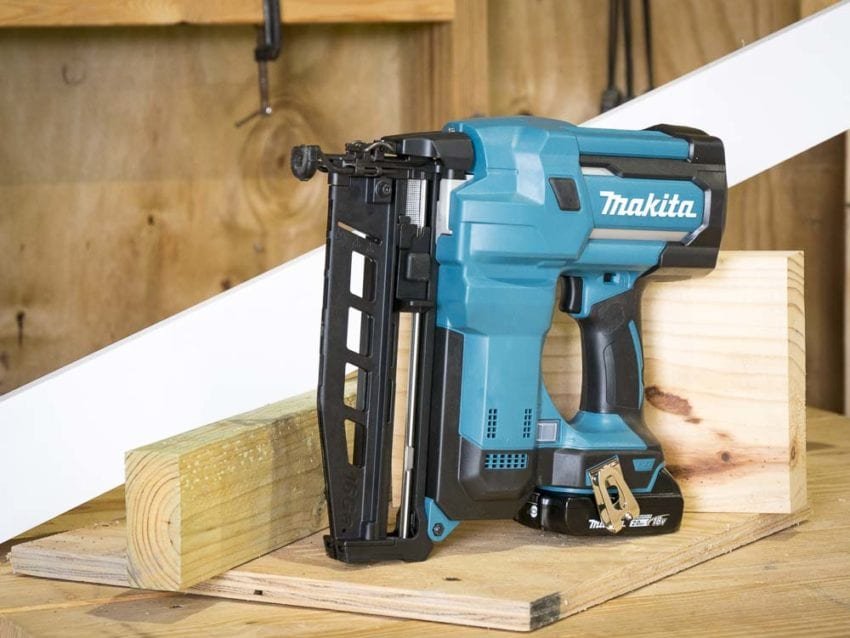 A straight-finish nailer is a nail gun designed to drive nails into wood, making jobs like furniture making or framing easier and faster. Its magazine is perpendicular to the gun and parallel to your work surface. The only way to get the best result when using one of these contraptions is to hold the gun at a perfect 90 degrees otherwise the nails may not stick.
In a straight-finish nailer, the position of the magazine is straight. the 16-gauge is the size of straight nailer nails, and they are thin. Being thin nails, these types of nails are seen on exposed surfaces. For best results when trimming, choose nailers straight.
The nails used in straight-finish nailers are shorter than in angled nailers. Because the angle of the magazine does not allow much clearance from the plank. A straight nailer is more suitable for lighter-duty such as fastening of boards or other soft materials.
Because the nails are small, you won't have much difficulty hiding them from view on the surface of your workpiece.
Straight-finish nailers are usually made of substances like aluminum or magnesium, making them easy and comfortable to handle.
However, there are cons available when using a straight-finish nailer. First of all, the nails are thin and thus weak, and will not be able to connect to large boards when working on large woodworking projects.
Secondly, the size of the gun and magazine does not allow you to run them in cramped spaces. Third, they are larger and slightly heavier than their angular counterparts. Fourth, straight-finish nailers tend to split the wood.
If you are using a lot of nails in your project, you may want to know if different types of nail guns would be better suited for your needs.
One of the most important factors when choosing a straight-finish nailer is how many nails it can shoot in quick succession. This will help you determine how much time and effort you need to put into putting a project together.
Also Read: Orange Peel Vs Knockdown Texture : All Key Differences You Must Know
Key Differences Between Angled and Straight-finish Nailers
1. Design
Appearance
Their appearance is one of the most obvious differences between these two types of nailers. However, they are similar tools, and they are not different in functional works.
The magazine of angled finish nailers are located at an angle to the rest of the unit. On the other hand, a straight-finish nailer looks more or less like a small and compact mail gun.
The shape leads to all the other differences we are going to talk about. The angled magazine of nailers gives it specific benefits than straight nailers.
Size
Another big difference between these two types of nail guns is the size of the nail. For the most part, straight nailers are used with 15-gauge nails. They are thinner than other heavy duty nailers and allow you to drive nails into thin material, without the risk of cracking or splitting. However, this may not be the best choice for larger projects, especially where two large pieces of wood are joined.
Angular-finish nailers use 16-gauge nails, which are slightly larger. That said, you don't want to use it for very thin and fragile materials, because you can crack them.
Weight
Angled finish nailers tend to be larger and heavier than straight finish nailers. Angular nailers are specially designed to be compact & light and are required additional materials. This weight difference means you will tire quickly when using one.
2. Ease of Use
A problem many people have with finishing nailers is that it can be difficult to get the angle of the nail right. In an angled nailer, the nail also enters at an angle. The angle is supported, so there is no guesswork involved. This makes the angled nailers ideal for inserting nails at an angle.
With a straight nailer, the nail is straightened, which makes it more difficult to nail something at an angle. On the other hand, if you need to insert a nail perfectly straight, it will be nearly impossible to do so with an angled nailer.
3. Suitability in Tight Areas
In terms of overall functionality, perhaps the biggest difference between these two types of nail guns has to do with what kind of spaces they can fit. If you have ever seen a regular straight-finish nailer, you know they can be quite large. This combined with that straight magazine for nails means getting into very tight spaces can be quite a challenge.
4. Nail Size and Shape
Another difference, although relatively unimportant in the grand scheme of things, is that regular nailers often have nails with rectangular heads. Angle nailers, however, typically have nails with rounded heads. With that being said, keep in mind that neither really has a big head, so it won't make much of an impact.
5. Pricing Difference
Another thing to consider here is that straight-finish nailers are slightly cheaper to buy than angled-finish nailers. Angular nails are considered more functional and easier to use. This is typically used to justify price differences. You also want to consider that 15-gauge nails are going to be more expensive than 16-gauge nails.
In reality, if you're going to be doing a few projects, you'll probably want to invest a little more money in angled nailers. As they are a bit more versatile and can be used for different tasks.
However, if you are a professional who is going to work on trim and crown molding all the time, You're probably going to want both of these tools.
The simple fact is that straight-nails are ideal for large areas where you need to insert a relatively short nail at a straight 90-degree angle.
On the other hand, if you need a slightly larger nail, you need to fit it into a tight space, or you need to insert the nail at an angle than angled nailers are ideal.
Best Recommended Angled Finish Nailer
Sale
The Ryobi angle nailers eliminate the need for a compressor. The new technology is called " Airstrike technology", which offers cordless convenience. With the absence of an air compressor, you can carry it without any trouble. The cordless version provides a better output when working on a heavy construction project.
The Ryobi Angle Finish Nailer is only 6.8 pounds, which won't tire the muscles with long use. Also, this model is devoid of bulky hoses or expensive gas cartridges. Because of this, the user can use it after unboxing without setup hassle. With an easy grip and good weight balance, users can smoothly nail into tight spaces.
However, a 18v battery comes with the package. According to the users, it can drive around 750 to 800 nails. The magazine can hold 105-finished nails, which is average for construction cornering work. This nailer uses 15-gauge finish nails, so it is easy to find at a nearby store. Additionally, it can fire nails from 1 inch to 2 ½ inches providing versatility.
PROs
Cordless models offer convenience in portability.
There is no need for a sound compressor.
Nail firing rate is satisfactory.
Weight balance is good enough.
Offers a faster setup.
CONs
The power of the nail could be a little higher.
There are some issues with using triggers.
The price is a bit high.
Best Recommended Straight Finish Nailer
NuMax SFN64 Pneumatic 16-Gauge 2-1/2" Straight Finish Nailer
Construction Applications: Designed for trim,...
Compatible Nails: 16 gauge glue collated straight...
Built to Last: One piece hardened steel drive...
Ergonomic Body: Rugged but also lightweight and...
Tool-Free Depth Adjust: Simply turn the depth...
Quick Jam Release: Allows for easy access clearing...
Numax nailer offers beautifully nailed exterior and interior finish projects. Decorative trim is especially good with this nailer. It has a sequential firing mode for continuous firing in versatile projects. Plus, its tool-free nail depth adjustment feature is adorable for customizing any trimming task.
This nail has a quick jam-releaase mechanism that makes nail removal easy. Also, the company is offering a no-mar safety pad to protect the machine and nail surface from damage. But the magazine of this nailer is capable of holding 100 nails.
The magazine holds 16-gauge adhesive collated straight nails from 1 inch to 2 ½ inches. With a durable aluminum body and ergonomic comfort grip, this nailer is a dealbreaker.
The specially-designed grip reduces the risk of slipping. In real-life use, you don't have to worry about its durability. Apart from these, the weight balance is commendable. A 360-degree adjustable air exhaust allows the user to keep air away from the face.
PROs
Sequential firing mode for non-stop nailing.
Means good build with excellent grip.
360-degree adjustable air exhaust for convenience.
Adjust nail depth for accuracy.
Versatile for various trimming projects.
CONs
Nail strength is not admirable.
Cannot back up intensively due to missing battery.
Critical angles are difficult to access.
Conclusion
Finish nailers are a great tool for connecting boards for crown molding. They can even be used for larger projects like cabinet making. For these projects and others that require working in confined spaces, We recommend going with angled nailers as its shape allows for better maneuverability. Straight finish nailer and its smaller nailing capacity will be better suited for fastening delicate decorative trim.
Recommended Posts: