Sonos is up against a lot of competition in the wireless home audio industry. There hasn't been a shortage of Sonos competitors till now. Though, Sonos has dominated the audio industry. But what about the Bluesound vs Sonos?
No doubt, Sonos continues to provide the best whole-home audio experience with its great sound quality. Whereas, Bluesound still needs to work on better sound to close great deals in the market. However, in some aspects, Bluesound has improved itself as a strong opponent with several inputs, IR remote compatibility, and many more.
Moreover, you may find that Bluesound is somewhat expensive in comparison to Sonos, and indeed its premium-based features justify its price. So there is always room for competition. Also, You can set up a home theatre with any one of the brands along with a home theatre power manager. Here we have covered a brief article to comprehend the difference between Bluesound and Sonos. Read the full article to find out.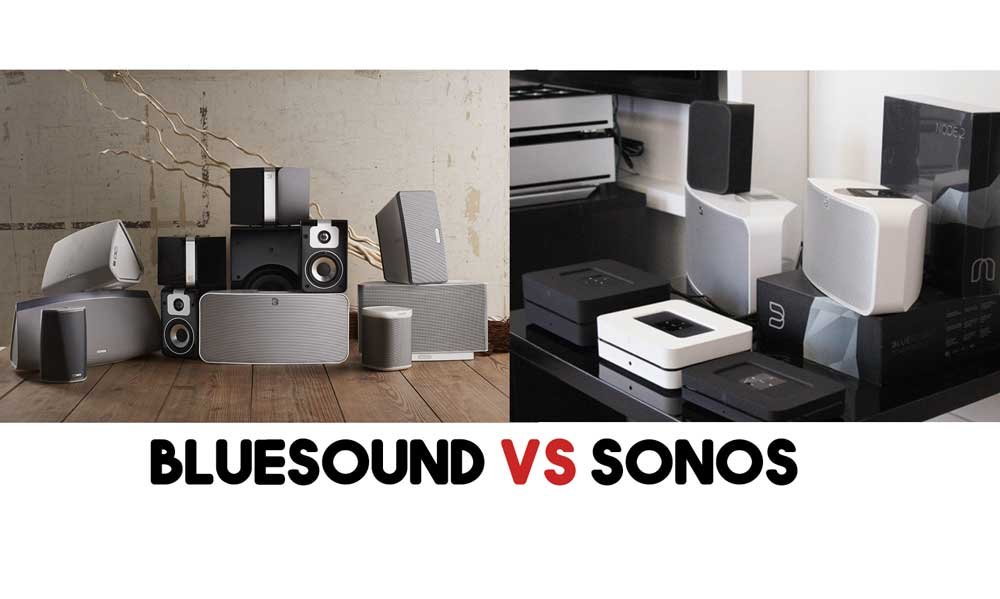 Bluesound vs Sonos – Features Comparison
Sonos is popular for its smart speaker features. Sonos is so good that google and other brands are trying to keep up the pace by imitating Sonos. However, they need more than imitating the similarity.
But, there is another brand that is closest to Sonos which is reacting fast. Bluesound moves a step forward with its innovative features. So, should we move to Bluesound rather than Sonos? Here we will look at the difference in their features and many more.
Designs
On looking at Sonos's product lines, it seems the company is still renovating designs in their models. The material used in the new models changed to fabric instead of metals, as used in earlier ones. Also, new models include sensitive controls for touch and motions, and finishing is done with matt black or white plastic except for the SUB.
While Bluesound provides more attractive looks in its products, along with having some variance to controls. Some have physical buttons and touch controls in pulse flex and pulse 2 respectively. Also, the pulse soundbar comes with no control at all.
Moreover, Bluesound products are designed in such a way that can be controlled with an infrared remote, except Pulse flex. Sonos also offers such controlling features only in its PlayBar and PlayBase.
Plus, Sonos' design hides power inputs better, whereas Bluesound used a 90-degree angle design for the power cord to minimize protrude.
Set-up
Sonos is preferred for its simpler setup inch since you need to press two buttons of speakers to sync to the system. Whereas, Bluesound requires to find the speaker in the phone's wifi list before finishing the setup in-app.
However, Both company's speakers are managed by only apps and web applications. They are called Sonos and BlueOS app.
Inputs and connectivity
Bluesound typically includes a variety of inputs that goes beyond the basics offered by the Sonos. However, none of these can act as sources for additional Bluesound speakers.
It means you can not use grouped speakers to Bluesound speakers if the device is connected via any of the inputs. Considering this, Bluesound said to make further updates in the future. However, Sonos does not promise such a feature.
Wifi
Both company speakers required a strong connection to your wifi without any dropout. However, you may experience a few glitches in Bluesound speakers since each component needs to maintain its connection to the router.
In this case, Sonos is found to be a more stable system because they run their mesh network connecting to ethernet.
Music streaming
On comparing both the brands for streaming music services, Sonos beats the Bluesound easily. Sonos provides in-built support for 60 subscription services whereas Bluesound supports 16 services.
Also, Sonos services include majors like Apple Music and Google Play. Though Bluesound missing these biggies, many don't mind due to its high-resolution music.
Sound quality
Now, the biggest comparison comes, that is which has better sound? It is hard to say because better sounds vary from person to person. So both companies include the ability to modify bass and treble.
After testing with playing the same tracks in each system, it was found that Bluesound creates sounds that are high resolution and loud with clean and precise. Also, Bluesound could reproduce high-frequency sounds.
However, Sonos is still preferred due to its different approach to producing sound using DSP(digital signal processing) to tweak the frequencies. Also, it offers Trueplay tuning to ensure the tweaking reflects the listening environment.
Pricing
Bluesound is more pricy due to being loaded with extra features that are not found in Sonos products. Below are some models compared with the price you may see yourself. It may clear the price differences.
Bluesound vs Sonos – Models Comparison
Now Let's look at some of the popular models of both companies. Also, why is there so much difference in their prices and which is better to get?
Let's find out some differences between them. Here we have covered models which are demanded highly. We have tried our best to give the best comparison so that it is easy for our readers to decide.
Bluesound Pulse flex 2i vs Sonos One
Bluesound Pulse flex 2i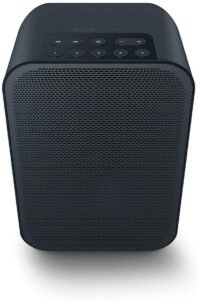 Smartness: Both models are equally smart with supporting Amazon Alexa, Google Play. Also, they are easy to control through their respective app provided by companies. Plus, Sonos one offers in-built voice assistance whereas it is optional in Bluesound.
Connectivity: Sonos One is a step behind in terms of connectivity. Sonos One doesn't have Bluetooth 4.1and Ethernet supporting RJ45 and 100BaseT network. But you will find them in Pulse flex 2i with type A and Type B USB ports and 3.5mm aux.
Sonos One (Gen 2)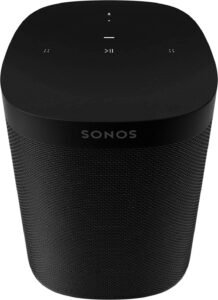 In fact, Sonos one has a basic Ethernet port and a join button at the back.
Design: Bluesound Pulse Flex 2i is more stylish with a control panel and also lighter than Sonos one. Definitely, you will like the look of pulse flex 2i.
Multi-room Experience: Sonos one provides an easy multiroom experience since you can easily control all the grouped speakers by a single connection. But, in the case of Bluesound pulse flex 2i, all grouped speakers require separate connections to the router.
Bluesound pulse soundbar 2i vs Sonos Arc
Bluesound Pulse Soundbar 2i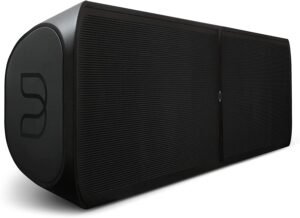 Sound: Pulse soundbar doesn't support Dolby Atmos whereas Sonos Does. Also, Sonos arc has 8 digital amplifiers, 8 elliptical woofers, 3 silk dome tweezers, Trueplay, and sound enhancement. All these together create superb original sounds.
Whereas, 2 tweezers, 2 woofers, 2 passive radiators, and 2 mid-range drivers fitted in the pulse soundbar. Just by comparing, no doubt Sonos Arc provides better sound quality.
Sonos Arc


Connectivity: You will find more connectivities in the Pulse soundbar than the Sonos arc such as 3.5mm stereo analog input, USB A-type input, Built-in 5.0 Bluetooth, and also remote is included.
HDMI ARC and eARC are available in both models along with basic inputs. Also, both models support android, ios app control, and voice controls.
Sonos Amp vs Bluesound Powernode 2i
Bluesound POWERNODE 2i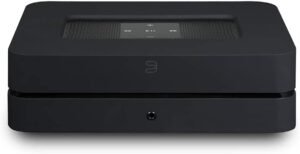 Both amplifiers are of class D, which generate rail to rail digital output signals using pulse width modeling.
Connectivity: Both amplifiers provide multiple connectivity options.
In Sonos Amp, you get 2 ethernet ports, 100 streaming channels, subwoofer RCA type, speaker output connections, join buttons, HDMI Arc input, Airplay 2, and many more.
Bluesound Powernode 2i has one ethernet port, two 3.5mm stereo output, 4 speakers terminals, two-way Bluetooth, a USB-type port, HDMI eARC input, wifi, and more.
Sonos Amp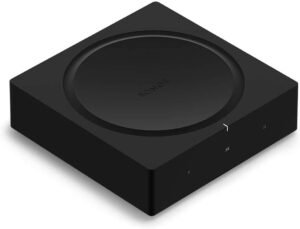 Moreover, control panels are present in both models. Also, Powernode supports more file formats than Sonos Amp.
Sound: Bluesound Powernode 2i is a high-quality amplifier and DAC with hi-resolution sound. However, Sonos never disappoint for their sound quality. Also, Sonos Amp is capable to drive any speakers with 8, 6, and 4-ohm models.
Also, the power output for Sonos Amp is 125 watts and 120 watts for Bluesound Powernode 2i.
Customer Experience
After reading the reviews on Amazon, it was found that Sonos speakers are more preferred than Bluesound. If your look yourself, you may find more than 80% of reviews in favor of Sonos Speakers. Look at this one.

Although, in the case of Bluesound, almost 60% of users are suggesting this brand and users are low compared to Sonos.Here is one of the reviews for Bluesound pulse 2i
Verdict
Both brands provide a lot of features and are still in the way of more improvements. Bluesound may have more features along with more connectivity but Sonos is still best for audio setup in the home with great sound quality.
We would still prefer Sonos over Bluesound and suggest you the same. However, make your own choice and also let us know your preference through comments and share your thoughts on home decor write for us blog.
Recommeded Posts: