The process of connecting your home theatre to the power source may be challenging because power fluctuation can cause harm to your costly home theatre. A home theatre power manager is made so that your home theatre system remains safe from any electric damage.
A power manager is basically used to regulate the power supply of a home theatre and provide an additional level of safety for long life. Additionally, filtering noise emanating from the AC power enhances the audio quality and performance of the home theatre.
These power managers can be found in various brands and types to choose from on the market. You will need to do a lot of research to choose the best home theatre power managers from the options currently on the market since not all of them are of high quality.
In this article, we will not only provide you with comprehensive information on home theatre power managers but also you will find the reasons why you need it. Moreover, we will assist you in selecting the most suitable option available for you. In addition, before giving it any thought, you will find every detail of the product's functions, benefits, and drawbacks. Just get ready with a mezzo spritz to find all.
In a hurry? Here are our top 3 recommendations when it comes to the best home theatre power managers.
What is a Home theatre Power Manager?
To control AC power distribution, offer surge protection, and filter out stray electrical current, a home theatre power manager is required (reduces or eliminates noise). According to the complexity and cost, extra functions like sequential system power on and off and over/under-voltage safety may be included in the package.
There are two elements to the home theatre power manager job in a home theatre system. First and foremost, it is designed to enhance your home theatre system's performance by enhancing the quality of electricity, effectively distributing power, and reducing noise levels. Aside from protecting your equipment from electrical surges, it is also designed to help it last longer.
In addition, you'll enjoy working in a more orderly and spotless setting. All of your power manager's wires are tucked away in the rear. As an alternative to having many power strips scattered throughout the keeping room, you will only need one device, and all your devices will be linked to it.
Are Home Theatre Power Managers Worth It?
Home theatre power managers are electrical devices controlling how much electricity goes to your home theatre. Voltage regulators may also safeguard your equipment against power surges and manage the voltage.
Depending on the type, they may safeguard your equipment while improving your power quality. Because they protect your pricey home entertainment system and prolong its life, these gadgets are well worth the investment.
A power manager instead of a surge protector may help protect your devices from damage. When exposed to excessive voltage, a surge protector may malfunction and cause harm to your electronic devices.
An alternative is to use a home theatre power manager, which will monitor and control your AC distribution power, ensuring the safety of your gadgets. High-risk lightning zones need a home theatre power manager to keep your gear safe and improve performance.
It's important to have a power manager in place since these variables may alter the sound quality of your audio equipment. You can extend the life of your electronics by using a power manager to keep them safe from these threats. Using a power manager is particularly beneficial for devices that are constantly on.
Background noise reduction is one of the essential advantages of a home theatre power manager. theatre power managers decrease noise by managing AC power distribution and preventing power spikes.
These devices also provide electrical surge and spike protection. This is an extremely significant consideration if you reside in a location where power outages are often.
Also Read: How to do Home Theatre Wiring Easily at Home
Why Do You Need a Home theatre Power Manager?
According to a survey, home theatre systems are in use by more than half of American homes. As a result, we can see just how essential the product is in today's real-world lives. To protect yourself or to increase performance, you may require a better electrical system in your house.
A power manager is a must-have if you reside in an area prone to lightning strikes or often experience power spikes. If you reside in less danger, it is still a good idea to have a power manager installed.
On the other hand, the phrase "dirty power" is now the most often used in online discussion forums as a cause for alarm. Searches by customers tend to focus on how to clean up filthy power sources. Sadly, the current power structure is showing its true colors in this case.
Voltage fluctuations and power surges are among the most typical abnormalities. In addition to affecting the performance of your audio equipment, dirty electricity may also create malfunctions and lead to equipment failures that are impossible to fix.
A power conditioner is a must if you encounter these troubles in your house. Normal mode noise, a low-level signal that travels together with the original power transmission, is another dirty power source. In certain situations, you may even be able to hear this noise via your speakers if it isn't filtered off.
Other devices on the same line might cause this kind of noise. It's unclean electricity that's making your speakers popping or humming noises when the light is turned on or the hairdryer is used. A poor Wi-fi connection can also cause similar issues, comments Ruban Selvanayagam of Property Solvers UK.
8 Best Home Theatre Power Manager Reviews 2023
For large purchases like home theatres and power management systems, you'll need to weigh the costs and benefits of several options before you make a decision. Following an extensive review of the many power conditioners on the market, we have compiled an all-inclusive list of the eight most effective home theatre power managers.
PROs
Automatic Voltage Monitoring (AVM)
Level 3 Noise Filtration
Media lights
USB port for charging
Rack compatible
CONs
It is difficult for users to file claims for malfunctioning equipment.
Expensive
Sale
Panamax MR4300 Power Line Conditioner and Surge Protector
9 protected and filtered outlets featuring...
Industries best protection - specifically designed...
Guards against damaging power spikes and current...
$5, 000, 000 Limited Lifetime connected equipment...
With over 30 years of innovation, millions of...
One of the most popular power managers on the market is the Panamax MR4300. Anyone looking to shield their home entertainment gear from the elements will be pleased with this option. The Panamax MR4300 has nine outlets, four of which are devoted to audiovisual equipment. Ethernet surge protection is included, as is protection for coaxial and telephone lines.
Automatic Voltage Monitoring (AVM) is a great feature of the Panamax MR4300. Thanks to this function, your equipment will be disconnected if the input voltage goes beyond a safe range. Power surges and fluctuations might harm your equipment if you don't do this.
Level 3 Noise Filtration is also included in the Panamax MR4300 home theatre power manager, helping to limit interference from computers and microwaves. This is a fantastic feature for those who want to get the most out of their home theatre experience.
The media lights on the Panamax MR4300 are another fantastic feature. Using these lights, you'll see what's plugged in. If you have a lot of equipment and want to keep track of what's happening, this is an excellent item to have in your toolbox.
There's also a USB port on the Panamax MR4300. It's a terrific option for folks who wish to charge their phones or other gadgets while enjoying their home theatres.
Panamax's MR4300 home theatre equipment case is a wonderful option for people looking for complete security for their home theatre systems. It has a USB connector, AVM technology, and media lighting. To make things even easier for individuals who need to transfer their equipment around, it's also rack-mountable.
PROs
High surge protection rating
Automatic voltage monitoring
Noise filtration
Long power cord
Equipped with eight power outlets
Budget-friendly option
The Panamax MR4000 is one of the most cost-effective and long-lasting power managers for home theatres. This unit's excellent surge protection will protect your home entertainment system well-protected. It has eight outlets with protection and is equipped with a proprietary technology called Automatic Voltage Monitoring (AVM).
When the voltage exceeds a safe level, the device turns off all connected devices. As soon as the voltage returns to a safe level, the LED display will let you know whether there will be an upcoming surge and enable you to reconnect without risk.
To accommodate all of your home entertainment gear, the MR4000 has eight built-in outlets. 14 AWG wire powers all of them. The LAN board handles front panel buttons and indicators, which have two pairs of diodes that clamp separate LAN lines.
The MR4000 contains a noise filter to decrease audio noise as an extra layer of security. You may utilize the noise filter if you have a soundbar, a headphone amplifier, or your computer's sound card. Static noise is reduced using the device's built-in noise reduction technology.
Sale
Panamax MR4000 8-Outlet Home Theater Power Management
Industries best protection - specifically designed...
Guards against damaging power spikes and current...
$5, 000, 000 limited lifetime connected equipment...
With over 30 years of innovation, millions of...
Connector type: Power Plug
Panamax MR4000 8-Outlet Home theatre power manager protects your audio/video system against power spikes and small variations. You may save money by using the Panamax MR4000 instead of pricey power managers.
Panamax's insurance coverage makes the purchase a cinch. You'll be covered for up to $5,000,000 in damages when you buy this unit. It also comes with a q power wire, making it simple to set up.

PROs
Nine outlets for AC power
Uses LiFT technology
Exclusive SMP technology
Isolated power banks
Voltage shutdown circuitry system
CONs
Lack of USB charging port
PL-8C 15 Amp AC power conditioner from Furman provides all the features you need in a high-quality AC power conditioner. Furman is the top brand in power conditioning for professionals because of its unique feature set.
Because of its superior Series Multi-Stage Protection and high-quality build, this case is impenetrable to unwanted elements, and the twin pull out front panel lights let you view inside your gear with ease.
To protect your gear and other equipment from AC surges and noise, the PL-8C 15 Amp Advanced Level features superb line-filtering technology.
You won't have to be concerned about harming or burning your digital equipment since it has a 15 Amp capacity. Nine outlets mean you can plug in whatever number of gadgets you choose.
With Furman's SMP and LiFT technology, you may enjoy the most significant degree of protection against power surges and spikes. Isolated outer banks are also available as an option. As a result, inter-component interference and noise contamination are both reduced.
The music is crystal clear thanks to this device's powerful filtering capabilities. A high inrush magnetic circuit breaker is also included in this gadget for additional safety.

PROs
Rack mountable to save space
Powerful and durable
EMI/RFI noise filtering
Nine outlets for maximum versatility
CONs
A bit larger than average
Protection from short circuits and overvoltage are only two problems the Furman Merit X Series can handle. The rack mounting kit that comes with the device is specifically intended for rack installation.
In reality, the Furman Merit X Series is a fantastic power conditioner for any audio/video system, not just for entertainment systems. There was no noticeable degradation in performance even during the most strenuous of testing sessions. The product is a high-quality power strip that provides a lot of convenience at a reasonable price.
You'll also like the unit's attractiveness. Thanks to the honeycomb-like architecture, you can easily connect and unplug all of your gadgets. We were impressed by how effortlessly it connected to our home theatre system and how much space it left for expansion.
Sale
The design is straightforward and practical, with no unnecessary extras. However, we found it to be more than enough for our entertainment system setup, even though it only has a 15 amp rating. Additionally, it's more substantial than the ordinary power strip and seems to be built to last longer than similar items.
This power manager uses noise filtering to eliminate unwanted RFI and EMI interference and power fluctuations that might harm your equipment. Additionally, it features a 15 amp rating and a circuit breaker, which will keep your equipment safe and functioning smoothly.
PROs
Efficient
Can handle a lot of power
Great voltage regulation
Excellent surge protection
According to our analysis, Pyle's product quality has been continuously dropping over the last five years. However, there was one notable exception to this general rule: the Pyle Rack Mount Power Conditioner. In reality, it performed well throughout our evaluations.
A single-button design makes it an easy-to-use model for everyone, including those who aren't particularly technologically smart. It was built with great care and precision. We like that the box had a wire for attaching to a rack.
Additionally, we were impressed with the power strip's 15-amp rating, which should be plenty for most home entertainment equipment. Because this power manager does not have any indicator lights, it is the only significant drawback. Everything else about it is top-notch, and it'll do wonders for your home theatre.
AV receivers, game consoles, and other components that are sensitive to sags and ripples will benefit from this device's ability to safeguard them.
The Power Manager 8-Outlet Surge Protector has a high level of safety and provides more than 1800 watts of steady power to your devices.
The surge protector has a high-tech surge protection technology that guards against the destructive effects of power surges and spikes on your electronics. When it comes to AV power control, this is an excellent option. This device has an inbuilt circuit breaker that protects your equipment from power surges and short circuits.
The 120V AC input voltage is well-regulated by this power manager. There aren't many power managers at this price point with as good voltage management as this one, even from a 12VDC input.
The unit's "clean power" mode was an intriguing addition, allowing customers to choose the quality of the power entering their system. It's safe to say that the Pyle 8-Outlet Rack Mount Power Conditioner is a solid choice.
PROs
Provides linear AC power filtering
EVS circuitry that resets itself on its own
Compact chassis design
Low profile design
Included mounting brackets
Budget-friendly
CONs
Hard to find parts to replace.
As far as home theatre power managers go, the Furman AC-215A Compact Power Manager is our top pick since it has all of the functionality you'll need at an affordable price range. The AC-215A power manager provides linear AC power filtering and EVS circuitry in a small form factor.
The EVS circuitry protects your system from electrical spikes by preventing overvoltage and voltage swings. During our testing, we did not see any performance or power irregularities. The Furman is the finest power conditioner for protection against voltage fluctuations and surges. It is also portable due to its small size.
The auto-reset and voltage protection circuits will astonish you. Mounting brackets are included in the low-profile design. In the case of a home theatre, the Furman AC-215A Compact Power Manager is ideal.
Sale
It includes a highly effective power filter that ensures the music is clear. The power supply is low noise, which saves electricity and boosts AC power when required.
In a three-way protection system, it takes the place of a UPS. First-level AC power protection is provided by combining an SMP device with a linear and surge protector. Spectral response filtering technology (SRT) may reduce high-voltage transients and electromagnetic noise.
The Furman AC-215A Compact Power Manager is one of the finest home theatre power managers available today. It has all the functions you might desire in a home theatre power manager, and the cost of this power manager is extremely reasonable.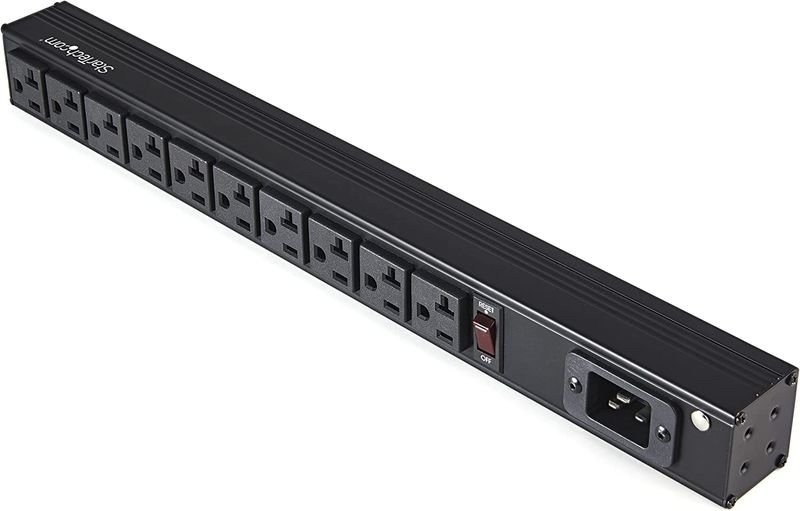 PROs
Great value for the price
Durable rugged steel casing
Rack-mountable design
CONs
Not many features
No filtration
On the market today, the StarTech 10- Outlets Power Strip stands out as one of the home theatre power managers that are both economical and effective.
This power system helps you centralise your power supply and gives you the ability to manage all of your powered devices with just a single switch. You are able to regulate the power status using an illuminated power/reset switch, which is located on the front panel of the rackmount power strip.
The built-in circuit breaker and reset button on this device are the most important features since they safeguard your system and guarantee that it will continue to function normally.
Sale
It is often come equipped with a circuit breaker and reset switch of the 20 Amp (20A) kind for the purpose of preventing the expensive failure of linked devices and maintaining the reliable operation of essential pieces of machinery.
The most significant disadvantage of this device is that, in order to keep the complexity low, it does not come with too many features or filtering systems. However, the StarTech 10- Outlets Power Strip is an excellent product that stands out due to its excellent value compared to its pricing.
PROs
Surge suppression rating of 1800 joules
15-foot power cord
1U rackmount design for easy installation
12 outlets for maximum versatility
3-year limited warranty
The CyberPower CPS1215RMS is a fantastic option when it comes to selecting a power conditioner. With several outlets and a surge suppression rating of 1800 joules, this device offers a huge quantity of power and safety.
To top it all off, this power conditioner is very well-built and long-lasting, particularly when compared to several of its competitors. In addition to the six back outlets and six front outlets, it has an arrangement that makes it simple to use and connect all of your gadgets.
Additionally, the 15-foot power cable provides you with a wide range of options, and the 1U rackmount design makes it easy to place this power conditioner in your rack.
As a result, it has a very high rating for protecting your equipment from power surges. We found this power manager to be one of the best at distributing power equally throughout our tests. Because all your gadgets will receive the same amount of power, this is a significant feature that may help avoid damage.
Sale
The 120V/15A rating of the CyberPower CPS1215RMS is one of the main characteristics of this device. Because of this, your equipment will be able to draw a lot of power from it without any issues. Because it has 12 outlets, this unit may be used to power a wide range of gadgets.
The CyberPower CPS1215RMS has a 3-year limited guarantee, which is a wonderful perk. This is a fantastic feature since it demonstrates the company's commitment to its product. It's affordable, dependable, and performs well. In addition to its heft, some users may object to the device's design. This is to be anticipated with a device of this size and power.
Also Read: Pelonis Dehumidifiers Reviews – Worth Buying or Not?
Things To Consider While Buying Home Theatre Power Manager
It is not as easy as it may seem to locate the appropriate power manager for a home entertainment system. Before you go out and buy or purchase a home theatre power manager, there are many things to think about to choose the appropriate power conditioner for your electronic gadgets and the way you use them. These things include the following:
1. The proportion of the power manager's size
A home theatre power manager's physical dimensions are a crucial feature to consider. The size of a power manager is sometimes determined by the total number of outlets it has. This indicates that the size of your power manager will be proportional to the number of outlets it has.
2. Take note of the proportions
You may make the installation procedure simpler by noting the size so you won't forget it. Under the television set are where various power managers for the home theatre are stored. Others are displayed on shelves or walls in mounted form. The power manager size allows you to pinpoint precisely where it will be positioned within your home.
3. The number of available outlets
Before you go out and get a power manager for your home theatre, note the total number of outlets you'll need. This includes any supplemental materials that you may need in the years to come. Why? However, the size of the plug that comes with each appliance is variable. Because of the variety of sizes, numerous outlets are required. You may be sufficiently prepared if you make certain that you have a sufficient number of outlets.
The majority of power managers for home theatre systems that are now available on the market have an even number of outlets. Depending on your preference, the number may be anything from six to twelve. When searching for a power manager, you must bear in mind the total number of outlets.
4. Power cord
Home theatre power managers need to have access to a lengthy power cable. This is because having a longer cable assists in more efficiently filtering the unclean electricity. It also provides a sufficient amount of space for the actual installation operation. For the power cable to perform well, it has to be failsafe, dependable, and lightweight.
5. The rate of absorption
The home theatre system's power manager must have a minimum of 500 joules. This is the pace at which the power manager is absorbing energy. It refers to the total amount of electricity the home theatre power controller can manage.
6. UL certification
Certification for home theatre power manager may be obtained via Underwriters Laboratories. Your power manager receives a boost to their credibility as a result of this. On the other hand, there are power managers that do not have UL certified but are just as dependable.
7. Voltage
When the power manager is turned on, the voltage, or clamping voltage, to be more specific, is set to the same level as the rated voltage. In an ideal world, the voltage rating of the home theatre power manager would fall somewhere in the range of 120 to 400. Your home and all of its electronic gadgets will be kept safe from the effects of any voltage fluctuations if you do this.
8. Surge protection
Look for power managers for home theatre systems that also have surge protection built in. The lifespan of your home theatre will increase as a result of this.
FAQs Related to Home Theatre Power Manager
Why is Power Manager Preferred Over Surge Protector?
A surge protector protects your electronic devices from damage, which channels any extra power away from them and into the earth. There is a problem in that your gadget remains permanently attached to the circuit. As a consequence of this, the possibility exists that both of your gadgets will blow up if you run a high voltage via a surge protector.
In contrast to surge protectors, the Power manager will turn off your electronics as soon as it detects an abnormally high voltage. In addition, the power manager will filter out any sounds that may be present and clean up any dirty power to improve the overall functionality of any connected devices.
What is the Difference Between Power Conditioner and Surge Protector?
Power conditioners and surge protectors are two different but complementing types of equipment. Electricity conditioners assist level off unstable power in order to minimize harm to delicate electronic equipment, while surge protectors safeguard sensitive electronics from hazardous spikes in voltage.
They do the same thing but in different ways. On the other hand, in contrast to surge protectors, a power conditioner provides comprehensive protection. To begin, a surge protector guards against more minor variations, while a power conditioner protects against more significant shifts in voltage and current.
A power conditioner will maintain a consistent voltage, stop malfunctions that are directly connected to the power supply, and reduce the number of "gremlins" in your system.
What is the Lifespan of a Home Theatre Power Manager?
The lifetime of the power manager might be anywhere from five to ten years long, according to the comments offered by users who have used the product. Proper power managers for home theatre systems should have a guarantee valid for at least three to five years. Because of this, the amount of time that a power manager is helpful relies totally on the person who uses it.
Does Using a Power Conditioner Increase the Sound Quality?
Power Conditioners increase the sound quality of a home theatre system as a whole since they filter the AC signal input, reducing background noise. It dampens the volume of any buzzing sound.
Are UPS and Power Managers the Same?
Yes, Uninterruptible Power Supply is more often known as UPS and includes a backup battery. During a power outage, you will have more time to switch off your appliances because of this. The primary functions of a power conditioner are those of protection and prevention. It safeguards your electronic devices and protects them from damage that power surges might cause.
Can You Use a Power Manager if You Have a Surge Protector Already?
It is possible to connect a surge protector and power conditioner in a daisy chain, but this seems unnecessary since the vast majority of power conditioners already have surge protection. If you have an excessive number of electronic gadgets, you should use this combination to connect your power conditioner to a surge protector. However, it would help if you exercise caution while doing so.
Make every effort to stay below the maximum power level that your wall outlet can support. In an ideal situation, both your power conditioner and your surge protector will be linked to distinct wall outlets, and those distinctive wall outlets will be situated on different lines (separate breakers).
Can a Power Conditioner Be Overloaded?
Power conditioner are not supposed to be overloaded because it is equipped with overload protection. If you overload a power conditioner, it will automatically turn off the power immediately. So, investing in a good power conditioner can be a great for your equipment protection.
Are Home Theatre Power Managers Bulky and Heavy?
Now mostly home theatre power manager comes in comapct design and have less weight. In fact, the size is even lesser than your home theatre system components and easy to carry.
How Many Watts is Enough for a Good Sound System?
For a good sound system, watts plays a crucial role. To determine the best watts, you need to consider the room size, speaker type, and compatibiliy with system. However, for a bigger area 80 watt system is enough and 50 watts is enough for small to medium area.
Final Statements
Until the lights go out, many people don't give much thought to the issue of electricity. It's important to remember that a power outage may create several problems, ranging from data loss to equipment damage. You should consider a power manager system to protect your gadgets from power surges, conserve energy, or merely be prepared for a power loss.
It's vital that you use them to monitor and regulate the voltage in your home theatre system in the event that your area experiences regular power surges. Power manager systems come in various shapes and sizes, and your specific requirements will determine which one is right for you.
To meet your particular needs, you may pick and choose from the products listed above. They are excellent in their way, and each has a unique set of advantages. Also, suggest and contribute your favourite pick on our home decor write for us to let others know.
Recommended Posts: