People who have never dealt with dirty electricity, lightning surges, or power outages are the only ones who feel they don't need a power manager. Indeed, a home theatre power manager is handy equipment that might protect your expensive home theatre system.
A Home theatre power manager is known as a device that keeps your entertainment system functioning smoothly. They have a CPU and algorithms built in that take care of all the intricacies, such as managing the power supplies, optimizing audio connections, cable management, etc.
This article will guide you with comprehensive knowledge about the purpose of power managers. Also, after a lot of research, we have curated the best home theatre power managers available on the market. Let's explore it.
What is Home Theatre Power Manager?
Home theatre power manager can also be defined as a power conditioner designed for a home theatre system, that regulates the AC power distribution to connected devices after filtering the dirty power and reducing electric noise, to protect your devices from power surges and spikes.
Using a power manager to safeguard your home theatre from power outages can be good for the long term. Surges and spikes in electricity, which inflict the most damage during storms and electrical storms, may be managed using these products.
What Are The Roles of a Power Manager?
A Home theatre power manager performs power conditioning, in which power is made strong, steady, and clean. The functionality of a power manager can be divided into two parts for better understanding.
The first role is to boost the performance of your connected devices by enhancing the quality of power, proper power distribution, and annihilating noise. The second role is to assuring the protection of the home theatre system from power surges and extend the lifespan of connected devices.
Power managers guarantee that clean energy enters your gadgets assuring their safety and improving performance. Since audio is more susceptible to noise and interference, power conditioners are commonly used in audio-related systems. Home recording studios and amplifiers might benefit from the usage of power management.
Why Power Manager is Preferred Over Surge Protector?
Power manager and Surge Protector might look the same. However, they are different species performing different roles.
A surge protector works against only power surges and impulses. A surge protector keeps your equipment safe by diverting excessive power to the ground safely. However, there is one issue, your device is always connected to the circuit. As a result, on passing a high voltage through a surge protector, your both devices might get explode.
Unlike surge protectors, the Power manager disconnects your devices when high voltage is detected. In addition to it, the power manager eliminates noises and cleans dirty power to maximize the performance of connected devices.
Do We Really Need a Home Theatre Power Manager?
True, a few people may not need such power conditioners. However, a home theatre power manager is a necessity to protect your equipment from sudden malfunctioning due to power surges and dirty power. Especially for those areas, that are prone to lightning strikes.
Power supplies are unpredictable even if you have a good electrical installation at home. Also, your home theatre system is always prone to dirty power, and electric noise if you don't have any power conditioners. Moreover, through research, it is found there are mor than 1lac customer use home theatre power manager according to google.
Dirty Power
Dirty power is indicated by high-frequency noise, power spikes, and surges. The delicate equipment in your home theatre has a hard time working with dirty electricity. An unreliable power source has the potential to harm the sensitive electronics in your home theatre components, leading your home theatre system to fail.
This is an issue that affects home theatre systems' performance and everything else hooked into them. For example, electronic equipment is prone to noise, and dirty electricity can harm home theatre systems.
Electricity Noise
Different gadgets connected to an equivalent circuit in your house are one of the most common sources of electrical noise.
Most current electronics convert AC to DC from the mains utilizing changing power supplies, which convert AC electricity fast and return noise to the circuit.
Sometimes, these noises can be heard from speakers. Hence, performance is dropped and also, you would not like to use your home theatre system with such disturbances.
Does the Home Theatre Power Manager Improve the Sound Quality?
Yes, sound quality is improved by using a theatre power manager. What do you mean by that? Electronic noise may be a real annoyance. Buzz and hum noises can be heard in the frequency range of a speaker or a home theatre. This buzz and hum are eliminated with the help of this theatre power manager, which removes all forms of distortions in various phrases through noise reduction.
Advantages Of Using a Home Theatre Power Manager
The Home Theatre Power Manager is a gadget that can help you better control your home's power and speakers. It has the potential to conserve energy, increase sound quality, and protect speakers from harm.
The advantages of employing a Home Theatre Power Management Unit are apparent. As a result,
1. Remove white noises from amplifiers.
The noise picked up by amplifiers is eliminated when theatre power managers are present. Therefore, for home studios, theatre power managers are required. Your amplifier's power conditioner may be able to remove static or whining.
2. Cable management is simple.
A theatre power manager comes in handy when it comes to cable management. Theatre power managers are mostly typically equipped with eight outlets and are meant to be put on a rack.
Multiply the devices you connect to the theatre power manager and use the power conditioner to control them. A theatre power manager allows you to use the same plug for your TV, speakers, subwoofers, and even a home theatre.
3. Ensure that your electronics are safe.
As previously said, surge protection is the most significant characteristic of a theatre power manager. Using power management, you can protect your devices from electrical harm and extend their lives.
The most common reason for purchasing a theatre power manager is its protective features. This is an excellent idea if you reside in a region prone to surges. This functionality is beneficial for devices that are always on.
4. Enhanced audio quality
5. Reduces the risk of overheating damage.
6. Extends the lifespan of the speaker
7. Reduces standby power usage, allowing your equipment to run more efficiently.
If you have numerous users in your home theatre room who consume different forms of media and wish to share device usage, the power management unit can be a great help.
Factor to Consider While Purchasing a Home Theatre Power Manager.
When purchasing power management, keep the following aspects in mind:
1. The number of outlets
Most power managers have an even number of outlets, ranging from six to twelve. It's best to choose power management with the number of outlets you'll need, depending on how many devices you have.
Make sure it has more outlets than you require if you require extra room in the future. Because different appliances have varying plug sizes, outlets should be adequately separated.
2. Size of Power Manager
The power manager will be enormous if there are more outlets. Make sure the power manager's size and positioning allow easy setup and installation. Some are intended to be put on walls or shelves, while others are placed beneath televisions.
3. Protection from Overvoltage
Surge protectors are usually used in conjunction with power managers. They include a power strip to prevent surges. You should examine this feature for maximum efficiency before purchasing your power management.
4. Absorption rate
The quantity of energy/power that your power management can handle is the absorption rate. At least 500 joules is the optimal rating.
5. Clamping voltage
When the surge protector is turned on, the clamping voltage equals the rated voltage. Your power manager's rating should be between 120V and 400V to safeguard your home theatre and other devices.
6. Power cord
The power cord for your power management should be long enough to filter dirty electricity adequately and give enough area for installation. It also has to be light and durable.
7. UL certification
To be approved by Underwriters Laboratories, power managers must fulfill 1449 requirements.
You can be confident you're receiving the best if your power management has this accreditation. On the other hand, some power managers lack qualifications but are nonetheless highly successful.
Which Power Manager Is Suitable for Your Home Theatre?
For your Home Theatre Power Manager, there are various power supplies to choose from. Each pool will be best suited for a particular purpose and unique characteristics.
There's no need to worry about compatibility with your Home Theatre Power Manager if you have a 240V system. However, if you're not sure this will work for you, go with one from the safe list of power compatibility.
5 Best Home Theatre Power Managers – Top Picks
We discussed the many types of power conditioners, which come in various pricing and functions. It might be challenging to choose a Theatre Power Manager.
We've compiled a list of the best Home Theatre Power Managers to make things easier for you.
To pick the ideal product for you, you'll need to think about your budget and needs, but these tips should assist.
You might be wondering why a surge protector is the best choice. But, it's more than a surge protector; it's a sophisticated power management system. There are 12 sockets on it (6 in the front and 6 in the back). The rear sockets are a reasonable distance apart.
It comes with a noise filter suitable for medium to large home theatre systems. It also comes with a 15-foot power wire and a 1500J absorption capacity. He is also UL certified, which is the cherry on top.
CyberPower CSP604U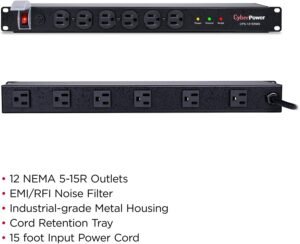 Features:
This surge protector is best for people who have a lot of electronics in their home theatre, but if you only have a few, a smaller one would suffice.
Devices that require a 125V input voltage are compatible with this CyberPower Surge Protector.
It is a more cost-effective option. It offers outstanding value for money.
PROs
Cost-effective
Suitable for a variety of devices
CONs
There is no separate protection for each device.
Lack of USB ports
A standard power manager is the Panamax MR4300. It's sturdy, well-made, and comes with nine outlets. Home theatres were in mind when creating this power manager. It is equipped with AVM (Automatic Voltage Monitoring) technology, which allows it to monitor and control voltage.
Surge protection capabilities are also included, filtering out dirty electricity and enhancing power quality. And all of this comes with an LED display and a lifetime warranty. Its capacity to filter out noise is limited, and it is susceptible to radio interference.
Panamax MR4300

Features:
The Panamax MR4300 is a high-performance power conditioner with many isolated sockets.
The advantage of this arrangement is that if one of your devices fuses blows, it won't trigger a surge that destroys all of your other electronics.
The Panamax MR4300 guards against surges and reduces the risk of device interference.
It has nine outputs, all of which are filtered and protected.
Filtering at level 3 and "guard or disconnect" technologies
Power can be monitored by monitoring the incoming line voltage.
PROs
Protection against power surges
Background noise is reduced.
This power conditioner is well-made and controls power flow. In addition, it safeguards your home theatre by maintaining electricity and screening filthy power before discarding it.
It includes nine outlets and a front-mounted indicator to demonstrate that it is actively safeguarding your home theatre. In addition, it filters out background noise and does not produce unwanted noises.
This hybrid design SMP+Plus series multi-stage protection against potentially harmful power problems makes it excellent for pro musicians or anybody worried about their tube sound.
Furman M-8X2 Power Manager
Features:
This voltage regulator, according to Furman, would protect your critical equipment from problems like overvoltages, brownouts, and shocks caused by AC line voltage changes.
The Furman M-8X2 model is completely quiet and has Linear Filtering Technology (LiFT), eliminating any concerns about line noise.
Panamax is more costly, but we believe it functions better as an Undervoltage and overvoltage protection.
PROs
LED Voltmeter
Automatic voltage regulation
CONs
Difficult to find replacement parts
Lethal voltage, sound filtering, and inrush current blocking are included in Pyle 19's superior power distribution and safety. It also guarantees that the equipment is powered up and running.
Pyle's series mode technology eliminates all surgical forces and protects linked devices from peaks, actuation, and electrical interference. The built-in 15A switching server, on the other hand, covers the circuit breakers from overloading and stops the AC input.
Pyle 19 PCO860

Features:
It also has detachable rack and mounting choices, including rack mount, wall mount, and under the counter.
The power cord measures 15 feet in length.
It includes a built-in circuit breaker and efficiently safeguards and filters noise in your home theatre.
PROs
Lifting technique
Multiple USB ports
Insulation Filter Block
This is an excellent option for your home theatre since it includes 12 power connectors, eight of which rotate, enabling you to fit equipment with long power cords.
This surge protector also reduces EMF interference, resulting in cleaner energy for your devices, perfect for TVs and record players. In addition, it comes with an 8-foot power cord and can be wall-mounted for further convenience.
Belkin 12-Outlet Power Strip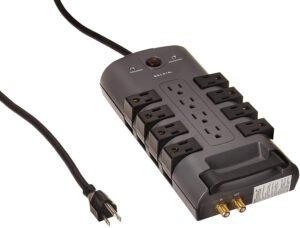 Features:
This surge protector is best for people who have a lot of electronics in their home theatre, but if you only have a few, a smaller one would suffice.
Devices that require a 125V input voltage are compatible with this Belkin power strip.
It is a more cost-effective option. It offers outstanding value for money.
PROs
Budget-friendly
Ideal for multiple gadgets
CONs
Lack of USB ports
No individual protection for each device
FAQs Related to Home Theatre Power Manager
How Long does Power Manager Last?
Based on the testimonials provided by customers using power manager, its lifespan is up to 20 years. However, it is recommended to replace power conditioners every 2 years.
Is There a Difference Between a UPS and a Power Manager?
UPS and power directors are innovative; UPS offers Uninterrupted Power Supply, which strengthens the battery and can supply a few more minutes if the power goes out.
It might be a gadget that collects the equipment, directs the electricity, and distributes it to the personnel.
Would we be able to use an influence conditioner to connect all of the studio's components?
We can undoubtedly connect the entire studio half into a power conditioner if people are experiencing upheaval issues and are unable to recognize the ruckus source.
Check whether the clatter is caused by the studio/equipment home before investing in a power conditioner. The most significant definition of a popular machine that generates a disturbance is more excellent.
Conclusion
In general, power conditioners are complex and challenging to use. It all depends on what you're attempting to accomplish and how much money you're willing to pay.
To summarise, choosing which power conditioner is ideal is entirely up to you. However, if we were to give recommendations, the Panamax MR4300 and Furman M-8X2 would be at the top of Smilyhome's list! True, it will cost you a significant amount of money, but consider how much money you will save by protecting the pricey equipment you admire.
This is a crucial blog to follow! I hope you now know what the phrase "home theatre power manager" implies and how it may benefit your home theatre experience.