When we think about household appliances, we want to ensure that we get high-quality equipment that is not only able to do the task at hand efficiently but also has a quality assurance stamp that ensures their durability. Interestingly, Pelonis dehumidifiers are common in homes and businesses to improve indoor comfort by reducing humidity levels.
Pelonis is a popular brand that has shown to be reliable in developing and marketing high-grade quality home appliances across a wide variety of product categories. Pelonis Dehumidifiers are one of them that are easy to use, energy-efficient, and make the home more comfortable. The performance is so good that you can leave it running all day.
In this article, we will provide you with a comprehensive assessment of all of the Pelonis dehumidifiers reviews for all models with real consumer reviews, and why you should choose a Pelonis dehumidifier rather than one from another company. At the end of the article, you will know if the pelonis dehumidifiers are really worth investing or not.
Pelonis Dehumidifiers Reviews – All Models
Five dehumidifier types are now available from Pelonis. Three are part of the same series, the only difference being the amount of space they can hold. The PAD20CIAWT, PAD30CIAWT, and PAD40CIAWT all fall under this category. PAD50C1ABL and PAD60C1AGR, on the other hand, are the two additional models we've already evaluated. All of these dehumidifiers claim to be able to reduce the amount of moisture in the air they circulate.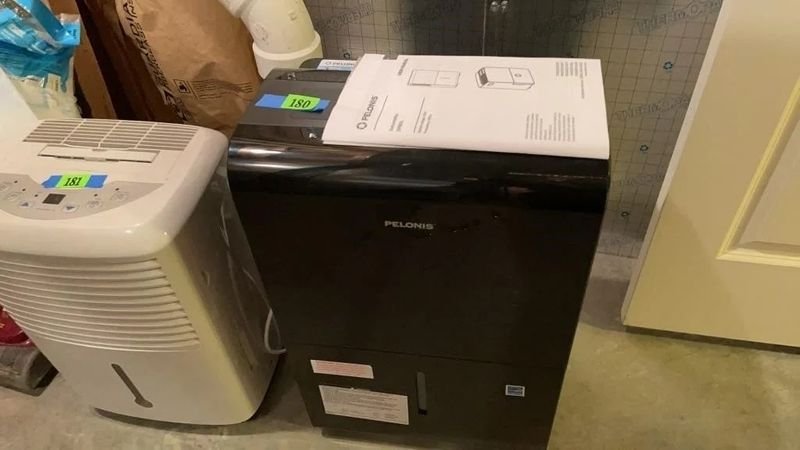 There are many similarities between these units, but significant distinctions might make or break your decision. For your convenience, we've included in-depth descriptions of each model so you can make an informed purchasing decision.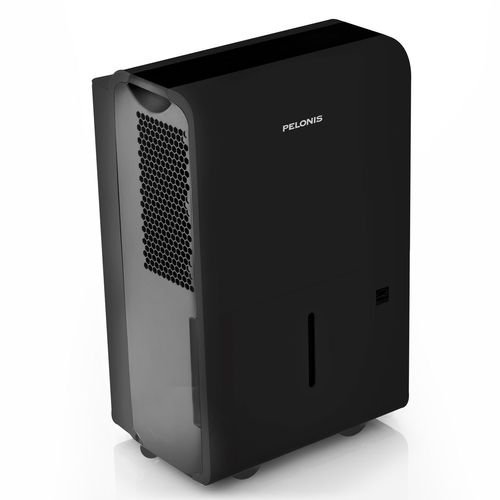 PROs
Has built-in pump
It can absorb up to 50 pints of water
Built-in filter that retains 99% of impurities
Makes less noise when compared with other dehumidifiers
Has an automatic restart
Energy-efficient Dehumidifier
CONs
Small water tank
No backlights for the buttons
For large spaces, due to their big size
A 50-pint model, the Pelonis PAD50C1ABL is one of the largest dehumidifiers available from the company. The design is elegant and consistent with the rest of the line.
The Pelonis PAD50C1ABL 50-Pint Dehumidifier's volume makes it ideal for usage in big spaces. The quickness with which it removes moisture from the air makes it an excellent alternative for places that have suffered water damage.
Those in need of a powerful dehumidifier equipped with a plethora of additional functions would do well to consider purchasing this particular model.
Key Features
Built-in pumping mechanism. A pump powers the continuous drain of this dehumidifier. As a result, gravity is no longer required to maintain a steady flow of water. Since the pump will remove the moisture, you won't have to worry about keeping an eye on the machine yourself.
Auto-defrost. A defrost function on this Pelonis model means that you may use it even in cold temperatures. Keeping the coils clear of ice will let the machine continue removing moisture from the air.
24-hour timer. The 24-hour timer may also be used if you want the dehumidifier to operate for a few hours. This allows you to leave the unit running while you leave home or go to bed.
Humidity control can be adjusted. The PAD50C1ABL has an adjustable humidistat that lets you choose a preferred humidity level. In this manner, the Pelonis dehumidifier will not dry up the air too much.
Control panel that's easy to use. A soft-press control panel sits above the dehumidifier. In addition, a small LED panel shows you your room's current humidity level. If you're draining manually, you'll get a full bucket notice.
PROs
Saves energy
Can remove 20 pints of moisture from a room
You can adjust the timer
Has an auto-defrost feature for easy maintenance
Noiseless full bucket indicator
Easily moved with functional wheels
Easy filter replacement
CONs
Has a small bucket size
This unit does not function at a low temperature of 5°C
It can be quite heavy
No built-in pump
Dehumidifiers like the Pelonis PAD20C1AWT 20-pint dehumidifier do an excellent job of removing excess moisture and avoiding its risks. If you live in an area that seems suffocating or damp, this dehumidifier might help.
Due to its tiny form and few air grilles, it is ideal for use in small houses with pets, basements, bedrooms, kitchens, living rooms, and other places less than 1000 square feet.
With its modest size and sturdy plastic, this dehumidifier best suits wet areas or corners.
Key Features
Enhanced temperature control. Back of the grilles, the filter is washable and reusable. It filters out dust, pollutants, and pathogens from the air. It also includes an auto-defrost mechanism that quickly defrost the coils once frozen with ice.
You can choose how long the 20-pint dehumidifier will run, thanks to the timer included with the machine. Additionally, since you receive a visible sign that the bucket is full, you do not have to worry about bothersome alarms going off.
Dehumidifiers use adjustable digital humidistats to regulate humidity levels between 35 percent and 85 percent in 5 percent increments with noise levels of 49 to 53 dB.
In addition to being energy-efficient, the Pelonis dehumidifier minimizes the expense of cooling your home.
Pet hair and particles as fine as 3 microns may be removed by the filters in this device. In addition, you may use a fan to lower the temperature in your house so that insects cannot get in.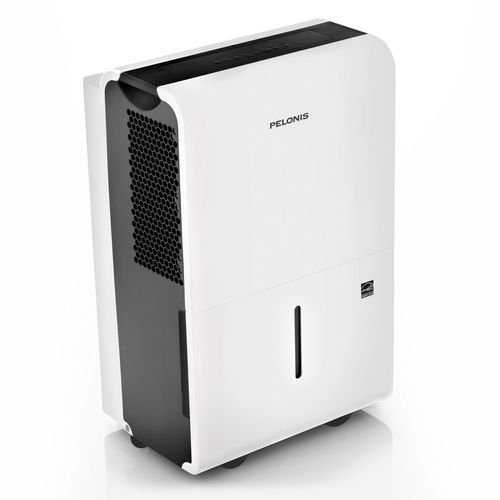 PROs
Can remove 30 pints of water from a 1,500 sq. ft room.
Automatically removes ice crystals on the coil so the Dehumidifier can work efficiently.
Has a reusable filter that retains 99% of impurities
Built-in timer for 24 hours
Uses a low amount of electricity
Extractive exterior design
It can be moved around with wheels
CONs
Has a small water tank
No built-in pump
No backlighting of buttons at the top
Compared to the 20-pint dehumidifier, the Pelonis PAD30C1AWT 30-pint Dehumidifier can manage a bigger area and absorb up to 30 pints of water daily. It has a cooling circuit and a dehumidifier that uses refrigerant condensation. In a 1,500-square-foot space, it can purify the air and remove moisture.
Due to its non-compact shape, this unit is best suited for somewhat bigger rooms, although it is not recommended for crawl spaces.
Key Features
The 6.3-pint water tank on this dehumidifier is more compact. A 30-pint dehumidifier has a modest drain port, so you can connect a hose to it so it doesn't become messy.
It also has an automatic defrost function and indicates when the bucket is full, so you will know when it is time to empty the tank. Controlled by a relay sensor, the fan measures the current humidity level while it runs. It features an on/off timer with a 24-hour countdown.
An energy star-certified dehumidifier with a 1.57 integrated energy factor is available. It will take 6kWh for the unit to maintain a humidity level of 35% for 24 hours.
The same features as the other Pelonis dehumidifiers, such as the digital humidistat, timer, turbo mode, and noise output of 49 to 53 dB, can be found on this model.
There are five buttons on the control panel and a regulator for fine-tuning the gyrostat, which is activated by touch. It's dependable, quiet, efficient, and low-cost to set up and run.
PROs
Automatically maintains the desired humidity level
Saves energy
Automatic defrosting to improve the lifespan of the Dehumidifier
Has a compact design
Saves the set functions in case of power failure
Full bucket indicator
Available option for continuous drainage
A 24-hour timer for automatic on/off
CONs
The device can blow out hot air, which causes discomfort
The fan creates noise
No built-in pump
Not a budget-friendly dehumidifier from Pelonis
In a 2000 square foot space, the Pelonis PAD40C1AWT 40-pint Dehumidifier absorbs around 40 pints of moisture from the air to combat the fast development of mold fungus and accelerated corrosion of metal equipment.
Unfortunately, the dampness in your house is enough to ruin wood furniture and encourage the growth of bacteria that are dangerous to your health.
This dehumidifier may be used to remove airborne allergens, pollutants, and unpleasant smells. It features a gyrostat that maintains humidity between 35 and 85 percent in Pelonis dehumidifiers.
Key Features
Automatic power off and relaunch. This machine's auto-restart and shut-off functions are similar to that of the Pelonis 50-pint model. As soon as it achieves the desired humidity level, the machine will turn off and resume when the moisture level increases again. As a result, you won't have to worry about the unit over-humidifying your room when you leave it unattended.
It has an auto-defrost mode. Auto defrosts the PAD40CIAWT's coils from being iced over. However, bear in mind that this model was not designed for use in very low temperatures.
Continuous and manual draining options. This dehumidifier may be used with either a continuous or manual drain option. Each of the three sizes has these choices, including the 20-pint unit.
Easily removable and washable filtration system. Washable mesh filters are located within the dehumidifier. As a result, it prevents the recirculation of dust and grime. It would be best if you cleaned this regularly to guarantee adequate ventilation.
Easy to set humidistat. Similar to previous Pelonis models, the PAD40CIAWT incorporates an adjustable humidistat. You may use this feature to establish the desired humidity level to avoid drying out the air.
PROs
Has a high bucket capacity
Can absorb a large quantity of moisture
Energy efficient
Has a built-in pump
Filter that traps dust and allergens
Automatic control of air humidity levels
CONs
This unit occupies a lot of space
Operates at high noise levels
The Pelonis PAD60C1AGR 60-Pint Dehumidifier is a great option if you're dealing with a serious moisture issue in your home. Moisture may be removed up to 60 pints daily from basements damaged by flooding and houses with excessive humidity.
Continuous drain is an expected feature for a tank of this size. A manual drain is available if you need to use the device in an area where there is no way for it to drain. This dehumidifier is an excellent choice if your home has suffered water damage. It may also be used in commercial and corporate environments.
Even though it costs a lot, it is well worth it. Furthermore, compared to the other Pelonis dehumidifiers we've evaluated, this one does a superior job of removing moisture.
Key Features
A new and improved method of evaporation. The ingenious evaporation technology in this huge dehumidifier effectively removes moisture. Mold and mildew may be prevented by using this product. This method is useful for reducing allergens and other things that irritate the respiratory system, such as triggers for asthma.
Built-in pumping mechanism. The PAD60C1AGR's built-in pump is an excellent match for its big capacity. There is no need for you to drain a lot of water out of your home physically. If the continuous drain cannot be used, this device still has a bucket of water.
The bucket has a lot of room. This Pelonis dehumidifier has been upgraded in contrast to others with smaller buckets. Dehumidifiers from the company have a 21.1-pint capacity, making this one the largest. You won't have to empty the manual drain so often.
Easy to set humidistat. Because the dehumidifier has an adjustable humidistat, it won't dry out the air. There is an option to have the device automatically start and stop to maintain a pre-set humidity level.
Defrosts on its own. Even on a chilly day, this dehumidifier won't freeze thanks to the auto-defrost function. Efficient and effective dehumidification is ensured at all times.
Also Check: Top 8 Best Home Theatre Power Managers 2022
Why Prefer Pelonis Dehumidifiers Instead Of Another Brand?
Customers have come to expect the Pelonis name as a top innovation in the appliance industry. There's just one purpose in mind when Pelonis dehumidifiers are made: to provide the market with a product that's effective at lowering excess moisture in the air and preventing mold development on walls and furniture.
Although Pelonis has radically reimagined the concept of dehumidifiers, the core function remains the same. Pelonis dehumidifiers are built with cutting-edge technology to prevent the rapid development of mildew and mold on the walls and maintain a healthy atmosphere at all times.
The dehumidifier's control panel is very user-friendly. With this, you may establish and maintain a specific humidity level on your appliance, which you can operate either by yourself or automatically, depending on your unique settings. The dehumidifier's exterior design has four wheels linked to the base so that you may quickly move it around your house.
The control timer on your device may also be used to set the amount of time you want it to run. There are additional indications to tell you when to empty the water retainer or clean out your filter. Some buyers may perceive a little difference when comparing current models to past years.
There should be no room for compromise regarding your home's comfort and relaxation. In the market for a dehumidifiers, some manufacturers claim they can meet your needs, but few are as reliable as Pelonis. Pelonis has raised the bar for dehumidifiers.
Also Check: Top 5 Best Pulsar Generator Reviews in 2022
Pelonis Dehumidifiers Reviews – Common Consumer Complaints
Customers who have bought and used the Pelonis Dehumidifier have given it very positive evaluations. Still, they have highlighted some typical issues you could have when using any of the Pelonis Dehumidifier Models.
There are times when water gets all over the floor.
Some of the devices in the room may periodically release hot air, increasing the overall temperature.
Some customers have voiced dissatisfaction that bucket indicators on earlier models might give a false impression that the bucket is full when it isn't. There is a possibility that water has harmed the sensors in some way.
How Do I Know If My Home Needs Pelonis Dehumidifiers?
There are a few signs that you could need one of these units. They are as follows: The first reason is that if your basement or crawlspace continues to be damp for a longer period than was anticipated, this could be an indication that the humidity in the area has increased to levels that are uncomfortable and will not return to normal levels without the assistance of a device such as this one.
Mold development around doors, windows, and baseboards is just another sign of the problem. When deciding whether or not it is time to purchase a dehumidifier, it is important to keep an eye out for warning signals such as these to determine whether mold has already caused significant damage.
FAQs Related to Pelonis Dehumidifiers
Is Pelonis a Reputable Brand?
Pelonis is a brand of dehumidifiers and other home comfort equipment known for its durability and dependability. They have been in the sector for 25 years, earning the respect of many homeowners along the way. Aside from that, the price of their dehumidifiers is lower than that of larger companies, which makes purchasing one of their products the more financially responsible option. However, Pelonis was still able to maintain their good's high standards of quality and performance despite the decreased prices.
Why Is My Pelonis Dehumidifier Running But Not Collecting Water?
If your dehumidifier is functioning but not removing moisture from the air, you should investigate the possibility of a problem with the compressor. There's likely not enough refrigerant in the system, which prevents it from removing as much moisture as possible from the air. This is a regular issue with older dehumidifiers and those that aren't maintained very well despite being put through a lot of work.
How Do I Clean a Filter On a Pelonis Dehumidifier?
Most Pelonis dehumidifiers use a simple mesh filter that is detachable from the device itself. After that, you may clean it using water and a gentle detergent in the sink where it was done. Utilize a spray nozzle if at all feasible; however, be careful not to apply excessive pressure as this might cause the mesh material to get damaged. After that, you must wait for the filter to dry completely before you reassemble it and put it back into your dehumidifier.
Whiat is Typical Lifespan Of a Pelonis Dehumidifier?
Depending on how often they are used and how well they are maintained, most dehumidifiers should have a lifespan of at least ten years. The quality of the dehumidifier will also have an effect on how long it will last. Consequently, if you want one that will last a long time, you should consider investing in a reputable brand.
Is Pelonis An American Brand?
The firm that sells dehumidifiers, Pelonis, is a subsidiary of the Midea Group, which is a Chinese corporation that manufactures and distributes electrical appliances. Despite this, the Midea America division has a location in Parsippany, New Jersey, where they maintain an office. In this manner, customers in the United States may contact them for assistance and inquiries.
Final Words – Is Pelonis Dehumidifier a Good Brand
You cannot dispute the importance of a dehumidifier of the Pelonis brand, even though many other dehumidifier brands are lining the shelves on the market. Because of the brand's unwavering commitment to excellence in both form and function, it stands out from the competition.
The Pelonis brand is well-known for various wonderful traits; nonetheless, the Pelonis brand emphasizes safety above all other considerations. You can now easily acquire a Pelonis dehumidifier, and you won't have to worry about the quality of the dehumidification it provides or if it's safe.
It is not difficult to see how this particular brand has successfully penetrated the worldwide market with its items. No matter where in the globe you are located, the characteristics that each model of dehumidifier offers will satisfy a wide variety of different requirements.
Make sure that the dehumidifier you choose is appropriate for the size of your house as measured in square footage as well as the weather in your area when you go to make your purchase. If any of our readers knows better option, they can contribute through home decor write for us page. We are glad to add that option in this list.