Having the best swing sets in the backyard is a great idea for the children to keep safe from outside in the period of Covid19. In 2022, no parents will take risks about their kid's safety as daily cases come out due to Covid19. These best swing sets under $500 will also help to engage your kids in fun activities and will keep them fit.
With this in mind, deck out your backyard with the best swing sets under $500 or playsets so that kids may enjoy being at home.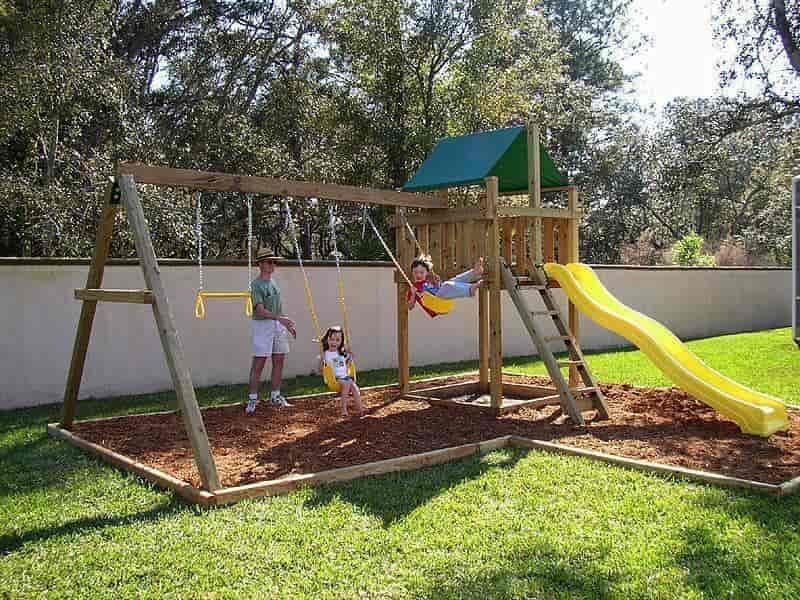 However, good-quality swing sets can be expensive even more than a thousand dollars. For the purpose of kid's safety and to help parents, we have curated this list of 6 best swing sets under $500 and $1000 along with a proper buying guide.
6 Best Swing Sets Under $500 for Backyard
This playset is made up of 100% premium cedar lumber wood that is safe for your kids. It comes with detailed parts that are easy to assemble.
It features with High rail wave slide with the extra ripple of fun, double belt swings to keep high flying enjoyment, a Vinyl Chalk Wall to make your children more creative, and a Canopy to make playtime shaded. Additionally, it is along with a sandbox (sand not included) for sandcastle or digging.
Features
High Rail Wave Slide
Double Belts Swing
Rock Wall
Sandbox
Vinyl Chalkwall
Canopied Play Deck
If we look at it dimension, it measures 9 x 7.9 x 10.2 in feet. It weighs only 130 pounds which makes it easy to assemble in 3-4 hours.
Truly, it is best as a playful gift for your kids. This swing set is well suited for a maximum of 7 children under 10 years old keeping them safe while doing their adventure.
Introduced by XDP Recreation, specially made up of foam having alloy steel as a frame material for additional safety, coated with yellow color.
Moreover, it is added with a couple of swing sets, a metal trapeze swing, and a blow-molded (high density) slide for safe landing and safety. In addition to this, there is a seesaw attached for two.
Features
5 Play stations
Alloy Steel Frame With Foam Legs
Easy to Assemble
ASTM and CPSIA compliant
The overall area covered of your backyard by this swing set is 136(L) x 96(W) x 74(H) in inches. This is highly recommended for 3-8 years old age kids. The product is easy to assemble without any harm.
It is a great choice with lots of features on a tight budget.
Let's look at this one that has a few more features. Along with Two sling swings and a 5′ slide, there is a built-in trampoline and glider swing as well. Surely, your kid will love these extra play stations.
Features
Metal Frame
Mini Trampoline
5′ two-tone slide
2 sling swings
Foam padded legs for safety
On comparing to the above, the Foam leg guard, metal frame, and pinch-free chain make it a highly durable swing set and strong even for old kids. Undoubtedly, there is no raised question about safety.
Having these many features, 6 children can accommodate to play at a time and enjoy together.
Ultimate Metal Swing Set is constructed from 2" powder-coated tubular alloy steel to support 9 kids at a time. It will cover 13×9 feet area of your backyard provided feature-loaded play stations.
Features
Alloy Steel, Metal Frame
FITNESS REALITY KIDS Brand
8 Play Stations
3 – 8 Years Old Age Group
Total 105 Pounds
It is featured loaded with a slider, 32" flying saucer, 36" Trampoline, 2 person glider, basketball hoop and backboard, soccer net with ball, 1 swing, and monkey bar with handles. These 8 fun activity stations are all just to keep your kids active, healthy while staying at the home.
The ultimate swing set is the Ultimate choice and best value for money if you are working on a tight budget.
If you are looking for a simple and exciting swing set, this one is right for you under a tight budget. Designed with maintenance-free wood guard posts material that makes it studier and heavier than metal.
Features
Metal and Wood Frame
5 Years Warranty
ASTM safety standards
Much sturdier and heavier
Easy to assemble
Low maintenance
Durable swings
Its simple features make it fabulous including two durable swings, ring trapeze bar combo. It is easy to assemble with low maintenance.
Best suited for up to 8 years old kids, made with ASTM safety standards. To assemble this swing set, you are required only the 113″ L x 96″ W x 84″ H dimension of your yard.
Above all, Lifetime provides high-quality and durable playsets. This swing set is one of their playsets. It could a little bit out of budget but best for a one-time investment for your kids.
Purely, constructed no lead-based material that makes it all weatherproof means no crack, no chip, no fade, no warp, and no peel like other wood playsets. Each hard edges are rounded and covered with plastic and soft rubber grips on the swing chain to make sure the safety of kids.
Features
No Lead-Based Material
5 Years Warranty
Designed for safety
Free-Standing
All-Weather Proof
There are Different sets of equipment for fun featuring 3 belts swings, 9′ wavy slide, fireman's pole, trapeze bar, and monkey bar.
In addition, there is no need for cement to stand it and it is easy to move whenever you need it. It is easy to install requiring only 13.8'W x 18.6'D area of the yard. It comes with 5 years warranty.
Buying Guide – What To Look For Best Swing Sets
So many swings sets are available in the market. To be frank, if you are on a tight budget, deciding on the best swing set for your kids can become a headache.
If you are unable to start, where to look, here is buying guide to resolve all your query.
Space Availability
There is no use if you purchase a huge swing set more than the space available in your backyard. Also, don't think to bring a swing set near to your yard size.
Moreover, no one would like to cover the entire yard just for the swing set. So, I would suggest you measure your yard and keep the margin you want to keep space free.
Material of Swing Set
The two most common materials used in manufacturing for the swing sets are wood and metal. Metal frames come in more design and color. Also, Metals need low maintenance but may rust later and are more inexpensive than a wooden one.
Wooden means the core material of the frame with others holding the structure together. They are preferred more cause of their sturdy composition and high durability. Also gives natural look.
Number of Children
Do you have a big family or a small family? Swing sets are designed to accommodate from 2 kids up to 10 kids. Also, if you are a guest-welcoming kind of family, you'd want an extra featured swing set.
So you'd need a swing set that holds more seats. Swing sets come with swing, slides, monkey bar, glider, trampoline, etc. Determine the features under your tight budget before looking for swing sets.
Age of Children
All swing sets are recommended for a range of 3-12 years kids. Thinking about future use must be needed cause you don't want your kids to outgrow in a few years.
Most Frequently Asked Question by Buyers
How long does a wooden swing set last?
The life expectancy of a swing set is dependent on proper care and maintenance. If you purchase a wooden swing set of good quality and durability, it will last 20 years or more.
At what age do kids play on swing sets?
For safety assurance, each swing set is recommended according to age group. Most swing sets are for 3-10 years old kids.
Can you put a playset on the grass?
If you are thinking to prevent injury from falling by installing it on grass, you are concerned about safety. Still, the grass is not preferred for ground under playsets.
Is a wooden or metal swing set better?
The wooden swing set has good advantages over the metals. Wooden swing sets are studier and have more life expectancy than metals. If you are looking for a longer time, then go for a wooden one.
How hard is it to put a swing set together?
Assembling a swing set is not hard, but time-consuming. Also, the time needed to install a swing set project depends on the number of play stations. Still, It may take 3-4 hours to assemble.
How much does it cost to install a porch swing?
The cost to install a porch swing set depends on the specification like the number of play stations and type of material. it may range from $200 to $2000.
Do swing sets lower property value?
In my opinion, a swing set can be a great deciding factor for homebuyers with children. So, having a swing set in your backyard does not lower the value of your property.
How do you maintain a wooden playset?
It can be done only through timely inspection of swing sets. The first thing is to clean properly from time to time. Also, inspecting damages of all equipment for safety assurance.
Conclusion
I suppose this tour is so comprehensive for you and helpful as well to decide what to go for. Still, if you have any queries regarding swing sets. Comment down below.
Also, we are looking for professional bloggers to write for us home decor topics on our great blog.