Ring, owned by Amazon, is one of the most popular brands for a smart video doorbell. Recently, The Ring Chime has been upgraded to Chime Pro and is now more beautiful than before with some new upgrades. It's a must-have brand if you're purchasing the Ring Video Doorbell, whether you choose the Ring Chime or Chime Pro. This simple but helpful item ensures that you are aware of visitors at your front door without having to rely exclusively on your smartphone.
Both are based on the same line but have slight differences in characteristics. We'll go through the differences and similarities between the two products in this post to help you determine which one is best and suitable for you. Also, you can directly check the comparison table to see the difference one by one.
Overview: Ring Chime vs Chime Pro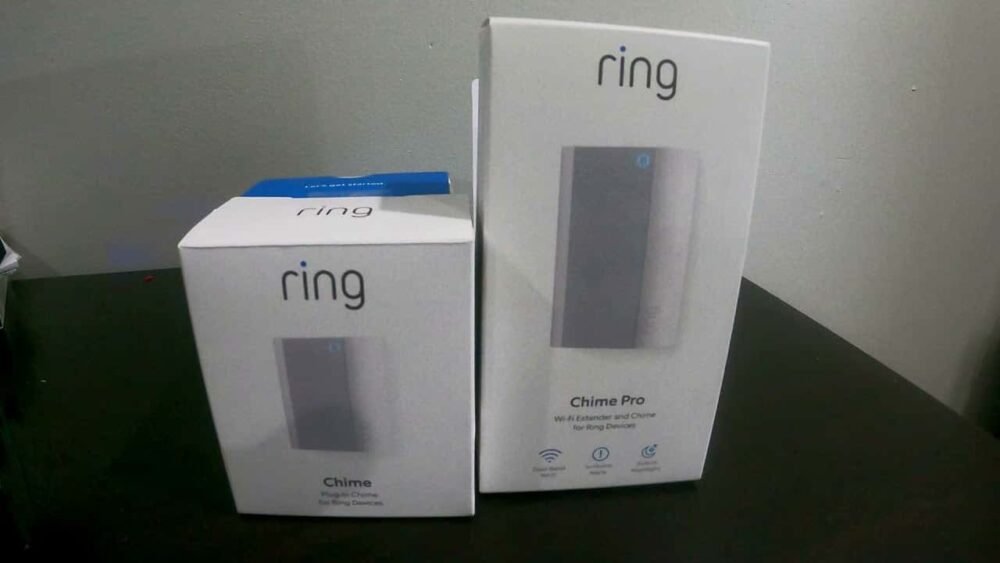 Since it's wireless, you can plug it into any power outlet in your home and use the Ring App to link it to your Ring Doorbell. It offers useful features such as the do not disturb mode and a variety of ringtones to pick from.
However, one disadvantage worth mentioning is that the Chime's sound is a little on the low side, making it difficult to hear it throughout the home if your house is quite large.
Ring's Chime Pro is an upgraded version of video doorbell chime. It has all of the characteristics of the Ring Chime plus the ability to act as a Wi-Fi extender.
If your Wi-Fi doesn't reach all sections of your house, you may use the Chiming Pro as an extension in addition to its chime function, which is quite handy. It also includes an option to boost the warning volume, ensuring that you can hear it from anywhere in your house.
The Chime Pro's disadvantage is that it is a little pricey. However, if you're prepared to overlook this, the Chime Pro is the best option.

Comparison Table: Ring Chime vs Chime Pro
| | | |
| --- | --- | --- |
| Features | Ring Chime | Ring Chime Pro |
| Wi-Fi Connectivity | Supports 2.4Ghz Wi-Fi network | Supports both 2.4GHz and 5GHz network |
| Wi-Fi Extension | No | Yes |
| Supported Devices | All Ring Devices | All Ring Devices |
| Alert Amplification | No | Yes |
| Custom Ringtones | Yes | Yes |
| Size | 3.06 x 2.44 x 0.98 inch | 4.06 x 2.72 x 1.00-inch |
| Warranty | One year | One year |
| LED Indicator | Yes | Yes |
| Nightlight | No | Yes |
| Price | Check on Amazon | Check on Amazon |
Key Differences Between Ring Chime and Chime Pro
Wi-Fi Connectivity
Support for the 5GHz Wi-Fi network is one of the primary distinctions between Chime and Chime Pro. If you already have many devices on your 2.4GHz network, the Ring's Chime Pro 5GHz compatibility may be useful.
In addition, the 5GHz wireless band is superior for shorter distances and enables quicker data rates than 2.4GHz. So, with the Ring Chime Pro, you can improve the performance of your Ring Doorbell.
Wi-Fi extender
The Ring Chime Pro also functions as a Ring device Wi-Fi extender. Chime Pro boosts your Wi-Fi connection and boosts your Ring notifications. So, if your doorbell is distant from your router or you suspect you'll have issues with your Ring doorbell's Wi-Fi connection, acquire the Ring Chime Pro to increase Ring's Network Signal.
Integrated Nightlight
Want to loot the fridge at midnight without being noticed? With the Ring Chime Pro, it's certainly possible. Unlike the basic Ring Chime Pro, the Ring Chime has a built-in nightlight that produces a warm glow to help you navigate in the dark.
Size
The Ring Chime Pro is somewhat larger than the Ring Chime, measuring 4.06 inches by 2.72 inches by 1.00 inches vs 3.06 inches by 2.44 inches by 0.98 inches. However, given all of the benefits that the Ring Chime Chime Pro offers over the original Ring Chime, the difference isn't significant.
Alert Amplification
If you're having trouble hearing your doorbell alarm from a higher level or a different room, Ring Chime Pro can help. Chime Pro increases the volume of the alarm signals, making it less likely that you will miss a doorbell or an alert signal.
Ring Chime lacks this capability, which is why Ring Chime Pro is superior to Ring Chime.
Similarities in Ring Chime and Chime Pro
The majority of Ring Chime Pro and Ring Chime functions are comparable. These doorbell chimes provide several ringtone options, volume control, and a do not disturb mode, among other features.
Additionally, both chimes have an LED light built into their bodies that illuminate when linked to the internet.
Ring Chime – Pros and Cons
PROs
The Chime is heard and clear at all times.
Notifications are received nearly instantly.
Its motion sensors are incredibly sensitive.
It features a simple design and a small footprint.
It is easy to set up.
CONs
The battery life is not very long.
If your Wi-Fi coverage is inadequate, you'll need to purchase range extenders separately.
A monthly charge is required.
The audio alarm notification system may be somewhat delayed.
Ring Chime Pro – Pros and Cons
PROs
There is no need to acquire range extenders for Wi-Fi extension.
It includes a user guide for the installation procedure and assists you for the ideal setup location.
It comes with several customizable motion sensors.
It comes with an integrated nightlight that emits a pleasant glow in the dark.
It may be used in conjunction with other security systems.
Its all-white finish and sleek design make it suitable for use.
It has a large number of brand-new Ring Chime tones.
CONs
It has to be close to the Wi-Fi router.
The volume level may need to be changed frequently because it produces loud notifications.
The chime and alert tones are identical.
Setting up and installing the Ring Chime Pro might take some time.
Also Read: 4 Reasons For Ring Doorbell Solid White Light- What to Do?
FAQs Related to Ring Chime and Chime Pro
Is the Ring chime Pro a good investment?
Yes. For an additional $20, it adds wifi extension, alert amplification, and dual-frequency wifi network compatibility.However, the higher cost will be justified only if these elements are required for your home.
What is the purpose of ring chime Pro?
The Ring Chime Pro is a doorbell chime that can be hooked into a power outlet and associated with your Ring doorbell or camera to alert you to alerts from these devices.
Can Ring utilize the Chime that already exists?
Yes. For your Ring doorbell, you may utilize your current Chime. You may find instructions for connecting your existing Chime to your Ring doorbell on the Ring website.
Is it possible to hard-wire Ring Chime?
Yes. Your doorbell may be hard-wired with a Ring Chime. The doorbell wiring will provide electricity to it.
Do you require the services of a ring chime pro?
Are your Ring doorbells and cameras compatible with your wireless network? If not, consider purchasing a Ring Chime Pro, which functions as a wifi extender for Ring devices. It also has a nice built-in nightlight.
Where should the Ring Chime Pro be installed?
It functions as a bridge between your wifi router and a Ring doorbell/camera, enhancing the connectivity between the two devices.
Conclusion
You now know everything there is to know about the Ring Chime and Ring Chime Pro. The Chime Pro differs because it has both an amplifier and a wifi extender. If the signal from your doorbell to the Chime is weak, this is useful for improved performance. An amplifier is also a useful tool to hear notifications across the house.
Aside from those two functions, ring chime offers comparable features, making it a suitable choice if you don't require an amplifier and your wifi signal is strong throughout the home.
Recommended Posts: