Definitely, Ring Video Doorbell is considered a smart device for providing unlimited home safety services. Immediately, you can get notified if any motion is tracked around the front door. Even if you are not at home, you can see the live view as well. However, you might have a hard time understanding about ring doorbell solid white light flashing, if you are new to handling it.
According to the official ring website, the front ring is like a charging meter indicating charging until it is full and then turn off. However, if the ring continuously flashes white light, then your ring doorbell has no internet connection or battery power problem in case if ring doorbell is not hardwired.
Already having so many light indicators on the ring video doorbell, it might really confuse you. In this article, you will find everything related to solid white light on the ring. Like what are the different white light patterns and why does ring doorbell solid white light appear? Also, we have covered a comprehensive troubleshooting guide to fix this problem.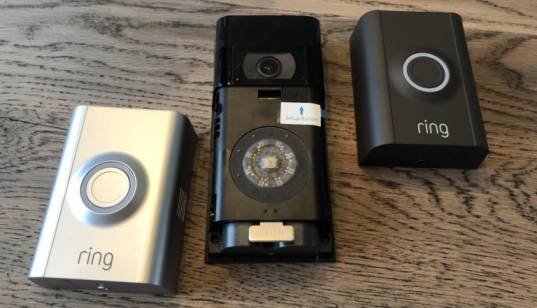 Ring Doorbell Solid White Light Patterns
First of all, we must explore the different ways in which the ring doorbell white light appears to proceed accordingly to solve the issue. You have already noticed some of the white light patterns if you own a ring video doorbell.
Also Read: Ring Chime Vs Chime Pro
There are a total of 5 patterns in which the circle shows the white light. Through these white light patterns, you can easily find the true cause to eliminate issues to complete the setup.
Ring Doorbell Solid White Light Spinning
This is one of the most common issues faced during the setup of the ring doorbell. If the circle of your Ring Doorbell is spinning normally, then you have not set up the wifi correctly. In fact, there is no wifi credential stored in the Ring Doorbell when the white light is spinning.
You might try to reconnect the wifi by inputting the wifi credential in the Ring Doorbell. However, if it doesn't work, then look for how to reset your Ring Doorbell in the troubleshooting section.
Ring Doorbell Blinking White Light
When you see that your entire Ring Doorbell circle is flashing a solid white light, then your ring doorbell is working properly. In fact, the entire firmware is being updated on the device and it may take a while to complete this process. Then your ring doorbell will be normal after one or two minutes.
Ring Doorbell Blinking White on Left
Now the problem is due to incorrect setup not related to wifi strength if your Ring DoorBell flashes white light left of the circle only. You just need to turn off your wifi for a few minutes and then turn it on. This way you can find the connection issue and then start the setup again.
Ring Doorbell Blinking White on Right
The flashing white light on the right side of the ring indicates that was a connection error while doing the setup. The error in connection is usually due to the poor wifi signals that are not enough to maintain the regular connection.
Moving Ring Doorbell to near wifi can improve the wifi signals in case it is not hardwired. Otherwise, Ring chime pro can be a great help to resolve weak wifi signals.
Ring Doorbell Blinking White on Top
If you see the white light flashing on top of the ring, then there is a password-related issue. For this, you just need to update the password of wifi in the Ring Doorbell by Ring App. Then set up it again.
4 Reasons Behind Ring Video Doorbell Solid White Light
If none of the above-mentioned patterns is seen, don't lose hope. There could be other causes of solid white light. Also, it is not hard to address any of these.
Just go through each of the reasons to learn more. So you can diagnose and fix the issue efficiently without any worry.
Successful Setup
Just after completing your setup, if your Ring Doorbell flashes on white solid light, hold for a moment and then disappears. It means the setup was smooth without any errors. However, there is something wrong, if the light stays for longer than a minute.
Recording Mode
If Ring Doorbell started recording, it can be also indicated by solid white light. In fact, it is actively scanning surroundings and recording its front view. In this case, you don't need to be concerned and it is working properly.
Idle Mode
You might see ring doorbell solid white light more and more often on the circular ring, indicating the idle mode in which the ring doorbell becomes more accustomed to the surrounding of your home.
Idle mode can also mean monitoring the surrounding area, waiting for motion in front of it, and preserving the battery. In fact, no further action is needed.
Unsuccessful Setup
In this case, you must have to take further action to resolve the problem. An unsuccessful setup can be noticed when the solid white light holds for longer than a few moments. In fact, solid white light must not stay for a longer time after you complete the setup.
However, you might know the particular cause behind the unsuccessful setup since there could be many reasons. Some of the common issues that lead to unsuccessful setup are bad wifi connection, properly not started, or the device is broken.
How to Fix Ring Doorbell Solid White Light – Troubleshooting Guide
Since you have noticed something wrong after reading the above indications related to solid white light, it's time to take action to resolve the problem.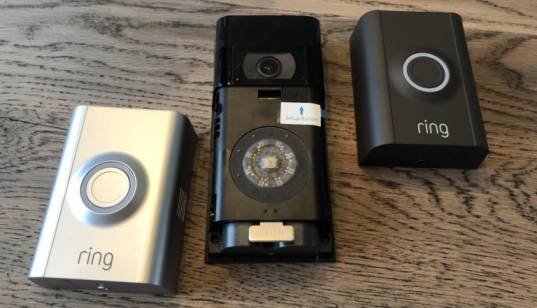 Most of the causes have happened during the setup of during Ring doorbell. Keep reading to address these issues in order to fix the solid white light on the Ring Doorbell.
Recover Poor Wi-Fi Signals
Strong internet is necessary for Ring Doorbell to work properly. Also, during the installation process, continuous signals must be present.
Check first the credential stored in Ring Doorbell are correct and saved. Moreover, it must be near to wifi router for a strong connection. Otherwise, install Ring Chime pro to help your device receive better signals.
Moreover, you can reset your wifi router for a new setup process in case if ring doorbell white light not spinning. If any one of them doesn't work, then you are likely to have another problem. Don't lose hope, you just need to move next step.
How to Reset a Ring doorbell device
Another option to resolve the problem is to reset the Ring Doorbell. In fact, you need to remove it from the wall, reset the device, and start it again. Finally, reinstall it.
In order to reset your device, just locate the power device button that can be found on the side of the device. You just need to hold down the button for 15 seconds. Then release it and note the solid white light.
After reinstalling it, you see this problem again. We will try another method.
Reinsert Ring doorbell Battery
Lastly, we have no other way except to reinsert the battery of your device. Remember, Ring Doorbell can not be set up without charging the battery. If the ring doorbell hardwired not charging, don't proceed further.
However, this method applies to every ring doorbell except Ring Doorbell Pro and Elite since there is no built-in battery.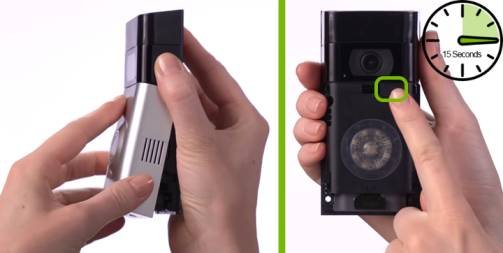 Follow the steps to remove and reinsert the battery of your Ring Doorbell.
First, remove screws at the bottom of the faceplate and then take off the cover by pushing it with the thumb.
Pull the faceplate from the body of the device carefully.
Pull out the battery while pressing the black tab on the battery.
Make sure the battery is charged and slide the battery back into the faceplate.
Hopefully, it fixes the problem when you are done with this step. Don't forget to set up your Ring Doorbell after completing this procedure.
Still, if you see the solid white light on the circular ring, then you might need to replace the battery of your Ring doorbell. The battery can last for at least six months. After six months of period, the battery may not work properly.
Related Queries to Ring Doorbell Solid White Light
Why Ring Doorbell White Light Stays on?
In the case of a hardwired Ring Doorbell, solid white light means it is receiving power. Otherwise, If the white light of the Ring Doorbell flashed, it means your device has no wifi connection or the battery is low.
How Long Do Ring Doorbell White Lights Stay on?
If your ring doorbell is hardwired, the white light will stay illuminated. If it is working on battery power, the white light must not be there. Otherwise, there is some issue in working.
Why Is Ring Doorbell Flashing White and Blue?
The Ring Doorbell flashing white and blue indicates that it is undergoing a factory reset. It will take some time. In case you did not reset your Ring doorbell, there might serious problem.
Final Verdict
Most of the time, Ring Doorbell solid white light problem is fixed if you follow the above-mentioned methods. However, in case, if they don't work, you might need to replace your ring doorbell. Also, you can call professional electricians nearby you.
Moreover, We are looking for creative bloggers to show their creative ideas by home decor write for us on our blog.