Alright, shoe lovers, gather 'round! Let's take a trip down memory lane—or more accurately, shoe lane. Think about that favorite pair: the ones you wore on that unforgettable night out, during a dream job interview, or maybe just the ones you've got endless compliments on. Those shoes hold stories, and they deserve to be showcased. But hey, reality check? Living spaces can sometimes feel more like a shoebox than a mansion. Don't stress! We're about to delve deep into some wickedly smart ways to flaunt and store those foot-huggers. Are you laced up and ready to go?
Hang 'em High with Over-the-Door Organizers
Slide over-the-door organizers onto any room entrance, and suddenly you've got a shoe storage solution that doesn't eat into your floor area. It's an immediate response to clutter, and they're super easy to install. Additionally, these organizers often come with a variety of pocket sizes, ensuring that both your chunky winter boots and summer sandals have a home. Bonus: if you're feeling crafty, some DIY touches can transform these functional organizers into decor pieces that reflect your personal style.
Under-Bed Stash – The Unsung Hero of Storage
Tucking your shoes under your bed is not just about hiding them; it's about making intelligent use of space. Slide-out drawers, especially those with separators, can keep pairs together and in good condition. Also, with a bit of organization – perhaps ordering shoes by how often you wear them or even by color – this out-of-sight space can be both practical and easy to navigate. Consider adding labels to the bins or drawers for an added layer of organization.
Floating Shelves – Elevate Your Shoe Game
Not all shoes are made to be hidden. Your most prized pairs can be showcased as the art pieces they truly are. Floating shelves, especially when mounted at eye level, can turn your footwear into conversation starters. But beyond aesthetics, they keep shoes free from the dust that accumulates on the floor, ensuring they look fresh for longer. Don't limit yourself to conventional designs; there's an array of innovative shelving solutions that can make your collection pop.
Double-Duty Furniture – Big on Function, Low on Space
Furniture pieces that multitask are essentials in small spaces. An ottoman or bench that doubles as storage not only declutters your space but also makes morning routines smoother. Imagine sitting on the bench to tie your laces and storing your shoes right under! It's convenience at its best. Moreover, these pieces often become design elements in a room, adding character and serving as focal points.
Wall-Mounted Racks: A Shoe Lover's Canvas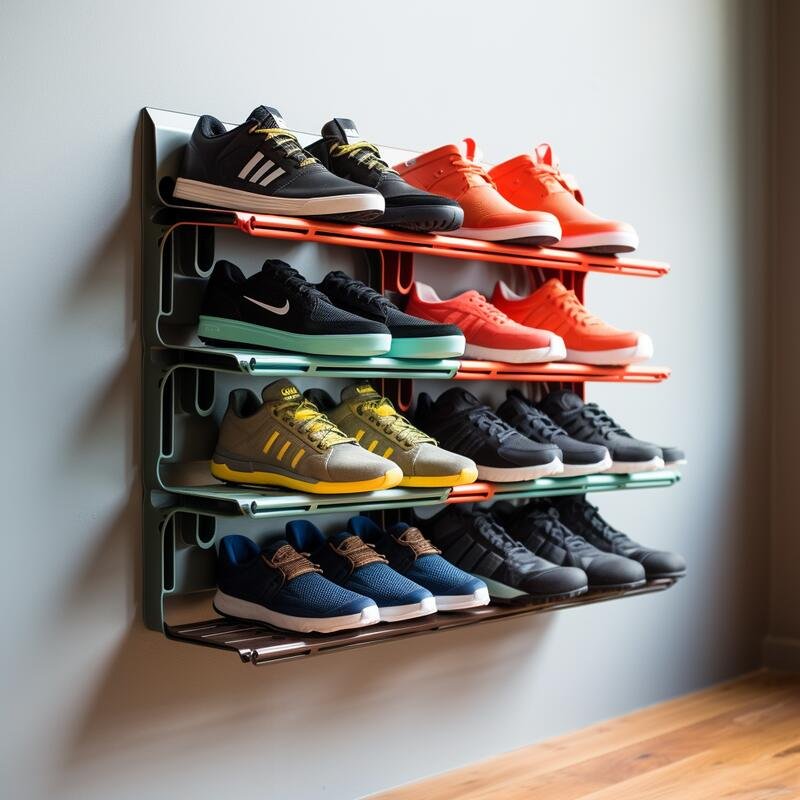 Your walls are prime real estate for storage, especially in tight spaces. With wall-mounted shoe racks, your shoes literally rise to the occasion. This solution keeps footwear away from floor dirt and in prime condition. The variety of rack designs, from elegant wooden finishes to modern metallics, allows for personalization. As an added tip, keep heavier boots on the bottom and lighter sandals or flats on top for stability.
Offsite Advantage with Storage Facilities
Sometimes, the best place for your shoes isn't at home. Consider utilizing offsite storage facilities, which offer secure, climate-controlled environments perfect for preserving shoe quality. Whether it's your seasonal rotation, treasured collectibles, or overflows from your burgeoning collection, an offsite storage solution ensures your shoes are safe, organized, and ready for wear whenever you need them.
Ladder Up for Shoe Glory
A shoe ladder is more than just a storage solution; it's a style statement. Apart from serving as an efficient way to utilize vertical space, it brings a touch of rustic charm to your room. Adjust the space between rungs, and you've got a spot for every shoe type, from ankle boots to ballet flats. And since it's easily accessible, it's perfect for those shoes you find yourself wearing day in and day out.
Behind-the-Couch Cubbies
Transform that empty space behind your couch into a functional storage haven. With slim cubbies or racks, you create a tucked-away spot that's both out of the way and within reach. This is a particularly neat trick for those living in studio apartments or open-plan homes. To level up, get cubbies with sliding doors, adding a sleek touch to your living space.
Shoe Drawers in Your Coffee Table
Your coffee table can be more than just a spot for drinks and magazines. If it comes with drawers or shelves below, it's an ideal place for shoes. This setup is especially handy for those pairs that are in regular rotation. Since they're right there in the living area, it's easy to slip them on as you head out, making it perfect for busy mornings.
Peg Boards: Where DIY Meets Fashion
Peg boards offer a dynamic approach to shoe storage. With adjustable peg positions, you can easily customize the layout to fit boots, heels, and everything in between. Plus, peg boards can easily be painted or decorated to match room aesthetics. And, as your collection grows or shrinks, the peg board effortlessly adjusts with you.
Use Tension Rods in Nooks & Crannies
Tension rods are a revelation for spaces that seem unusable. That small alcove or recess can instantly become a spot for heels or shoes with straps. The hanging method not only ensures they retain their shape but also prevents scuffs or damage from stacking. For a personalized touch, hang a curtain in front of your makeshift shoe storage to hide them away or add a splash of color to your room.
Conclusion
By giving your shoes attention and care, you can significantly extend their lifespan and keep them looking great for years to come. It's an investment that pays off by saving money in the long run and always stepping out in style!
Recommended Posts: