Your bathroom isn't just an ordinary utility-oriented room. Believe it or not, this is where you spend the majority of your time. Whether you're brushing your teeth, doing your morning or bedtime routine, or taking a long and relaxing bath, your bathroom design elements can directly impact how you will feel.
Now, a complete bathroom remodelling will cost you a fortune and might be out of the question for your budget. But did you know that you can make your bathroom a cosy and welcoming space without spending a lot of money? A few tweaks and replacements here and there will beautify your bathroom and make it a pleasant space to carry out all of your daily needs.
Starting with the Vanity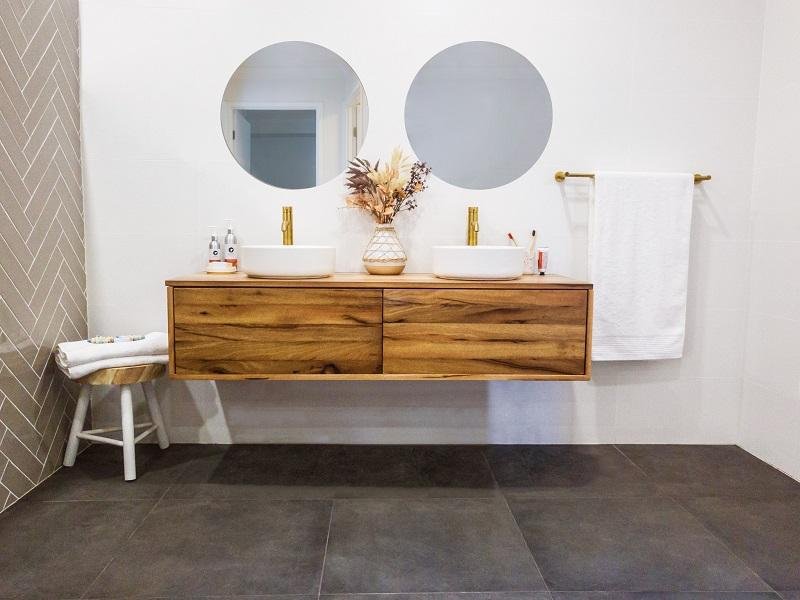 Any bathroom's lifespan depends on having a high-quality bathroom vanity. This is one of the most used elements in this room, whether you're getting ready in the morning, in the evening, or brushing your teeth before bed. Choosing a stylish and practical vanity will help you get ready in half the time, as well as help boost your mood before running out the door.
What Type of Vanity to Choose?
Bathrooms are home to many hard and bold materials, such as ceramic, glass, concrete, etc. Choosing one of the traditional timber bathroom vanities will soften up your bathroom. These vanities have a gorgeous timber grain that adds a natural touch and creates a relaxing scenery for your eyes. They're available in a wide variety of sizes, and they're quite spacious. These vanities provide maximum storage potential, so you can store all of your frequently used products in one place.
Timber vanities give your bathroom a sleek and elegant vibe. They're typically made from quality Acacia wood, which is known for its strength and durability. The Acacia hardwood is also water-resistant, making it a suitable material for a home's bathroom.
Your bathroom will feel cosier if you use wooden elements. This will give it a Scandinavian, biophilic atmosphere. Dark woods offer a more opulent, dramatic atmosphere, while light woods are perfect for providing a delicate, natural touch.
Also Read: How To Remodel And Add New Updates To Your Home
How to Decorate Your Vanity?
There are many ways to spice up your bathroom vanity. My personal favourite is by adding a decorative tray and filling it up with flowers and lovely home fragrances. Below are a few suggestions for how to decorate your timber top vanity:
Vanity arrangement: Start with a simple tray, and fill it up with your frequently used products. Add a towel roll or two, and finish off with some natural or artificial flowers.
Stack up on indoor plants: Including plants in our home décor has always been trendy, however, not many people place them in their bathrooms. Contrary to popular opinions, bathrooms are the perfect place to keep indoor plants. The air is constantly filled with humidity, which is just what plants need. Additionally, their greenery works beautifully with the earthy tones of traditional timber bathroom vanities. If you have a busy lifestyle, I suggest going for self-watering planters, which require little to no maintenance.
Scented candles: These not only add to the warm and soothing scenery in your bathroom, but they also fill it up with amazing aromas. Make sure to use candles in glass or metal containers to avoid any dangerous accidents. If you're still worried about having an open flame next to your wooden vanity, electric candles will work just fine.
Select the Right Bathroom Tap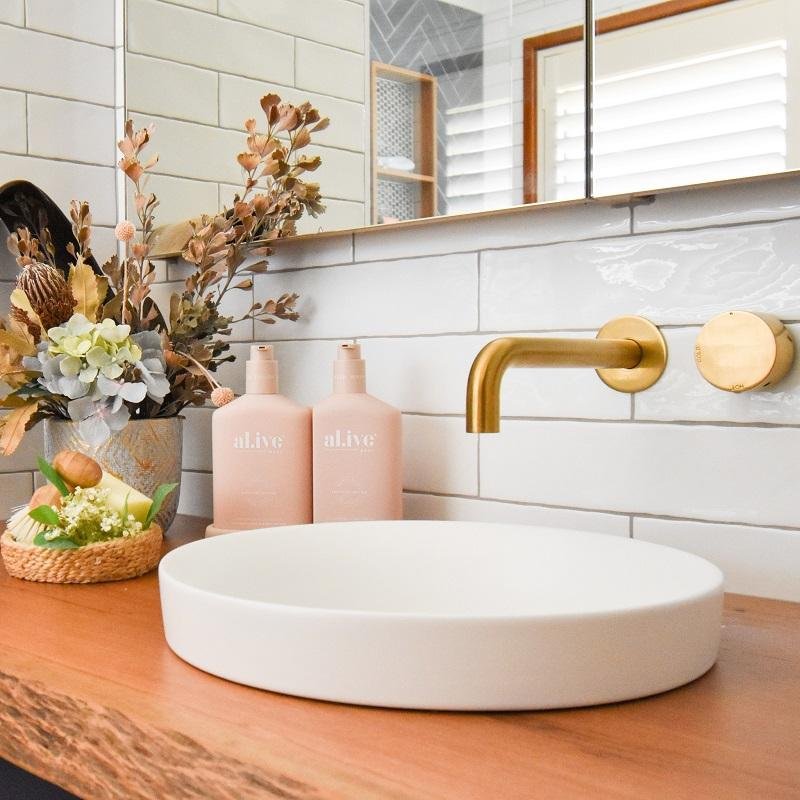 The tapware finishes in your bathroom can greatly influence the way your space looks. Certain finishes, such as classic chrome, might make your bathroom look cold and uninviting. On the other hand, brushed brass and gold finishes will beautify and cosy up your bathroom. Bathroom taps with these finishes add a dose of warmth to your bathroom when paired with a modern timber vanity.
Create a Relaxing Ambience with Lighting
A simple change of your bathroom lighting can create a wonderful ambient in your bathroom. Typically, downlights in the ceiling provide good ambient light. Positioning is crucial. Instead of having a standard grid of downlights, utilize them to highlight features and create focal points.
Instead of placing them over the centre of the shower or bath, think about placing a row of two or three in the rear of the space to give the illusion of flowing water down the wall. Additionally, the light will spread to the room's edges, giving the impression of spaciousness.
Pick the Right Colours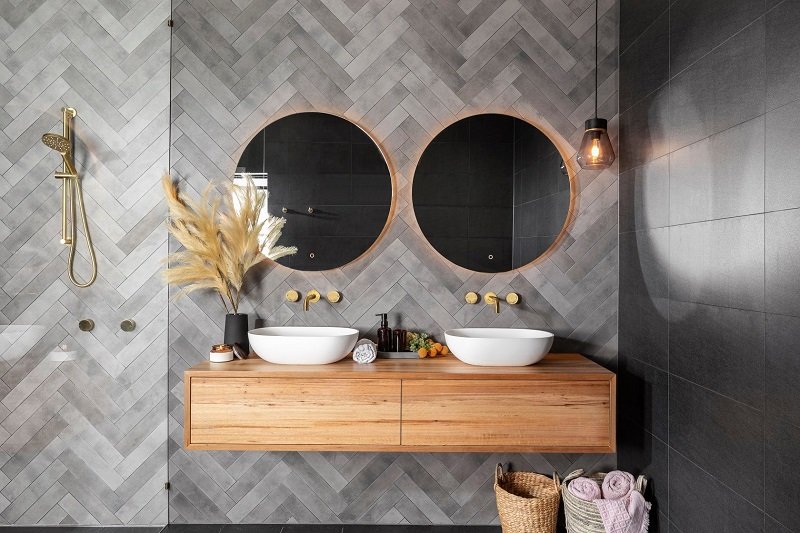 Lighting is great, but if your wall colours are too vivid and bright, you won't feel as cosy. Autumnal colours work well if you have a lot of natural light, but you should avoid using too many dark tones.
Picking light ochres or off-whites and letting the lighting take care of the rest is also a great strategy. Just turn the lights down and light some candles when you want it cosy.
Instead of using cold and gloomy bathroom tiles, consider installing bathroom wallpaper. Start with one wall and see how it fits in with the rest of your bathroom. Modern water-resistant wallpapers come in a variety of different prints and designs that add beauty and visual interest to your space.
Use Fuzzy Towels
When designing a cosy bathroom, the functionality of the elements is just as important as how it looks. Certain bathroom elements, like fluffy cotton towels, are must-haves for a cosy and functional bathroom. One of the nicest things I've ever done for myself was to get bathroom towels that are soft, absorbent, and aesthetically beautiful. Fuzzy cotton towels bring some style and texture to your bathroom design. They're also incredibly comfy to cuddle up in after a warm bath.
Also Check: Top 10 Best Powder Room Rugs Reviews
To feel even better after a relaxing bath, consider installing heated towel rails. These will warm up your cotton towels and help you get nice and cosy. Using heated towel rails, you'll be able to proudly display your cosy towels. After all, there is nothing more attractive than a stack of fresh, fluffy towels, and these bathroom elements are as useful as they are attractive.