Having a bar in the home is something very fancy but if you would go for a proper bar set up then that would cost you way too much. It is, of course, worth investing in such a thing as that would increase the class of your home. But, even if you don't want to make that much of an investment then also you can create a DIY home mini bar.
Creating your own bar with some amazing tricks would not only help you save up lots of money but at the same time, it would also make your home look beautiful. You would of course be able to enjoy the bar setup as it is like any other authentic bar.
Setting a minibar is very easy and if you would have innovative ideas then that would make your home look unique. Even guests would be pressed by the whole look of your home.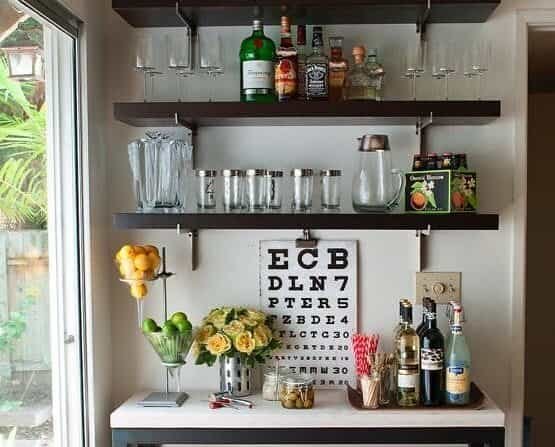 Minibar areas are best if you are about to organize a mini alcohol party in your home. If you would have a minibar inside your home then you don't have to call for an entire bar set up for parties and spend money on it.
Here are some of the best ways to make a mini bar inside the house without spending too much money
Clever DIY Home Mini Bar Ideas
Transform a Basic Closet Into a Beautiful Bar:
If you have a closet in your home that you don't use anymore then it the time for you to create a small DIY bar inside that closet. You can set that closet in your bedroom as that is the most comfortable area of your home. Here you have to empty the closet if there is anything inside that closet.
The next step is to paint the closet and here you can paint the closet in your favorite color. If you would go for a single color then that would make the closet appear classy. Now the time is to set the bar and it is of course the final step.
You can arrange all of your drinks or different kind of drinks on different shelves. Make sure to have a shelf just for the glasses and you are good to go.
Upper Window Shelves Mini Bar in the Home:
It is for sure that there is a small shelf in the house with doors on. Usually, such shelves are very small so are the mini home bar. It would be a great idea if you would be able to use that shelve as a bar and once you would close the door then it would appear like any normal shelve area and no one would be able to point whether you have something interesting inside the door or not.
The trick is to clean the inside of the shelves to place your bar necessities and you would be good to go. Considering the small space, make sure not to have too many bottles or glasses inside the shelf rather some of your favorites would do the trick.
Slide That Door to Get Into the Bar Corner in the Home:
If you have an empty corner in your home then it is great but even if you don't have that corner then create such a corner because one empty corner can help you get the small DIY bar in your home. Here you have to choose the corner and then set a sliding door so that you can open the door to your bar.
However, the space would be small but it would be enough for a couple of people to enjoy their drinks. Here you have to set some shelves so that you can arrange all of your drinks along with the glasses. You can also put in one mini-fridge so that you can get your ice and cold water while you would make your drink.
Occupy Your Kitchen Corner to Make a Mini Home Bar:
A kitchen bar is something very unique so if your guests would come across this corner of your home then they would be impressed for sure. It is very easy to create a small DIY bar in the kitchen and the kitchen seems to be the best place to sit and have some drinks.
Here you have to create a small boundary and for that, you can arrange a small wooden gate. Now you have to put a table and two chairs inside. The table is to set the bar so there you would have to keep your drinks and also have some glasses as well. You can sit on the chair and enjoy your drinks in your fancy kitchen minibar.
Glass Door Fancy Mini Bar in the Home:
Having a fancy mini home bar is something that everyone wants no matter if that person is passionate about drinking or not. Apart from serving the purpose of a minibar, this space would add grace to the entire home.
This can be a bit pricy but not as pricy as an authentic bar would cost you for even a single day. Here you have to get a glass shelf with glass doors and you can, of course, go for the fanciest one in this case.
You can arrange all of your drinks inside and the best part is that your drinks would be visible from outside as well so you don't always have to open the door to check the availability.
Mini Cupboard Bar in the Home:
If you have a cupboard in your home that you don't use anymore or even if you dream of having a bar in your home then you can get a small cupboard as that would do the trick. Here you have to arrange the cupboard in a way that it should at least have two selves inside. The first shelf would contain all the imported bottles of drinks whereas the second shelves can have all common drinks along with the glasses.
You can also decorate the cupboard by placing a flower vase on it and once you would close the doors then no one can tell that you have your whole bar set up inside the cupboard. You can also use the top base of the cupboard as your drinks table. All you would need here is a chair and you are good to go for a good drink.
Turn Your Balcony Into a Beautiful Home Mini Bar:
Usually, all homes have a small balcony where we don't keep such things. Now you can use that space to create your own small DIY bar. Here you can keep everything that you would need in your bar.
Start with a small shelf to keep all of your drinks and glasses and then set a folding table so that you can fold it up when not using it. Have some chairs to sit on and enjoy some drinks. You can also arrange a small fridge for placing some cold water and ice so that you can have those while you are having your drinks.
Mini-Bar on the Moving Cart:
If you don't have any space left in your home to create your mini home bar then you can just use a moving cart to have a fancy small bar in your home. This is just like a small tea table with wheels so you can keep it at any place of your home.
You have to arrange some of your drinks on the surface of the cart along with some glasses and you are good to go here you can also use the below surface to keep the ice tub. You can slide this cart to any place you want which is a great thing so no matter where you want to enjoy your drink, your cart would be there for the service.
Beautiful Wall Hanging Mini Bar:
Have a wall-hanging shelf in your home and that can be converted into your small home bar. This is the most basic bar that you can create in your home and this would not even call for many decorations or arrangements. Here you can have a huge foldable table attached to the wall as well where you can put your drinks to enjoy.
You can fold up the table when not using it so it would not eat up much space in your home which makes this kind of mini bar perfect for small apartments. As the space is very small so it would be great if you would not put too many bottles there because that can lead to accidents.
A Mini Home Bar Under the Staircase Would Make Your Home Look Classy:
Under the staircase is one such empty place where people don't put anything. That space usually stays empty and it is the best way to use up that space. You would be able to create the best small DIY bar under the staircase area of your home.
You have to arrange some shelves and a table would do the trick. Shelves are for arranging all the bottles that you have got and you can also put some glasses out there. Pulling out a chair or two would make the area a perfect bar where you can enjoy your drinks.
Wrapping Up
Overall these tracks are very easy so one can easily create such space. Minibar are great for those who are into drinking but even if you are not fond of drinking then also you can have such an area that makes the home look beautiful and classy at the same time. If anyone has new ideas and wants to share, We welcome everyone's opinions through write for us home decor on our blog.