Nowadays every homeowner is having a Nest thermostat as a smart product in their home. They are having a seamless experience of smart home adapting the season variants and temperature comfort of the users. But What if your nest thermostat stops cooling. I am also habitual of a nest thermostat for cooling comfort. But recently, I am facing the issue of the nest thermostat not cooling or delaying. Sometimes I get the feeling my nest thermostat is not cooling at all.
I had to check it from time to time and restart it. Then I started to look for the cause. All efforts were in vain and finally, I just sat in my backyard while watching kids playing on wooden swing sets with my wife.
All I did was contact the professional supports and ask and also search online.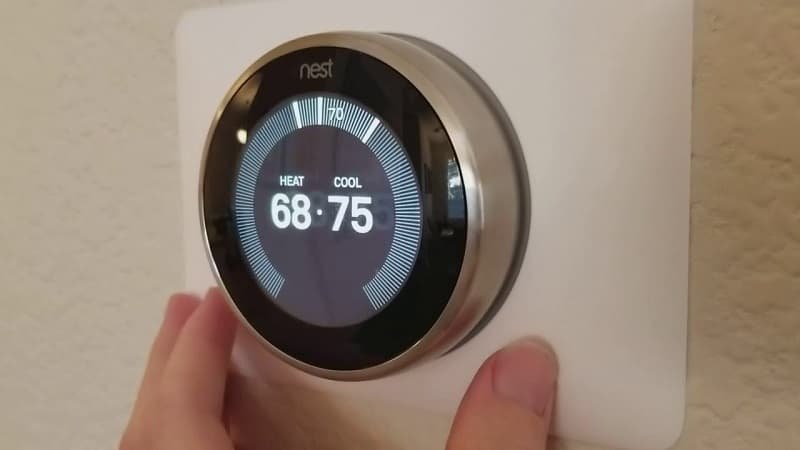 So after a short time of searching and reading many manuals, I finally got rid of this issue.
After all, these are also machines. With machines, there are always problems. Don't worry I am gonna share all the information and solutions I have tried and that worked for me. Keep reading to know causes and solutions.
How To Reset My Nest thermostat – For All Version
Before doing anything, try to factory reset your nest thermostat. Maybe resetting your thermostat will solve all your nest thermostat issues. Resetting might also help if your thermostat not reaching set temperature in case.
To factory reset the nest thermostat follow the steps one by one.
Select the setting icon
Next, go through the equipment, then record your system wires, heating types, and safety temperature settings.
To Open "Quick Open Menu", just tap on the thermostat ring
Again, Select the setting icon.
Now turn the ring to reset and select one of the modes on your preferences I'd prefer to use scheduled.
Hope you get successful in resetting your device. After doing it, you still getting issues then go to the following causes.
Why Is My Nest Thermostat Not Cooling?
Compatibility Of Your Nest Thermostat
Had you checked the compatibility of your nest thermostat with your system before buying it? Cause there are some systems that are incompatible with the Nest thermostat. If you know, nest works better with 24V systems.
Check the specification of your nest model to know nest thermostat compatibility with the system you have before buying. If your nest thermostat is compatible we can move to the next one.
System maintenance connected to the thermostat
Maintenance is itself a meaning full word and contains the work itself. So are you checking your system from time to time? What if some parts are faulty.
First, check whether the nest thermostat is faulty or system. To check it, connect your system to the old thermostat. Then you will know which one is faulty.
In case if old thermostat works, you need a C-wire system as the next step.
Otherwise, you need maintenance work for your system and contact a reliable professional technician.
Issues in Wiring Connected to Nest thermostat
The wires of your nest thermostat may not be properly installed. To check you have to go through manually.
First, switch off the thermostat and take off the display and inspect the connections. To inspect the wire connection properly, look at the nest wiring guide. I suggest you re-install the wiring again according to the manual.
After Doing re-inserting the wires. Also, go through the below setting.
O/B Wire Default Setting.
In the nest thermostat, the heating and cooling are controlled by an O/B wire. To change the O/B wire setting, follow the steps:
Access the menu, by pressing the ring.
Select setting on turning the ring.
Then select equipment and press continue.
Select heat pump
Check the default setting, if it is O then select B, if it is B, then select O.
Examine both the mode which is working better.
Faulty C-Wire in Nest Thermostat
Last and final method if any one of the above doesn't work for you. It totally worked for my nest thermostat.
Take off the display of your nest thermostat. Check there is a wire in a C- connection. We have already re-inserted the wiring in the above method. All we have left is to change the C-Wire.
Wrapping Up
These are all the methods I had tried when my Nest thermostat is not cooling and the last one worked for me. I would suggest you go through all the above mention methods carefully on your risk.
After doing all the effort you had put in and still, your Nest thermostat is not cooling, I would suggest you call the near-professional technicians. There might be a serious issue.
If there is any other method that worked for our visitors. Let us know through comment and we welcome passionate bloggers to write for us home decor on our reputed blog.