Get ready to elevate your patio's style with fantastic patio pavers. They create a beautiful stepping surface, and you will love the variety they come in—different shapes, sizes, and designs to suit your taste.
However, the cost might worry you, but don't fret. We have your back with affordable options that still ooze class and aesthetics. No need to stress about it.
Consider the cost per square foot to find Cheap Patio Paver Ideas for your DIY project. More extensive pavers mean you need fewer for your space. This guide will be your savior if you aim to build a budget-friendly patio floor. So, let's get started and transform your patio into something extraordinary.
What is a Patio Paver?
A patio made with pavers is a fantastic addition to any home. It provides the perfect space for parties, barbecues, or backyard enjoyment. The beauty of patio pavers is their versatility, blending seamlessly with any backyard style and needing minimal upkeep. Installing them is a breeze, especially for DIY enthusiasts, especially if you are working with a straightforward rectangular design without curves or tricky cuts.
With patio pavers in place, your backyard will undergo a marvelous transformation, including an inviting atmosphere. Imagine a lovely patio set up with a table and chairs where you can unwind and delight the wonders of nature. Let your imagination make reality with creativity, and create the outdoor haven of your dreams with patio pavers.
6 Cheapest Patio Paver Ideas for DIY Project
1. Use Concrete and Plastic Mold for Your Design.
Get ready to create stunning pavers on a budget with plastic molds. They are a wallet-friendly option, much cheaper than hiring a contractor. Using this you can create tons of patterns and make your outside patio colorful and unique than others. Choose any single color or variety of favorite color or even concrete color to complete your patio look. But remember, this method requires some elbow grease. You will need moulds, Quikrete concrete bags, a colour dye, and patience.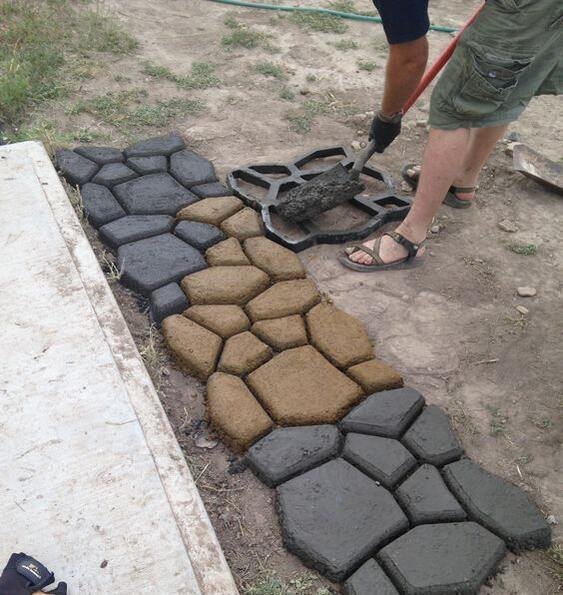 The installation process also matters – place the moulded pavers on levelled dirt or use a gravel base. These molds fit together like puzzle pieces, giving your patio a sleek and modern appearance. You control the colours, so let your creativity flow and experiment with various layouts and designs. Get ready for a beautiful, pocket-friendly patio you have crafted with love.
2. Use Affordable Step Stones Ideas.
Are they trying to find a quick and inexpensive patio solution, you gonna love step stones which are so budget-friendly. Affordable stepping stones are perfect for any kind of outdoor project because it helps to create the aesthetic look of your entire house. However, it can be a little uncertain how much work and effort it requires.
They are big, incredibly cheap, and have cool colors. They are mainly durable and strong. Second, it is simple to cut them. Choose the 12″ x 12″ size; it is convenient to handle. Each one only costs $2. You can explore countless possibilities with stepping stones. Design your ideal patio using your imagination without spending plenty of money.
In summary, stepping stones make for an excellent patio choice that is both cost-effective and versatile. So, grab those Concrete Step Stones and let your patio dreams come to life.
– Different Patterns Assembly Ideas (Checked)
Use a pattern of checkered pavers to produce a mesmerizing patio floor that resembles a chessboard. The contrasting colors draw the eye right away and give your outdoor area charm. Generally the colors of these are mainly made from concrete. So they are very durable and won't easily fade or chip. But also because of their natural colors it looks very eye-soothing.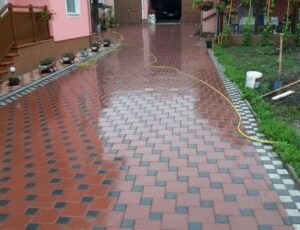 A pattern for better grip is part of the checkered Concrete design, which lowers the risk of accidents on smooth paver surfaces, especially in wet weather. Enjoy your lovely patio in safety and comfort thanks to this anti-slip feature. So get ready to enter your stunning checkered paver patio, where style and security come together.
– Fire Pit Patio Ideas
Create a cosy and unified patio with fire pit patio pavers. These pavers and the fire pit are made from small bricks arranged neatly for a clean and appealing appearance. The fire pit's wall matches the pavers, ensuring a uniform and stylish design.
Although the bricks may seem clay-made due to their muddy hue, you can use different materials and paint them in any colour you like. This flexibility allows you to find affordable options that fit your taste perfectly. So, get creative and build your dream fire pit patio without breaking the bank and enjoy your outing with your family.
– Stepping Stones With Gravels Ideas
Create a charming patio by combining large stepping stones of different sizes with matching-coloured gravel as the flooring. Pea gravel is the best cheapest choice for its smooth and attractive surface. The stepping stones provide comfortable walking paths, and you can even walk barefoot on the soft gravel without any worries.
Line up the stepping stones to form your patio's walking area, then spread the pea gravel all around. This affordable and easy setup requires no cement. Remember that the loose gravel might need occasional raking or refilling to keep it in place, but it's a small price to pay for such a delightful patio idea.
3. Cheap Red Bricks Instead of Paver
Embrace the popularity of red bricks crafted from burnt clay or a clay-lime combo. These affordable and easily accessible bricks are solid and low-maintenance, lasting long. Introducing them is also a breeze because of their lightweight and simple-to-deal-with structure.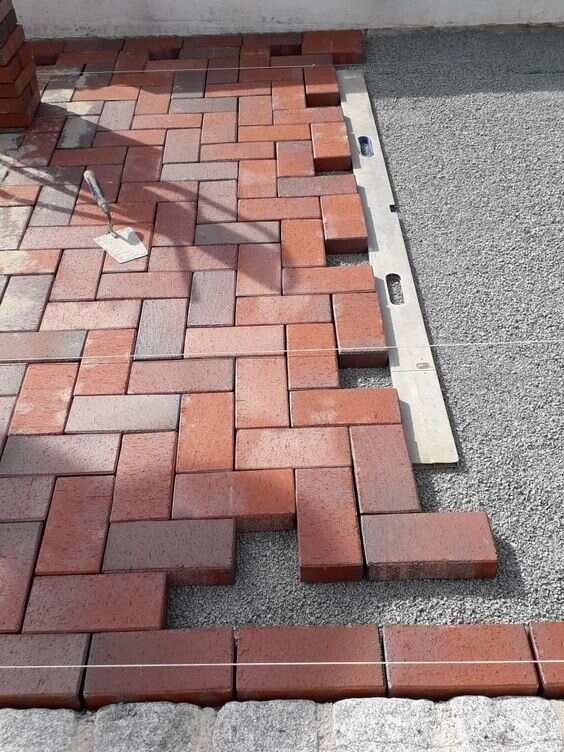 Bricks are budget-friendly pavers but be prepared to use more than stepping stones or concrete tiles for your patio floor. The smaller size of bricks allows for various design possibilities, but this idea keeps it simple with a classic zigzag pattern. Although bricks are inexpensive, keep in mind that their installation demands significant labour due to their size and quantity. However, the outcome will undoubtedly be worth it.
4. Grass-Concrete Patio Combo
Prepare for a unique patio pavers idea with a delightful blend of concrete tiles and neatly cut grass. Use square moulds and precise floor measurements to bring this idea to life. Pour the concrete mix into alternating squares and let them dry, leaving the other courts empty.
It's time to add the finishing touches once the concrete has hardened. Place neatly cut natural grass into the empty squares for a lush and green patio. The final step is mowing the grass to the correct height, ensuring it's slightly above the concrete level. With this stunning combination, your patio will be the envy of the neighbourhood.
5. Try Irregular Concrete Step Stones for a Small Patio
Discover the charm of irregular size pavers that mimic natural flagstones or sandstones, but they're made from concrete. With their size of 20 in. x 21 in, they are perfect for a budget-friendly DIY project, as you will only need a few. Although they might not be as durable as other choices, these stepping stones have an unmatched rustic and affordable appeal.
These stepping stones are an excellent substitute for traditional pavers for small patios, narrow pathways, or enhancing a fire pit area in your backyard. Their fabulous appearance and easy installation make them even more enticing. Whether you are creating a beautiful walkway or a cozy seating spot on a mulch-filled patio, this brilliant and inexpensive option won't disappoint. Embrace the rustic charm and save big on your next outdoor project.
6. Meshed Flagstone Paver Tile for Best Look
Check out the Meshed Slate Paver Tile. It is a great deal that oozes style for less than $5 per square foot. The Santa Barbara 18″x24″ Meshed Paver Tile you found is simply stunning.
Building a patio with these pavers can significantly increase your home's value. However, it does require some effort – laying out, cutting, and installing the meshed pavers. Depending on your preference, The result will be a jaw-dropping patio, either in the front or backyard. So, get ready to impress with this budget-friendly yet lavish-looking patio upgrade.
Also Read: A Guide to Removing and Replacing Old Concrete Patios
FAQs Related to Cheap Patio Paver Ideas
Is it cheaper to buy pavers or buy concrete?
Were you considering using stone pavers to brighten up your landscaping? Let's discuss the cost. Basically the prices are depending upon size and types of the patio as usual. Mainly most of the time a 20×20 paver patio cost around $3800 to $6800 including the labor charge. If doing things yourself suits your style, you can save money.
The kind of paver you select will affect the overall cost. The more expensive options include bluestone, fieldstone, and flagstone pavers. Therefore, make smart plans and get ready to transform your outdoor area.
What is the least expensive material to build a patio?
Embrace the budget-friendly wonders of pea gravel. This delightful material steals the show as the least expensive option for a patio. With its smooth and charming appearance, pea gravel adds a touch of nature to your outdoor space without breaking the bank. So, if you want to create a cost-effective yet attractive patio, grab some pea gravel and prepare for a fantastic DIY adventure.
How much does a 20×20 paver patio cost DIY?
Creating your 20×20 paver patio as a DIY project offers excitement and cost savings. The total expense will depend on the pavers you choose, materials, and any tools you need to purchase or rent. Typically, DIYing your patio can be more affordable than hiring professionals. In this way, It may cost you ranging from $12 to $30 per square foot.
Is it cheaper to pour a slab or use pavers?
Cost is vital when pouring a concrete slab versus using pavers. Pouring a slab may be cheaper upfront, but remember the labour and equipment costs. On the other hand, pavers might seem pricier initially, but they offer flexibility, easy maintenance, and DIY possibilities. So, weigh your options carefully to create a budget-friendly and stunning outdoor space.
Conclusion
Paving your patio is a great decision that has many advantages, including improving its aesthetics, creating a level surface, and increasing the value of your house. Pavers also make maintaining the patio floor a breeze. It can be difficult to locate inexpensive patio pavers, but do not worry. This resource is a veritable gold mine, filled with a wide range Cheap Patio Paver Ideas to meet your needs. Create a beautiful space out of your patio without going over budget.
Recommended Posts: